Qualcomm teases smarter, faster, self-aware smartphones for 2015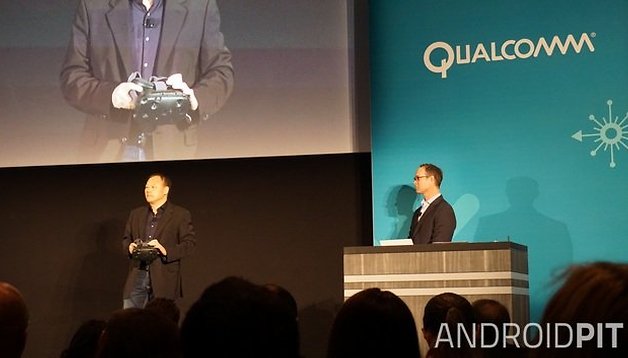 Qualcomm has teased with the Snapdragon 820 at MWC 2015 – the company's next-gen 64-bit super chip, destined for smartphones and tablets in the second half of 2015. Qualcomm also showed a tantalizing hint of just how close we are to smart devices that can actually think for themselves, introduced its new ultrasonic Sense ID 3D ultrasonic finger scanning technology and announced the opening up of the unlicensed LTE spectrum. What this all means for you is faster, smarter, super secure and more efficient mobile devices.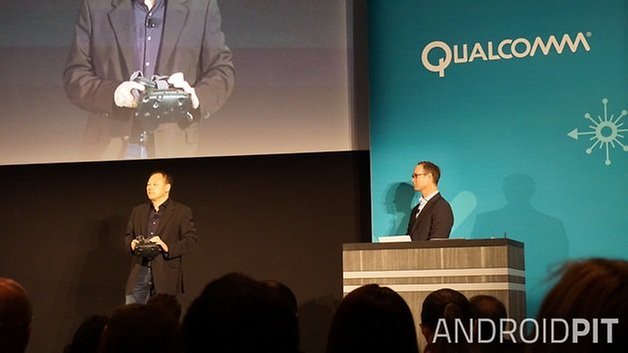 Sense ID: 3D ultrasonic fingerprint scanning
Sense ID is a 3D ultrasonic fingerprint sensing technology that departs from the capacitive technology popular right now. Capacitive sensors, like capacitive on-screen buttons, require direct contact with the sensor, whereas ultrasonic sensors can accurately detect your fingerprint through metal surfaces, glass and other materials traditionally used in smartphones.
This means Sense ID finger scanners can be embedded internally in your mobile devices and could theoretically pick up your print from an entire area and not just a specific point. Sense ID can also detect very-hard-to-fake features unique to you like sweat pores, making your security platform almost fool-proof as well as invisible.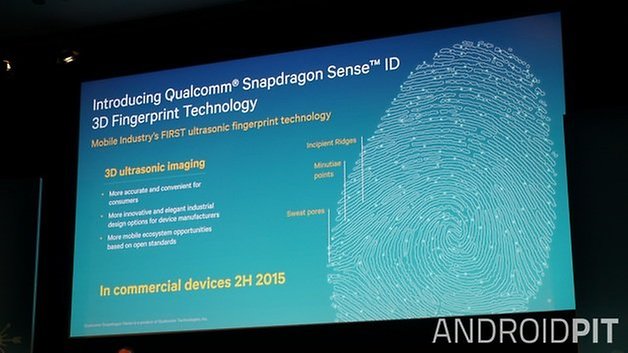 Snapdragon 820
The Snapdragon 820 is a 64-bit octa-core chip that will introduce Qualcomm's custom architecture called Kryo. Qualcomm isn't saying what process it will be constructed on, but it will utilize FinFet (what Samsung used in the Exynos 7420 on the 14 nm process and TSMC;s 16 nm process). This announcement jives with previous leaks of a 14 nm 815 and 820 scheduled for the latter half of 2015.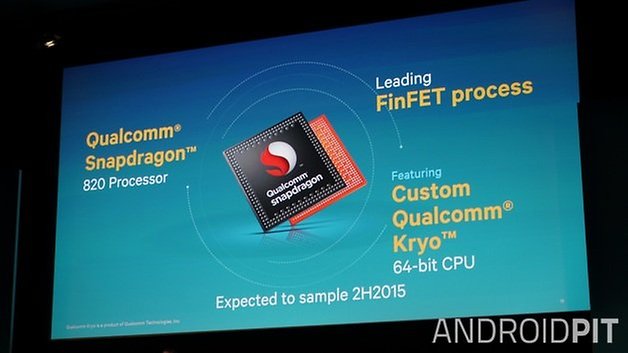 Zeroth cognitive computing
The Zeroth cognitive computing platform learns about you and the environment in which it is used so it can make decisions on its own. It is capable of recognizing objects, people, and parts of scenes to accurately detect what it's looking at in real time. It also has security applications for unknown viruses and more gesture-based interfaces than traditional buttons.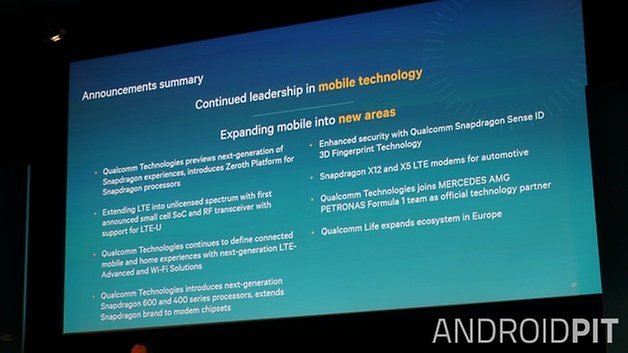 LTE-U and H.265 codec
Qualcomm also announced it will begin utilizing the unlicensed LTE spectrum, what it is calling LTE-U and demoed a new codec (H.265) in the Snapdragon 810 that is double as efficient as H.264 currently. This means you can stream 4K video (3,840 x 2,160 pixels) video online using half the bandwidth, direct from your phone or tablet to an external 4K display. H.265 is supported by the Snapdragon 810, which you can currently find on the LG G Flex 2, Xiaomi Mi Note Pro and the HTC One M9.
What device do you think will be the first to get the Snapdragon 820?