Motorola's Crappy Response On Why Devices Aren't Being Updated To ICS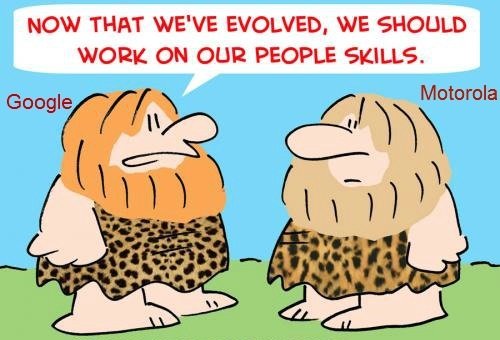 It really baffles me sometimes how often big companies treat their customers like absolute CRAP, and if I were a Motorola customer who owned the Droid X2 or the Droid 3, I would take my phone, jump in my car, drive down to Motorola HQ, find the employee who issued this unbelievably crappy official statement, grab his wallet, take the price I paid for the device out of his wallet, leave the phone on his desk, "persuade" him to get in my car, drive to Google HQ (as they now own Motorola), walk in with the Motorola employee, find the customer relations department manager, make the Motorola employee tell the Google manager exactly what he said to consumers without changing a word of his statement, and then watch his reaction to see what Motorola's new owner thought about how he relays information.
What am I on about? The extremely craptastic response that Motorola gave to consumers in regards to why multiple devices aren't being updated to ICS.
Owners of the Droid X2 and Droid 3 have probably noticed that they haven't seen an update to ICS, and now it appears that it won't ever happen, as Motorola's update schedule did not list these devices (and others) as being scheduled for the udpate. Fair enough. Maybe they are a bit too old (dual core isn't too old in my book) or have minimum hardware requirements that aren't met for the update (ah common..even low end devices can run ICS). But I do understand that it certainly can happen. But lets have a look at what Motorola had to say when asked about it:
"You may be wondering why all devices aren't being upgraded to Android 4.0 (Ice Cream Sandwich). Here's the deal. We work very closely with Google and cell phone carriers for every software update. And, obviously we want the new release to improve our devices. If we determine that can't be done—well then, we're not able to upgrade that particular device."
That's it? Really Motorola? Well, to quote you're language, "here's the deal": If the update can't take place, why not word it a bit like this:
"Dear customers. We have received many questions in regards to specific Motorola devices not receiving the update to Android 4.0, and wanted to touch base with users of our products to provide an explanation. Motorola works very closely with Google and phone carriers, and we work very hard to make sure that all compatible devices can receive Android updates. Unfortuantely, sometimes we are restricted by factors such as memory, processors, additional hardware, and carrier integration that can at times cause compatibility issues with certain devices and the newest version of Android. We obviously want to do our very best to improve our devices and to bring our consumers the newest software when it arrives, but unfortunately in the case of the Droid X2 and Droid 3, multiple incompatibility issues have led us to determine that these 2 devices will unfortunately not be able to receive the update to Android 4.0.
We deeply apologize for the inconvenience to owners of these devices, and encourage you to check our update schedual for devices that are planned to receive the Ice Cream Sandwich update. If you happen to own one of the devices not scheduled for the update, we encourage you to have a look at the option of unlocking your bootloader and rooting your device, as there are multiple developers who have worked very hard to bring fully functional versions of Ice Cream Sandwich to these particular phones. We do naturally understand that this may not be the most practical solution, and will do our very best to ensure that we can update as many devices as possible in the future. Motorola is commited to the satisfaction of our customers, so please feel free to contact our customer support line if you have additional questions".
Seriously Motorola, the last thing I expected to hear from the company Google just bought is that "if that can't be done, well then, we can't do it". It's not always WHAT you're saying, but HOW you say it, and if you're the company that's supposedly going to help bring Android to the next level, you should do some major work on your people skills.
Picture credits: www.toonpool.com (edited by myself)