Beach Buggy Blitz For Android = Mario Kart On Steroids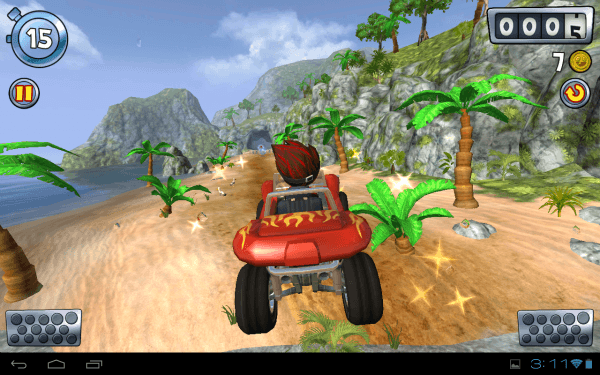 NEXTPITTV
Of all the Android games I have played on my phones and tablets (believe me..it's quite a few), one of the games that will always stick out in my mind is Riptide, which was created by a company called Vector Unit. This was the game that clearly demonstrated the true potential of gaming on Android, and was one of the first to truly showcase console quality graphics running on an Android device. It definitely set a new standard for Android gaming, and I am pleased to announce that Vector Unit has just released another great title for our gaming pleasure. Beach Buggy Blitz literally just arrived moments ago in the Play Store, and once again, Vector unit has done a hell of a job in delivering another quality Android title.
Graphics
If you have ever seen Riptide, you'll know that Vector Unit is known for delivering some of the best graphics in the business. Fortunately for us, Beach Buggy Blitz is no exception. According to Vector Unit, this is their "most technologically advanced mobile game to date", and is the first title to make use of Vectors retooled Vector Engine 3.
Not only does the game run smoothly with little to no drops in framerate, but does a great job in delivering a very Mario Kart like feel. The maps are very colorful, there's lots of obstacles to dodge and avoid when racing, and the optimized Tegra 3 features are certainly easy to spot. The game also gives you the option of adjusting the graphics to have a higher resolution or a faster frame rate: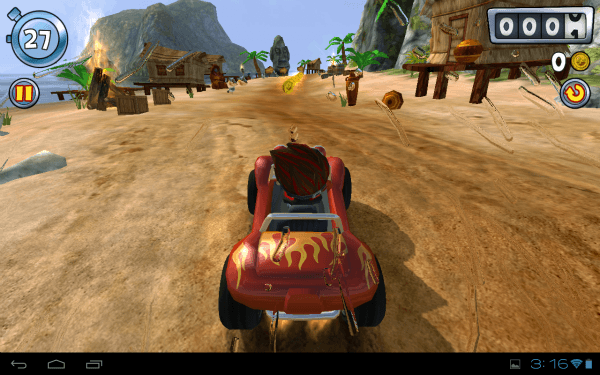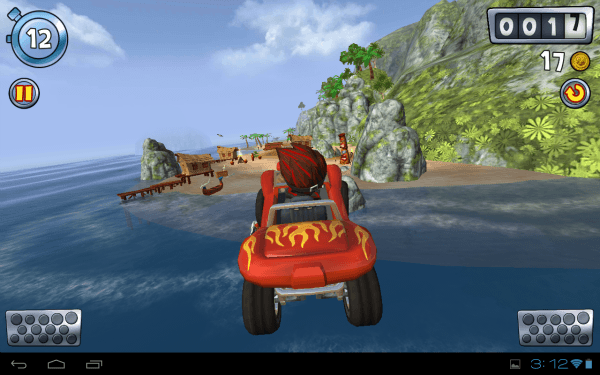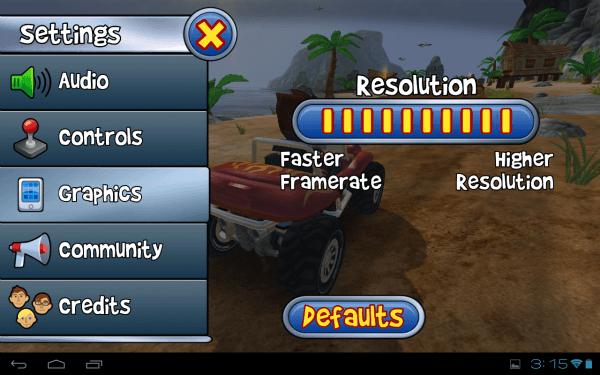 Controls
Vector Unit pulled out all the stops when it comes to the selection of available controls for their newest title, and allows you to choose between tilt, multiple on screen controls, or a gamepad. I personally like using tilt controls, as I'm so used to playing Riptide. I can also imagine a gamepad working quite well with this game, and will test out later how nice it plays with a PS3 or XBOX360 controller. If you choose tilt, you're given the option of adjusting the sensitivity, which is certainly a nice option to have: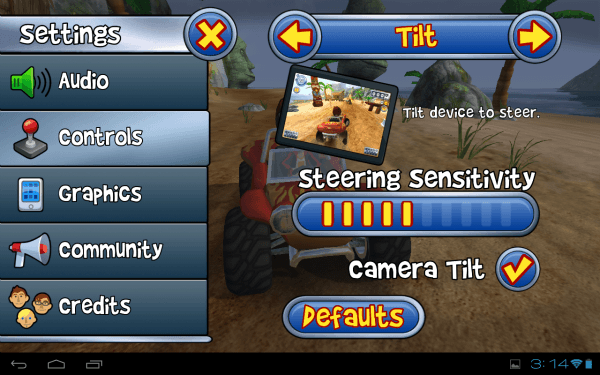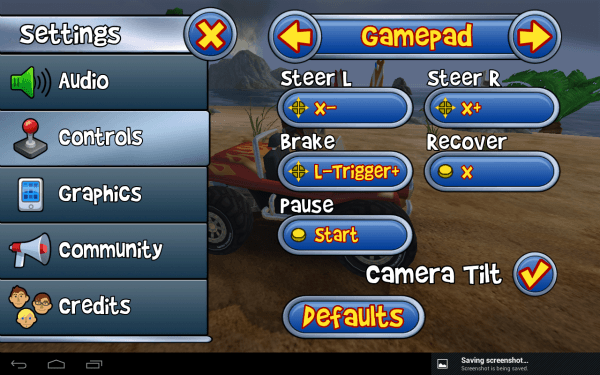 Sound
While the music might annoy some, I personally feel that the music fits very well to this type of game. I also noticed that when you're driving through a tunnel, the sound of the game music adjusts itself while you're inside, which is a nice touch. Overall, sound is great for the game, and although you might not hear huge crashing noises when bumping into a tree, the sounds of the game nicely compliment the atmosphere and the gameplay.
Gameplay
Beach Buggy Blitz brings a great blend of "Riptide meets Mario Kart", and easily delivers just as much fun. The test version we received is limited to one beach track, but Nvidia has told us that the full version of the game has multiple tracks that are located on beaches, swamps, erupting volcanoes, and more. There are multiple powerups and gadgets that can be purchased with the coins you earn in game (or you can buy coins with real money). I have been able to buy multiple power ups using only in game money, but I could imagine laying down some real cash for a few things later on (although it's definitely not a requirement). There are multiple drivers to choose from that can be unlocked, and you can customize your cars as well: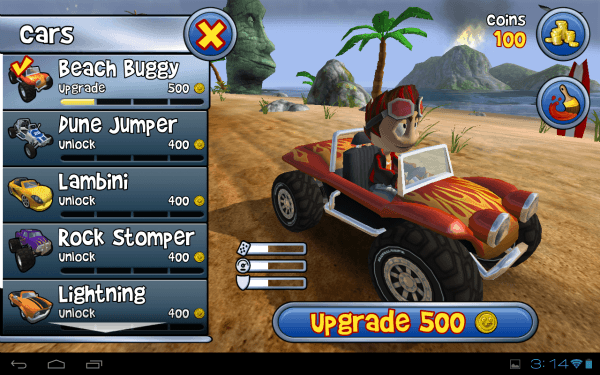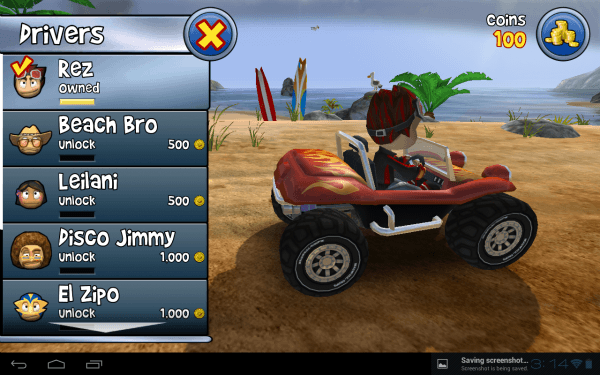 Additional features
There is also an option in the game to enable online features, which basically allow you to save high scores, objectives, and your game progress online, all while giving you the option to connect with your friends on Facebook and Twitter. There is also lots of unlockable content up for grabs, which makes Beach Buggy Blitz an easy title to keep coming back to.
Conclusion
Vector Unit has really delivered a great title here, and we are having a lot of fun with this game in the office. Detailed graphics, fun gameplay, very solid controls, and lots of unlockable features make Beach Buggy Blitz a very fun game, and I highly recommend this game to users with Tegra 3 devices. If you're interested in buying the app, you can pick it up on Google Play on the link below. I have put together a small hands on video that shows the gameplay and some features of the game, which can be viewed below (Youtube link here):