Will Nintendo Ever Come to Android?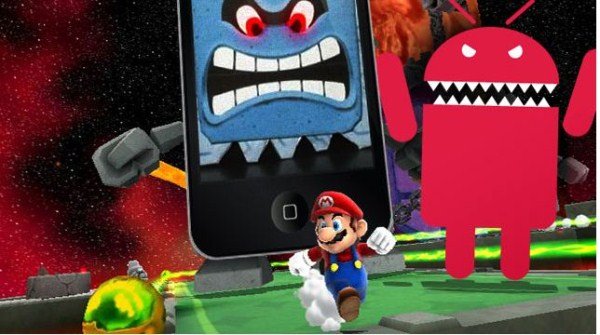 (Picture from Phandroid.com)
Ever since video games showed up on Android Market, people have been wondering why Nintendo hasn't jumped on the Android train. Some say the video game manufacturer has more to lose than gain since liscencing its characters to an Android-spinoff that competes with the likes of Angry Birds would just lead to brand dilusion. Others are quick to point out that Nintendo is both a hardware and software manufacturer, the latter of which is formatted specifically to be used with the former.
Recently, however, there have been rumors that Nintendo might be changing their tune. After the creators of Pokemon released a card-based app for Android and iOS, some wondered whether the video game titan might be showing up in the Android world. During the Tokyo Game Show, the Japanese outlet Nikkei asked Nintendo CEO Satura if the company would ever consider developing games for smartphone platforms. This was his response:
"This is absolutely not under consideration. If we did this, Nintendo would cease to be Nintendo. Having a hardware development team in-house is a major strength. It's the duty of management to make use of those strengths. It's probably the correct decision in the sense that the moment we started to release games on smartphones we'd make profits. However, I believe my responsibility is not to short term profits, but to Nintendo's mid and long term competitive strength."
So, just to reiterate, the answer is: no. No way in hell. You're more likely to see Andy Rubin and Steve Jobs fiddling with a MeeGo tablet in Facebook's boardroom with entertainment by Arianna Huffington than Mario ever making an appearance in Android Market.
Guess we'll have to settle for the emulators for now (and ever).
Related: