When is Android 4.0 Ice Cream Sandwich Coming To My Smartphone?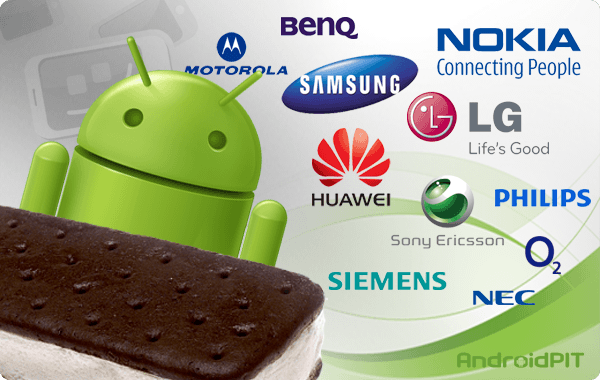 NEXTPITTV
After the latest Android version, Ice Cream Sandwich, showed the world its sleek, redesigned interface, one question was on the lips of every Android fan the world over: "When will I get Ice Cream Sandwich on my phone?" There haven't been many official statements regarding a broad market ICS update but a couple of dates have been kicked around by PR reps and people in the know. Some may be rumors and some could just be true, but for all of you looking to find out when your loveable little Android will be running with ICS, we've assembled the following roundup of all ICS update info we could get our hands on.
AndroidPIT's crack editorial team have been busy scouring the net looking for every scrap of information about the coming wave of ICS updates. Be it for Motorola, Samsung, HTC or Sony Ericsson, if Ice Cream Sandwich is coming to your phone, we're trying to find out about it.
We've compiled the following list of ICS update information and we'll do our best to keep it up to date so check for future updates!
Motorola
Motorola isn't know for being the fastest with updates for their Android handsets. But braking from tradition Motorola has been the most forth coming with information about ICS updates for their popular smartphones.
Motorola RAZR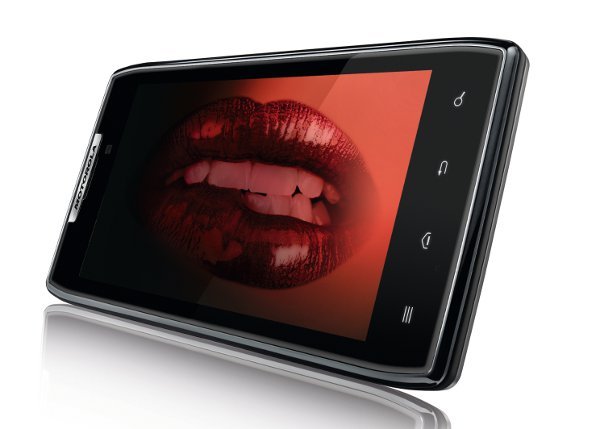 The Motorola RAZR will get ICS in the first quarter of 2012

At Motorola's RAZR announcemnt event, this was the first question out of our collective mouths. The RAZR is already a sexy phone and with Ice Cream Sandwich powering the 7.1 mm thick powerhouse, it will make an already attractive package complete. Thankfully, the kind representatives from Motorola we're happy enough to confirm that the RAZR will be ditching Android 2.4.5 for 4.0 in the first months of the new year.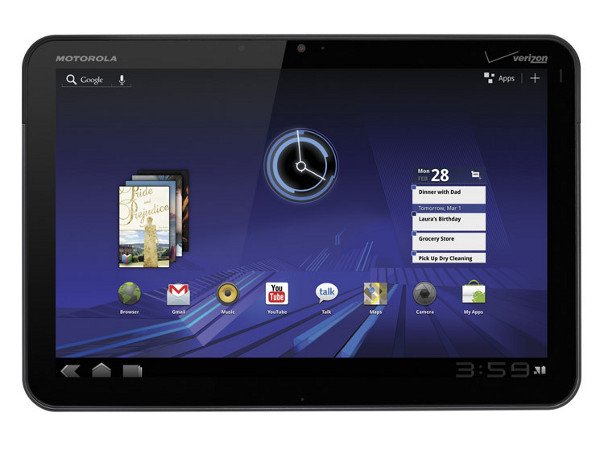 Motorola XOOM will get Ice Cream Sandwich but no official date has been announced


The following statement is from a Motorola Forums Manager, so take it with a grain of salt:
Xoom to be First Ice Cream Sandwich tablet?
I don't know anything about if it will be first or not – have no insight into how other manufacturers do updates – but Xoom will get ICS. I just don't have any timing to share.
UPDATE (25.10):
Motorola released the following information via Twitter: RAZR, XOOM and the Bionic will get an ICS Update and expect an update regarding other Android devices 6 weeks after Google makes Android 4.0 public. Oddly enough, the tweet was deleted shortly after it appeared. Did someone rush out the information?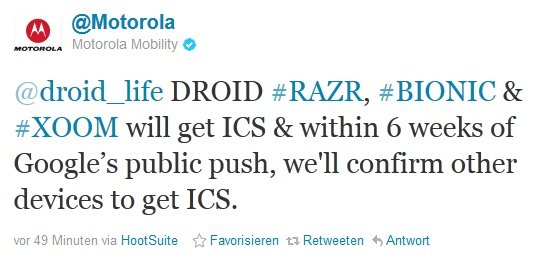 ASUS
The Taiwanese computer company has been tight lipped about when ICS will be available for their tablet series but there have been at least two devices confirmed for an Android 4.0 release.
ASUS Eee Pad Transformer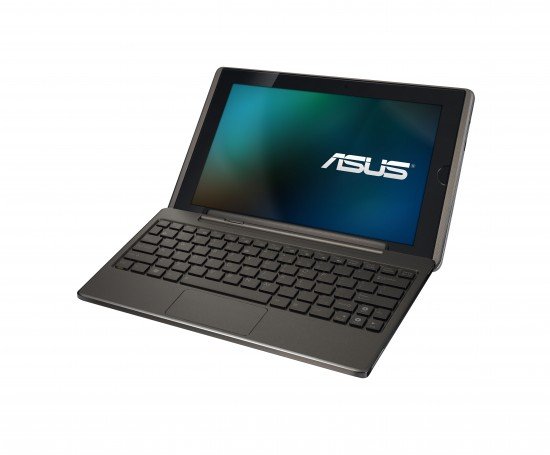 The Transformer will get Ice Cream Sandwich, probably this year.
Pocket-Lint reported on the following statement from ASUS:
"Transformer will be getting update to ICS - but we can't provide a schedule at this stage," our man at Asus told us.
Another qoute from a Transformer Prime event at AsiaD indicates that an ICS-Update for the Transformer is coming this year (see below).
ASUS Transformer Prime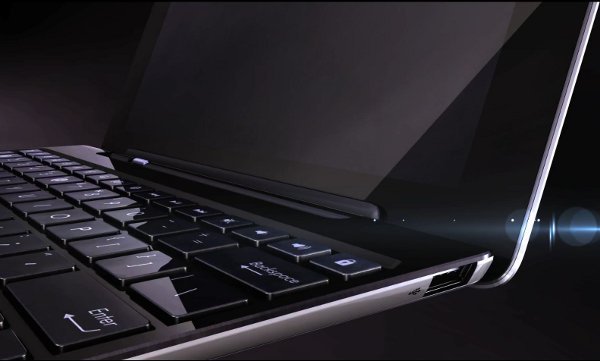 Das ASUS Transformer Prime with get ICS, most likely this year

While some had suggested the Tablet would ship with ICS that does appear to be the case. ASUS head Johnny Shih at the AsiaD event most recently made this comment regarding the device and ICS.
What about Ice Cream Sandwich? Will it be on tablets by the end of the year?
"Maybe earlier than that," Shih said.
ASUS update 26.10
ASUS confirmed that the Eee Pad tablet line will also be getting ICS stating:
We're delighted to confirm support for Ice Cream Sandwich on the ASUS Eee Pad Family – our aim is to bring the latest Android update to the Eee Pad Series, but at this time we are unable to set a date for its release. Please stay tuned for more news on our Ice Cream Sandwich upgrade plans.
HTC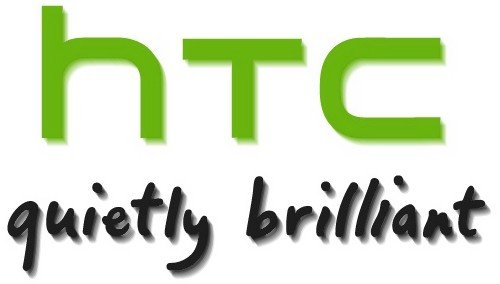 HTC cut right to the chase when it came to ICS on their phones:
"Since Google unveiled Ice Cream Sandwich earlier this week, HTC has been looking closely at the new OS's features and functionality to determine our upgrade plans. We're a recognized industry leader in providing fast and consistent upgrades to our Android devices, and Ice Cream Sandwich will be no different.

Upgrades require a careful balance of hardware and software to ensure the best possible performance and usability, so please stay tuned as we assess our product portfolio. Our goal is to upgrade as many HTC devices as possible and we'll be sharing details on specific devices and timing in the coming weeks!"
Sony Ericsson
Sony Ericsson has made a series of statements about an Ice Cream Sandwich update for their phones, but concrete is something else. According to a facebook post from the Dutch Sony Ericsson page, which Engadget was able to confirm wit SE, all the 2011 Xperia models will get an ICE update but when wasn't confirmed.
Sony Ericsson is currently rolling out the upgrade to Gingerbread 2.3.4 across its entire 2011 Xperia smartphone portfolio. This software upgrade will be available through a phased roll out in select markets. Beyond Gingerbread 2.3.4, we plan to upgrade our 2011 Xperia smartphone portfolio to the next Android platform made available to us.
According to the British Twitter page, the Xperia X10 won't be getting an update.

Acer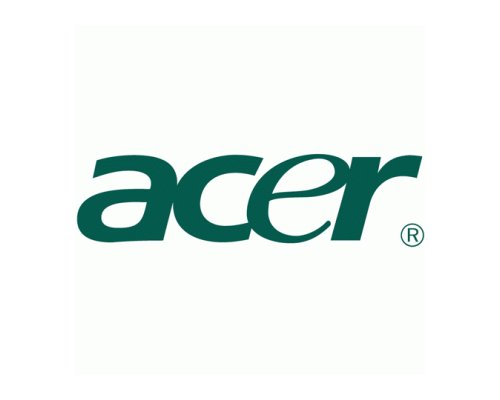 There's been no official word as of yet but the polish site tablet-online.pl claims to have learned that the Iconia Tablets (A500/A501 and A100/A101) can look forward to ICS in January 2012. But again, this could just be a rumor so don't get your hopes up too fast.
Before the official release of Android Ice Cream Sandwich we informed you that the Acer Iconia Tab tablets won't get new version of Google platform this year. The story finds its happy end and the update Android Ice Cream Sandwich for Acer Iconia Tab A500/A501, Iconia TAb A100/101 will be available early next year.

Samsung
Samsung Nexus S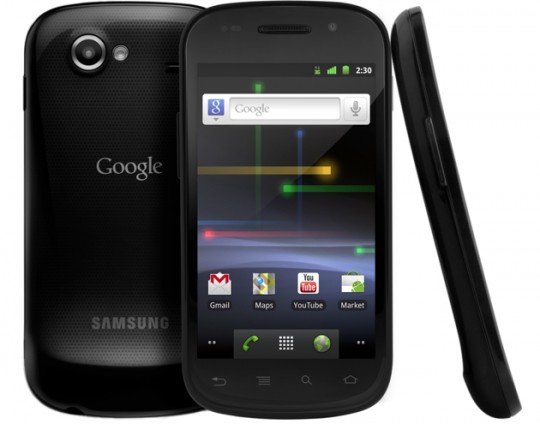 Nexus S Ice Cream Update– a work in progress

That the Nexus S will get Ice Cream Sandwich was just kind of mention in a tweet. You know. No big deal. But not just from anyone Matias Duarte, "Director of Android Operating System User Experience" at Google droped the news, so I'm guessing he kind of know's what he's talking about.
"Currently in the process for releasing Ice Cream Sandwich for Nexus S. Theoretically should work for any 2.3 device."

Waring the last bit of information we have to offer is a rumor and should be enjoyed with the appropreate caution.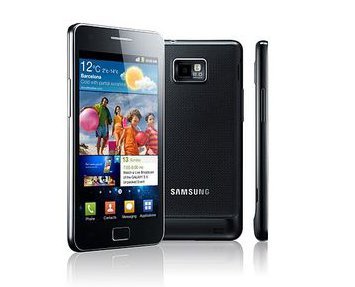 No one is doubting the fact that the Galaxy S2 will get ICS (it is their flagship after all and one of the most popular phones in the world) but the real question is when?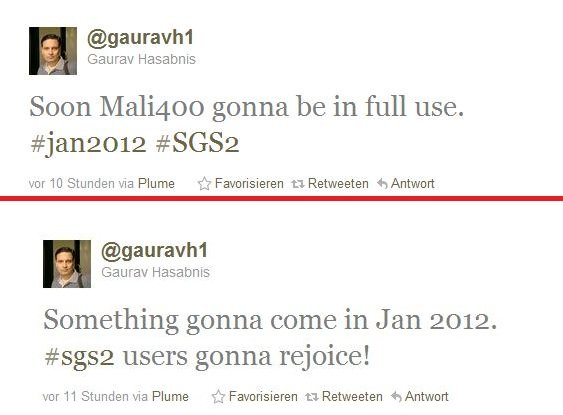 (Bild: Allaboutsamsung.de)
Phonearea.com posted the tweets which do kind of hint at ICS but no one knows for sure... hopefully some more confirmation will creap out in the near future.

That was it for our latest round-up of ICS news. If you have any tips send me a mail or leave your information in the comments.
Related ICS News: