Android Bites Back: HTC Sues Apple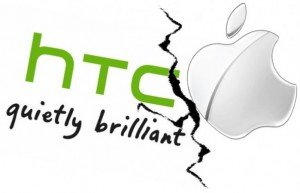 (Photo: Androidheadlines.com)
Making good on their promise to defend the Android ecosystem against outside threats, Google has sold 9 patents to HTC to help them pursue a new infringement case against Apple. The patents originated from Motorola, Openware and Palm Inc. but were sold to HTC by Google mere weeks ago, and include everything from a method for zoomed displays of keypad characters to an apparatus for upgrading radio modem software over the air.
Below is the list of patents disputed in the old Delaware case:
"A method and apparatus for zoomed display of characters entered from a telephone keypad"
"A hypermedia identifier input mode for a mobile communication device"
"A technique allowing a status bar user response on a portable device graphic user interface"
The same title as above, but a different patent
""A dynamic display for communication devices"
And here are the patents used in the old case against Apple (also originating in Delaware):
"A method and apparatus for over-the-air upgrading of radio modem application software"
"A communication protocol between master and slave device with register information sharing"
"A method and apparatus for personal attribute selection having delay management method and apparatus for preference establishment when preferences in a donor device are unavailable"
"A method and apparatus for loading a software program from a radio modem into an external computer"
Besides wanting to appear as protectors of 3rd-party manufacturers, Google probably sold the patents to HTC because they knew the Taiwanese company was already under a lot of legal pressure from Apple and were "losing track," according to patent expert Florian Mueller. HTC was the first Android device maker to be sued by Apple and so that dispute is at "the most advanced stage," and since HTC's patent portfolio is not very extensive, the thought of HTC being defeated by Apple must have also spurred Google into action.
So what'll happen next? Well a judge is expected to make a determination on HTC's first complaint against Apple in less than a week. That first complaint was quite weak, so HTC might be expecting bad news. The new Delaware suit accuses a huge variety (indeed, most) of Apple products of infringement and since it lacks specific targets, Apple could file a motion to dismiss. According to Florian Mueller, the complaint seems "hastily prepared."
We'll have to wait and see what happens next.
Related Patent Stories:
Googerola Or Motoroogle: Out Of 17,000+ Patents Only 18 Are Useful