Louis Vuitton and Montblanc: Expensive smartwatches, worth the money?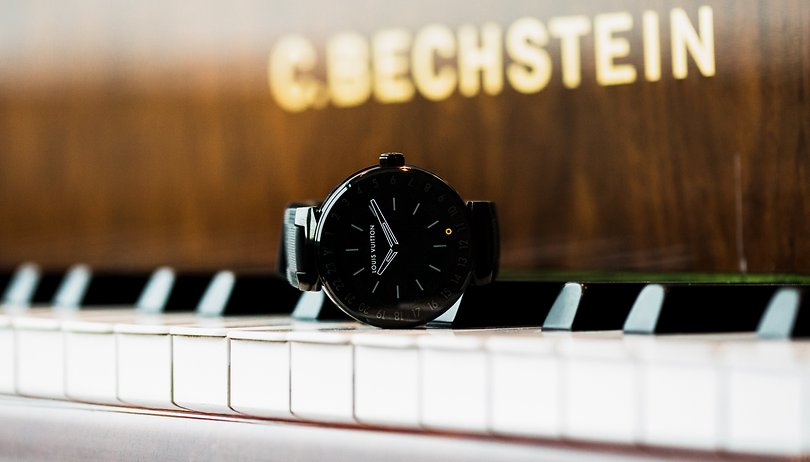 More and more classic watch and fashion companies are jumping into the world of smartwatches and wearables, and the luxury market isn't being left behind, as shown by the two smartwatches made by Louis Vuitton and Montblanc.
Montblanc Summit: Elegance at a premium price
The Montblanc Summit is definitely not a small and inconspicuous smartwatch and yet, it is sleek and elegant. Its housing, optionally made of stainless steel or titanium, measures 44-47 millimeters, depending on the model. Thus, the Montblanc Summit is a bit too heavy for slimmer wrists but just big enough for many people. The watch's craftsmanship is perfect; the leather armband is somewhat stiff at first, but it is extremely high quality. Its stainless-steel crown on the side doesn't quite match its good visual impression, since it's just for decoration and can't even be turned. Montblanc should have saved itself the trouble, although "saving" is something that isn't hugely important for this target audience.
The Montblanc Summit's default watch face has a similar style to classic watches and is pleasant thanks to its sleek elegance. A Qualcomm Snapdragon Wear 2100 processor ticks on the inside, and it runs Android Wear 2.0 operating system. The Summit is IP68-certified - according to the manufacturer, this provides protection from rain, sweat and hand washing, but not explicitly from underwater submersion. 4GB of internal storage, a 400 x 400-pixel display, along with a heart rate monitor are also housed inside the Montblanc smartwatch's 12.5 millimeter-thick housing.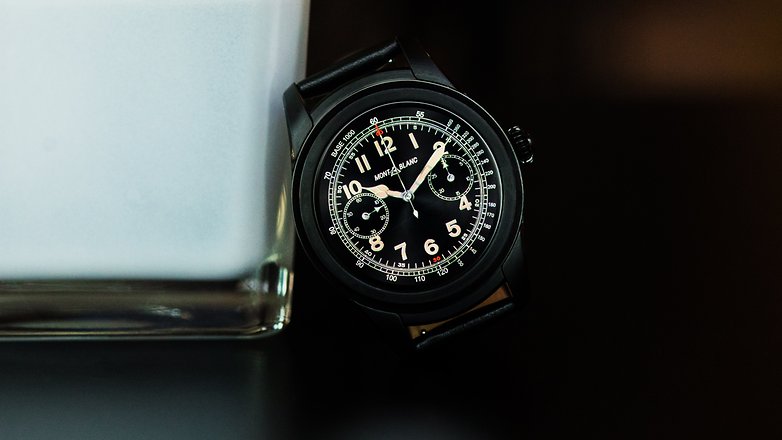 Louis Vuitton Tambour Horizon: Strut your stuff
The Louis Vuitton Tambour Horizon does not have a crown; instead, the manufacturer limits itself to a normal knob, although that's pretty much the only normal thing about its design. The Tambour Horizon has a round, 42-millimeter housing with concave curving on the sides. A 24-hour dial ring surrounds the display, of which the exquisite clock faces give an extremely colorful and detailed impression. Furthermore, Louis Vuitton has not hesitated to place its own logo and name, which can be seen multiple times on the top, side and bottom of the Tambour Horizon – hey, you gotta strut your stuff, you know.
From a technical standpoint, Louis Vuitton's watch is missing things that are standard elsewhere. There are no standard mounts for straps from other manufacturers and there is no heart rate monitor on the bottom, but that's forgivable, because the Tambour Horizon is ultimately intended as a pricey accessory for looking elegant and not for sweaty jogs through the city park. The 390 x 390-pixel display is protected from scratches thanks to sapphire glass. Louis Vuitton does not list any IP certification for its smartwatch but it does promise that the Tambour Horizon is "water-resistant up to 30 meters". Its processor and operating system are identical to those of the Montblanc Summit, and the Tambour Horizon's battery should last you 22 hours. That's enough for a cocktail reception, red carpet and glittering ball night, but not necessarily enough for a long workday.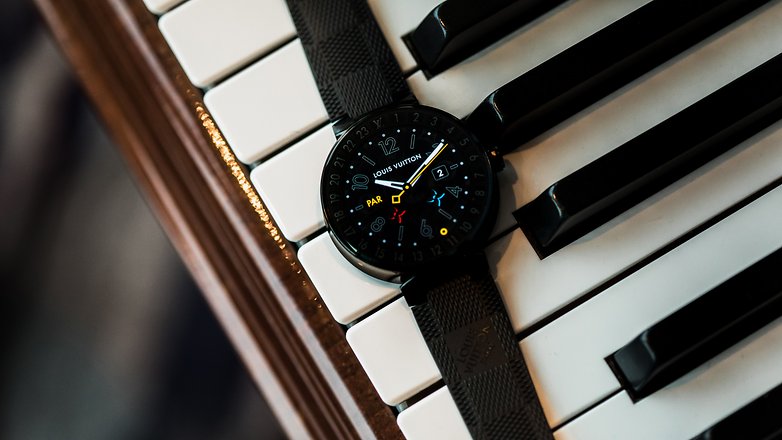 The Louis Vuitton name in particular carries a hefty premium
Anyone who wants to sport one of these two posh smartwatches on their wrist is going to have to pay through the nose to do so. The Montblanc Summit costs $930 - a boatload of money, but by far not as much as Louis Vuitton's asking price. A black Tambour Horizon costs a whopping $2900. At this price, you're no longer paying for the technology, but practically the name only.