Google FINALLY Addresses Android Skins: "Fine" But Not The Best Choice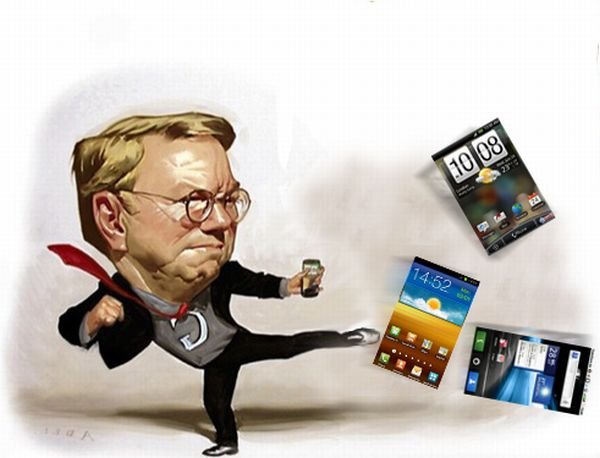 (picture from from Daniel Adel/New York Times edited by Kamal)
I have to admit, I'm no fan of skins. Sure, I can see how some like them, and it's totally a matter of personal preference if you prefer them to stock Android. But here's a few facts for you: Skins, no matter how beautiful you may or may not found them, create massive delays in getting updates for your device, and more importantly, they SLOW DOWN YOUR DEVICE and take away from the richer experience that Google envisioned for Android. Don't believe me when I say they take away from the experience? Well, don't take the words from me, Eric McBride (who can by the way PROVE they slow your device down). Lets take them from another Eric...How about Eric Schmidt, ex Google CEO and current Google executive chairman? I think you'll find it very interesting what he had to say about skins at his keynote speech at Mobile World Congress:
Let's not waste anytime. Here's what Eric had to say (*comments in parentheses are from me, not Eric Schmidt):
Customizing an OS is "completely allowed by open source. We understood that this stuff would happen; it is anticipated and it's fine." (this stuff? hmm.....) "We hope that people who decided to not use Android Marketplace or some of the Google packages will see that they'll be more successful if they do so, but it's their choice (Amazon, that's YOU). We don't prevent them from doing it, we don't require them, we dont sue them - another activity we don't do, if you get my drift. (yes Apple, he means YOU).
Schmidt then went on to say that consumers will ultimately drive manufacturers to "see the benefit of joining this larger android market ecosystem", and that the "brilliant" Ice Cream Sandwich will be a driving tool in doing that, commenting that "there's nothing of that scale in the market today."
Eric says that he has no fundamental problem with skins, as they create differentiation, which isn't a bad thing. But he does state that Google's vision of Android is often a richer experience. He goes on to say:
"Differentiation is positive, fragmentation is negative. Differentiation means that you have a choice and the people who are making the phones, they're going to compete on their view of innovation, and they're going to try and convince you that theirs is better than somebody else."
This is a good point, and one that makes me have to put my foot in my mouth a bit when it comes to skins. Everyone wants to capitalize on Android in the way that's best suited for THEIR company, and standing out from the others with your own visual style and specific applications is a clever way to accomplish that with an open source OS that pretty much anyone can use. That being said, I agree MORE with Eric about the fact that it can take away from the experience that Google created for Android. ICS is awesome. It performs hands down better than any previous version of Android on both phones and tablets, and, to me anyway, it looks damn good. I have seen the Touchwiz versions of ICS and the HTC Sense versions, and for me personally, they are nowhere NEAR as fast or good looking as stock Android. And on top of that, it takes months longer for these skins to be implemented into current Android versions, which DOES create fragmentation. Sure Eric Schmidt didn't say that, and that's understandable considering the relationships he needs to maintain with Sammy, HTC, and Motorola.
But again...that's just my opinion. What do you guys think? Do you agree with Eric? Do skins take away from the way Android was originally meant to be, or do they add to it?