Scam Alert: Don't Get Duped By Root-Android.com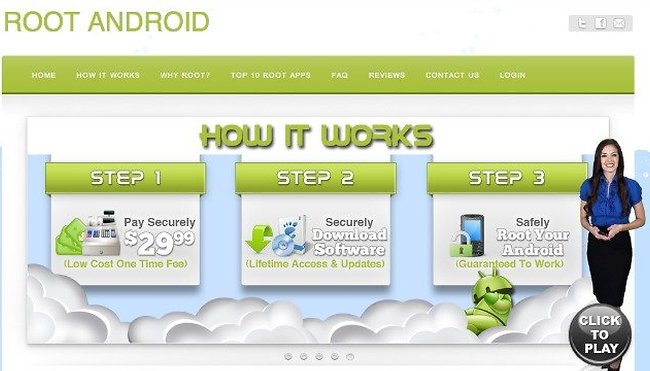 NEXTPITTV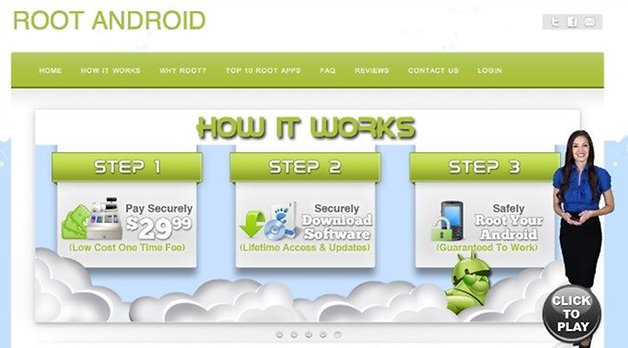 Just a PSA to anyone out there thinking of rooting their devices: don't trust any site that wants to charge you to use their software.
A prime example is "Root-Android.com." This site claims to be able to "root any device" using a single piece of software for the low, low price of $30. But does it actually work?
The problem is there is no single piece of software that can root any phone model without any input needed from the user. Rooting instructions are drastically different depending on your carrier and model, and you should be wary of any website that says it can root your device "with a single click." Especially if that site wants to charge you.
Root-Android.com preys on the inexperienced and uninformed. Knowing that the majority of new phone owners don't really know what "rooting" is, they've filled their website with erroneous information about what rooting can do for your phone. The site lists "screen shot" as one of their top ten apps that require root because "it's a sad fact that Android shops with no way to take a screenshot." In fact, that hasn't been true since Gingerbread.

Root-Android.com has a "we've been featured in" section, but instead of listing sites like Engadget or the Verge, it lists Wikipedia and Blogger – in fact, those are just sites where Root-Android appears as a search result. If that wasn't enough of a red flag, the site doesn't even link to these search results, which could have included very negative reviews of the service.
According to those who've downloaded the program, RootAndroid.org uses free downloads from a few specific websites, but charges for them (of course). Despite what it says on the site over and over again, there is no "100% money-back guarantee" and repeated emailing won't result in any sort of communication from the site's side. Once you fork over your $30, it's gone forever – unless you feel like calling safecart.com and begging for your money back.
Does it actually work? For some it did, for others it didn't. But it doesn't sound like the site contains anything you can't find elsewhere online for free. And without good customer support, there's no reason for it to exist.
So how do you actually root your device? It depends on the model! First, read this rooting guide, so you know what you're getting into. Then, simply Google ROOT [YOUR DEVICE]. Sites like Android Authority, unlockr, XDA Developers, Lifehacker, AndroidPIT, Droid-Life and others will be able to provide you with detailed up-to-date rooting instructions. Read all the comments below the thread to make sure the instructions have worked for others, then follow them. There is literally no point in paying someone to do something you can do yourself.
In short, it's a giant scam. Who knows how many people have wasted their money on this bulls**t service. I just hope enough people read this blog entry that it ends up underneath the search results for "Root-Android.com." Share this page with friends so we can ensure no one ends up falling into the same trap.
Thanks to Ian MacGregor for sending this in!