The Galaxy S9 won't be ditching the DeX Pad or headphone jack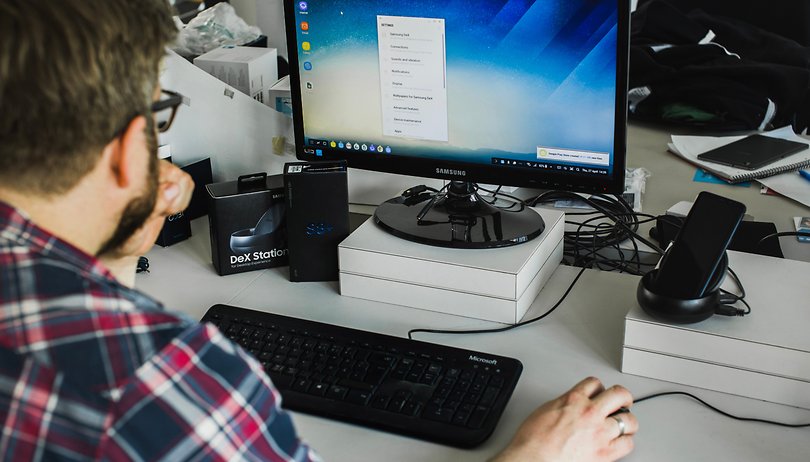 In new leaked images, the highly anticipated Galaxy S9 has appeared again but this time with information regarding a new Samsung DeX Pad, which some of you may remember from the S8 last year. These new images reveal an exciting detail about the S9.
Transform the S9 into a PC
The DeX station allows you to connect your smartphone to your TV to access content on a larger screen, making use of your mouse and keyboard as you would with your computer. According to infamous leaker Evan Blass, the device introduced to the Galaxy S8 in 2017 has been developed for the S9 too, as you can see in the image below:
The so-called 'DeX Pad,' first reported here: https://t.co/DowGkJrKUA pic.twitter.com/5hDaR4g5CM

— Evan Blass (@evleaks) February 8, 2018
The manufacturer has decided to develop this accessory for the S9, and name of the device will be 'DeX Pad' as revealed in the tweet. The photo shows the USB Type-C connector for charging, and two USB ports along the upper edge next to the HDMI output, for the purpose of connecting the dock to a monitor. With this dock, you will still be able to easily control the touch screen due to the positioning of the phone.
The headphone jack could be here to stay
What's most interesting about these new images of the DeX pad, is that it reveals a headphone jack. Many of you will be pleased to see this considering the speculation around whether smartphone manufacturers will remove the audio output, such as Sony with their new Xperia smartphone or Huawei, who already opted to remove the headphone jack on the Huawei Mate 10. It therefore wouldn't have been surprising if Samsung followed in the footsteps of its competitors.
Were you hoping that Samsung would keep the headphone jack? What do you think of the DeX pad?