This Is "Sirious": iPhone User Files Lawsuit Against Apple Over Siri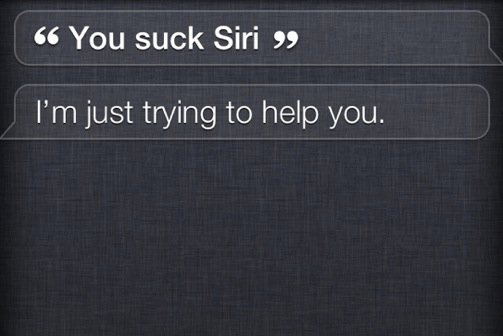 What can I say about Siri? I can pretty much sum it up in 4 words: somewhat cool, but overrated. Iphone users love to brag and show Siri off, but to be honest, Siri was simply another marketing attempt to boost the cool factor of the iPhone. But apparently, one New York resident didn't find Siri cool at all, as the iPhone user is reportedly suing Apple over Siri and stating that the popluar voice activated assistant is nothing but a fraud.
The man is apparently suing Apple for false advertising, saying that Apple commercials convey a "misleading and deceptive message" about what Siri can do. And apparently he's not alone, as quite a few people are feeling suckered by Apple's newest toy. The lawsuit filed last week in California states that:
"[I]n many of Apple's television advertisements, individuals are shown using Siri to make appointments, find restaurants, and even learn the guitar chords to classic rock songs or how to tie a tie. In the commercials, all of these tasks are done with ease with the assistance of the iPhone 4S's Siri feature, a represented functionality contrary to the actual operating results and performance of Siri".
Frank Fazio (a member of this group of people) says that Siri is far less reponsive in real life than what is shown in the commercials. He claims "Siri either did not understand what Plaintiff was asking, or, after a very long wait time, responded with the wrong answer."
The lawsuit asks for unspecified damages, and says that Siri is at best a "work in progress".
When Siri was asked about whether her makers might have exaggerated a bit in terms of her abilities, she replied "We were talking about you, not me".
An Apple spokeswoman declined to comment on the case.
Picture credits: www.cultofmac.com