CyanogenMod For Galaxy Note– First Alpha Download Ready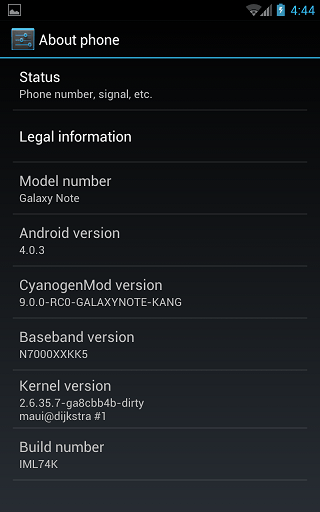 NEXTPITTV
(Picture: Nodch.de)
For some it's an overgrown, pocket busting monstrosity. For others, like me, it's one of the most attractive phones on the market. Of course I'm talking about the Samsung Galaxy Note. While the Android phone does sport some truly impressive hardware, for people who've never really been a fan of TouchWiz, Samsung's custom UI,the Note might not have offered the flexibility many Android users want. Team Hacksung is looking to change all that. The developers group recently released an experimental CyanogenMod Version 9 build for the Samsung phone, bringing Ice Cream Sandwich to the Galaxy Note.
For those new to the Android community CyanogenMod is one of the most popular custom ROMs (custom Android distributions) for Android smartphones. The latest version of CyanogenMod uses Android 4.0 as its core and brings many of the benefits of the new, highly optimised Android version to the Samsung smartphone / tablet hybrid.
According to Nodch.de, a German tech blog that recently tried the ICS custom ROM out, the alpha version of the ROM functions better then expected with full audio, touchscreen, GPS and mobile data support.

But of course there are still bugs in the works. In porting CyanogenMod to the Galaxy Note, they still haven't gotten the camera up and running and BlueTooth support is still M.I.A. But if you're tech savvy and don't mind trading your camera for the sleek optimisation of Ice Cream Sandwich follow the link to download CyanogenMod 9 for the Galaxy Note.
Related Custom ROM news:
[Video] Android 4.0 Runs On Motorola XOOM and Eee Pad Transformer