2023's Ultimate Guide to the Best ANC In-Ear Headphones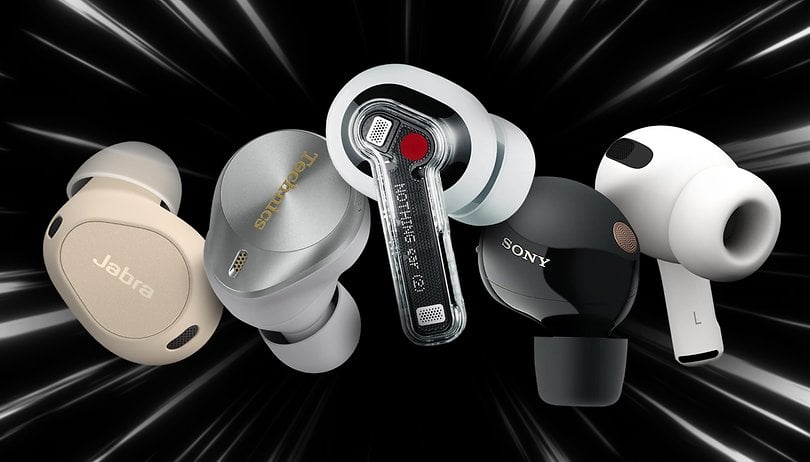 Searching for wireless headphones with active noise reduction? Nextpit has tested the best true wireless noise-cancelling headphones. In this guide, we recommend which model to choose. From premium wireless headphones featuring the LDAC codec to affordable options, there's something for every budget, whether you're on Apple or Android.
The best in-ear headphones with active noise reduction in 2023
This selection focuses on in-ear headphones. The open-fit design is generally not recommended for optimal noise reduction, even though there are models with ANC.
Noise reduction isn't the sole criterion considered in this selection. Factors such as audio quality, intuitiveness of controls, customization options (equalizer, app), water resistance, and connectivity have also shaped this comparison.
We don't advise purchasing the AirPods Pro 2 unless you own an iPhone or another Apple device. The features become quite limited otherwise. However, if you use an iPhone but aren't keen on AirPods, rest assured that all models highlighted here are fully compatible and functional with an Apple smartphone.
Buying guide: What you need to know about in-ear headphones with ANC
Sound quality
If you spend more money on a pair of headphones, you'll usually get better sound. Of course, there are exceptions, like the legendary Koss Porta Pro on-ear headphones, but you can use this rule of thumb as a guide. As for technical data regarding the evaluation of sound quality, you will find the following information online and on the packaging:
Technical data and what it means
| Feature | Impact |
| --- | --- |
| Size of the drivers | The small speakers that sit in headphones are also called drivers. Their size is often cited as a relevant criterion, but the evaluation also depends on the materials used and the quality of the drivers. So don't be put off by small drivers. |
| Frequency response | The frequency response describes which pitches and depths the headphones cover. The wider the frequency range, the better the sound quality in theory. |
| Watt | The power of loudspeakers is measured in watts. The more watts, the higher the output. |
| Decibel | Manufacturers usually specify the maximum volume in decibels. Since the sound level becomes critical from 85 decibels, the volume of most headphones is perfectly adequate. |
| Bluetooth codec | The Bluetooth codec is particularly important for wireless in-ear headphones. It determines in which limitations the technical components can work. Read more on our overview page about Bluetooth codecs! |
However, it is not advisable to judge the sound quality of a pair of headphones solely because of these technical characteristics. After all, preferences in sound quality are as varied as your taste in music. It is therefore very practical if you can adjust the sound to your listening habits via equalizers and sound profiles.
ANC
The term "ANC" stands for Active Noise Cancellation and describes a technique for reducing background noise. Unlike the classic, passive noise-canceling headphones used in the industry, ANC is active noise cancellation.
However, since ANC is a very popular feature, manufacturers try to integrate the function into their headphones by hook or by crook. The result is grotty ANC features in cheap headphones. So be sure to check out our reviews because we test the effectiveness of noise cancellation in every new pair of headphones.
Battery life
The battery life of in-ear headphones comes down to two components. One is the runtime of the headphones themselves, and then there is the capacity of the charging cases that come with them. Make sure that not only the total runtime is long, but also that of the individual earbuds.
Generally, though, it's a plus that you can still get 1-2 full charges via the charging case when you're on the go. Features like Quick-Charging or Wireless-Charging, which works with some smartphones even by putting it on the phone, are practical functions.
Design
When we mention in-ear headphones with ANC, we usually mean models that sit directly in the ear canal. If you don't like this design, there are models like the OnePlus Buds or the Apple AirPods. These sit in front of the ear canal and are not inserted directly into your ear holes.
nextpit recommends: The best in-ear headphones with ANC
The best wireless earphones with ANC: Jabra Elite 10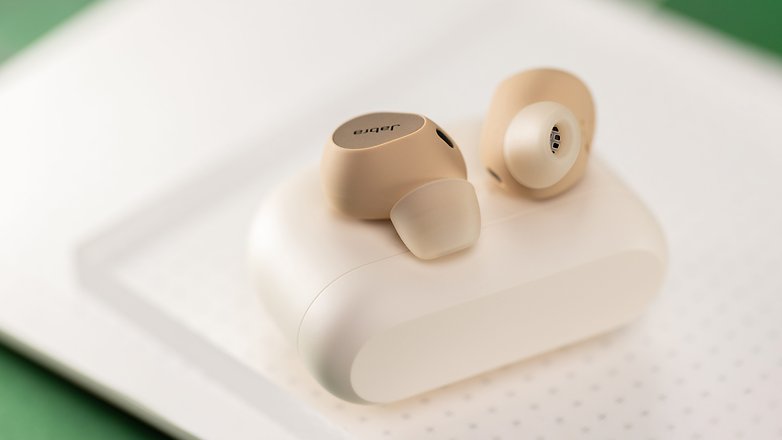 Jabra Elite 10 full review by nextpit
The Jabra Elite 10 are unquestionably my favorite headphones of the year. Jabra has successfully addressed the sole shortcoming that previously hindered its competitiveness against giants like Sony and Bose. The advancements in active noise reduction are evident, and Jabra now stands toe-to-toe with its high-end counterparts. Additionally, these headphones boast a sleek design, superior audio quality, and commendable battery life.
The Scandinavian design, characterized by its minimalist aesthetic and subdued colors, continues to impress. The Jabra Elite 10 rank among the most comfortable earphones I've ever tried. They ensure an excellent fit in the ear and are some of the lightest in this category.
In terms of features, they leave no stone unturned, offering multipoint, port detection, and mono use. The audio quality is stellar, though it's worth noting that these headphones do not support HD audio codecs, limiting themselves to SBC/AAC.
Their battery life is also impressive, placing them in the higher end of the mid-range market.
The alternative to the best wireless headphones: Sony WF-1000XM5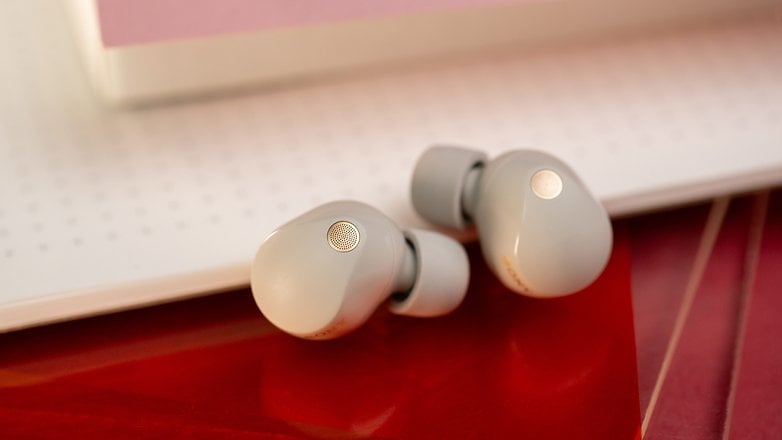 Sony WF-1000XM5 full review by nextpit
The Sony WF-1000XM5 are Sony's latest wireless earphones featuring active noise cancellation. Boasting a minimalist and compact design, they ensure a snug fit and comfortable usage.
New drivers and processors deliver balanced audio quality, enriched with deep bass and outstanding spatialization. Naturally, the HD LDAC codec remains integral. The active noise cancellation is remarkably effective, bolstered by three microphones in each earpiece.
Battery life is another highlight, offering 8 hours of playback with ANC and extending up to 36 hours with the charging case. Given these features, the Sony WF-1000XM5 stand out as a top choice for those in the market for premium wireless headphones with ANC
The best true wireless earphones with ANC for Apple: AirPods Pro 2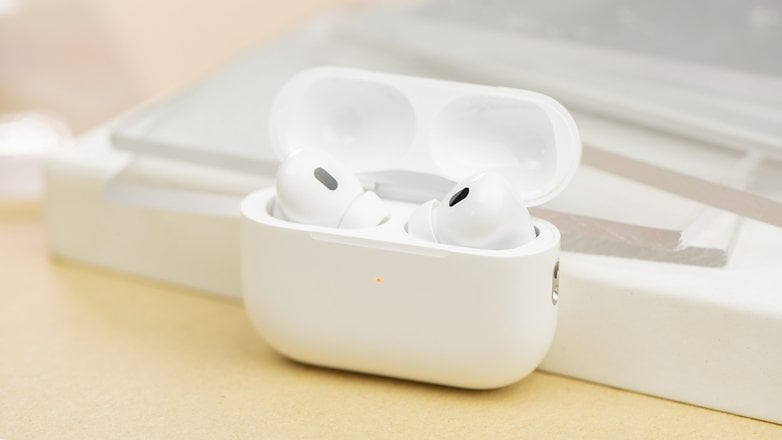 NextPit's full review of the Apple AirPods Pro 2
The AirPods Pro 2 are the top Apple headphones for enjoying music on your iPhone via Apple Music with your Apple account. In essence, if you're deeply ingrained in Apple's ecosystem, this review won't sway you. Purchasing the AirPods Pro 2 is the most straightforward and logical choice.
The noise cancellation is truly outstanding. It rivals, if not surpasses, the Sony WF-1000XM5. Apple has genuinely outdone themselves, though it's a pity that the ANC isn't adjustable.
That stands as the primary drawback of the AirPods Pro 2. Everything operates on autopilot, offering scant customization options. The audio quality is commendable but relies solely on the basic AAC codec. The lack of support for lossless audio baffles me.
However, spatial audio shines bright. Paired with an iPhone, the user experience is seamless. Pairing, equalization, and noise cancellation all happen automatically. Everything is tailored for you—it's as simple as plug-and-play.
The 2nd alternative to the best wireless headphones: Technics EAH-AZ80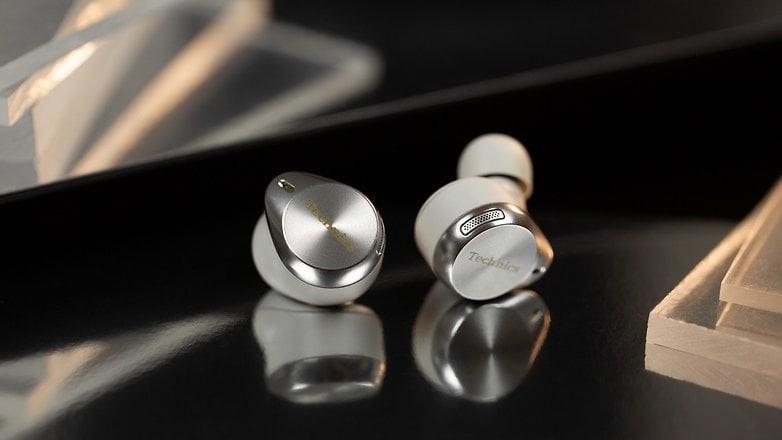 Technics EAH-AZ80 full review by nextpit
The Technics EAH-AZ80, while discreet and lesser-known, are formidable competitors to high-end models from brands like Sony, Bose, Sennheiser, and Apple.
They encompass all the features expected of premium wireless headphones: the LDAC codec, wireless charging, Bluetooth 5.3, multipoint connectivity, and a port sensor.
The audio quality is exceptional, delivering a well-balanced sound by default. Personally, I find its sound quality superior to that of the AirPods Pro 2. With a battery life exceeding seven hours, they rank among the best in the market. Additionally, the companion app is impressively detailed, featuring a five-band equalizer.
While their active noise cancellation might not surpass some top-tier competitors, if brand loyalty to Sony or Sennheiser isn't a priority for you, the Technics EAH-AZ80 stand out as one of the premier choices for wireless noise-canceling headphones.
Best TWS earbuds with ANC under $150: Nothing Ear (2)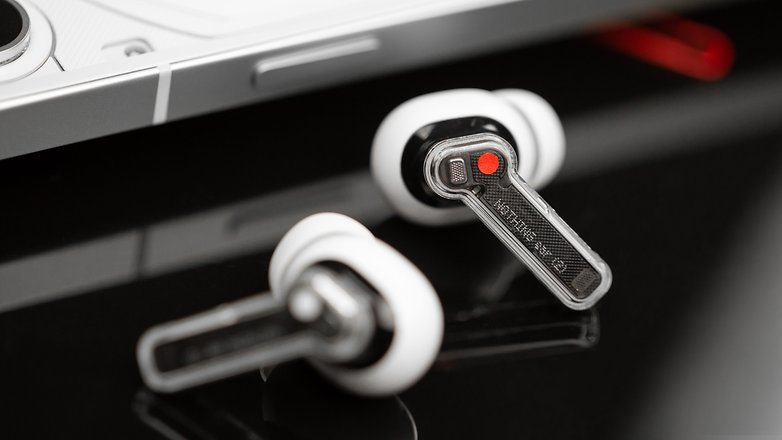 The Nothing ear (2) complete review by nextpit
The Nothing ear (2) undoubtedly offer the best value for wireless active noise-canceling earphones in the market. For under $150, they come equipped with adaptive ANC, wireless charging, and an HD audio codec with LHDC.
While their noise cancellation might not match that of pricier headphones in this selection, the ANC is still commendable for its price bracket.
The sound quality has seen a significant upgrade, thanks to the HD codec that was notably absent in last year's Nothing ear (1). A battery life of 6 hours is also quite satisfactory.
In essence, the Nothing ear (2) strike a balance of being comprehensive, affordable, and genuinely wireless. They also boast a unique transparent design, allowing a peek into their inner workings. Isn't that incredibly cool and unique? Or maybe not?
Best TWS earbuds with ANC under $120: Jabra Elite 4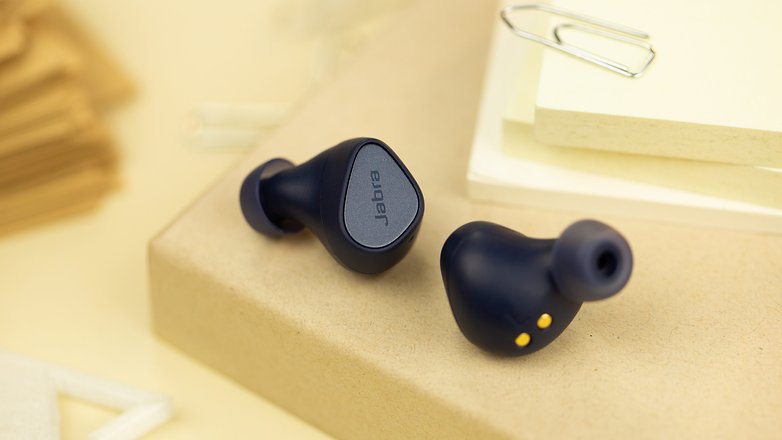 NextPit's full review of the Jabra Elite 4
The Jabra Elite 4 are a hidden gem. Priced at less than $120, these true wireless headphones come with ANC—a feature seldom seen in this price bracket.
What's even more impressive is the quality of the ANC in a pair of wireless headphones at this price. The inclusion of the aptX codec further elevates their appeal.
Their sound profile is accurate, and any lack of bass can be readily adjusted through the comprehensive Jabra Sound+ app. The capability for multipoint Bluetooth connection is another commendable feature, especially considering even the pricier $250 AirPods Pro 2 lack genuine multipoint functionality.
However, the Jabra Elite 4 aren't without shortcomings. The microphone quality leaves much to be desired, the design might not appeal to everyone, and there's a lack of customization options for controls and noise reduction. Yet, for under $120, they're arguably the best option available.
What's your take on this selection of true wireless headphones with ANC? Is noise reduction crucial for you too? Which brands or models should be included? Should we also review models above $300?
---
Article updated in November 2023 with a new alternative pick, previous comments have been preserved.