AirPods Pro 2 review: The best ANC in the market but with very basic sound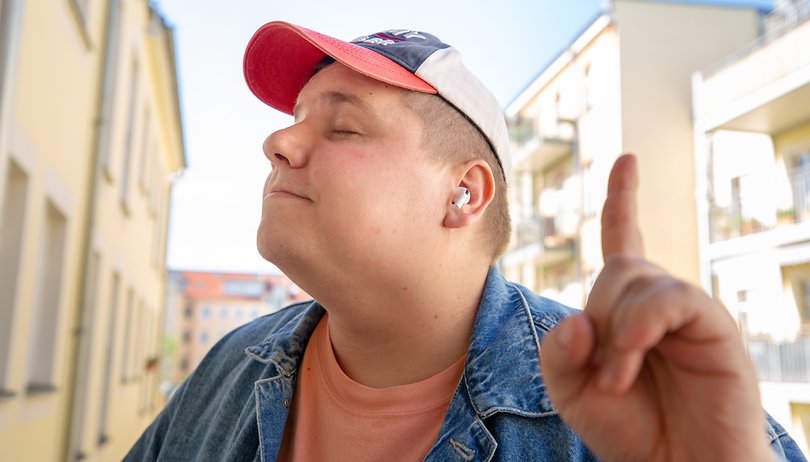 We finally got to review Apple's AirPods Pro 2 more than six months after it was launched. In this full review, I will share my honest opinion about Apple's wireless headphones that comes equipped with ANC.
Good
Ergonomic and comfortable design

Excellent active noise reduction (ANC)

Faithful audio signature

Good battery life

Very nice spatial audio

IPX4-rated wearable sensor

Wireless charging supported
Bad
Lossless audio is not supported

No HD codec, only AAC

Customization is too limited

Almost unusable on Android
The Apple AirPods Pro 2 in a nutshell
The AirPods Pro 2 are sold for $249 on the official Apple Store. That's the equivalent price of a decent mid-range smartphone. As a pair of wireless earbuds, it is overpriced. Buy hey, it's Apple. This is more or less the same price as Sony's and Sennheiser's flagships headphones when they were released. On Amazon, you can find them at the same price.
If I had to summarize my opinion about the Apple AirPods Pro 2 in one sentence: Excellent ergonomics, basic sound quality, ultra-efficient active noise cancellation, and average battery life.
However, I found the quality-to-price ratio to be rather unbalanced at $249. I also think it is a shame that the AirPods Pro 2 are practically unusable with an Android smartphone.
Design
The design of the AirPods Pro 2 has not changed from the previous model. Apple's earphones are still very ergonomic in nature. They fit very well in the ear and are easily forgotten when worn correctly. The case is extremely compact, but I'm not a fan of the white coating.
---
What I liked:
Very comfortable to wear.
IPX4 certified.
Compact and well-designed case.
What I disliked:
The misplaced capacitive/tactile surface.
The white color gets dirty easily.
---
The AirPods Pro 2 comes in a classic hairdryer design. Nothing has changed from its predecessor. The earphones follow the same in-ear format, and Apple offers four silicone tip sizes: XS, S, M, and L.
They are not waterproof but have IPX4 certification. This makes them sweat-resistant and you can consider wearing them for sports without any worries.
I'm not a fan of the shiny, smooth white plastic coating. It gets dirty easily and the blue from my jeans pockets tends to stain them. But that's not a problem unique to Apple.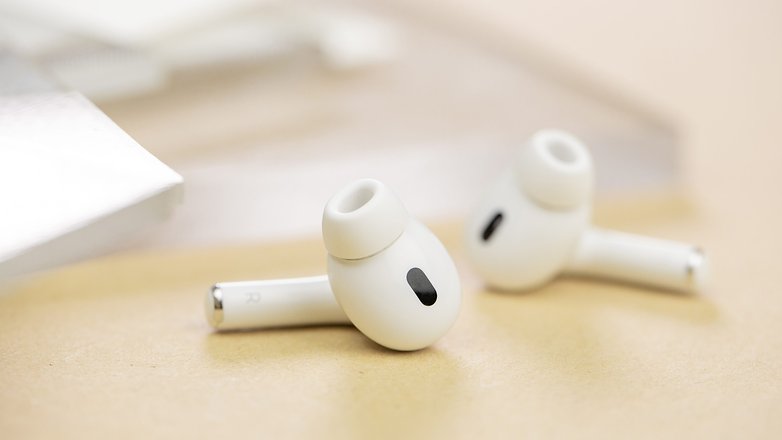 I found them really comfortable to wear. They remained securely in place even when you move around actively. I did not feel any discomfort even during extended listening sessions. You can even "sleep" with them on, or watch a movie on your bed without the earbuds sinking too far into your ear when you place your head on the pillow.
The stem of each AirPods Pro 2 has both a tactile and capacitive surface. Basically, you can swipe up or down to adjust the volume, and also press the stem to initiate certain actions.
Personally, I found the placement of these touch/capacitive surfaces to be poorly thought out. They were oriented to the front where you have the earbuds in your ears. This means you have to "rub" the front of the stem to manage the volume. It is totally counter-intuitive and not really practical.
As for the case, it is rather compact and easy to carry. Its design exudes a sense of quality manufacturing, with a solid hinge and smooth opening and closing mechanism. The case has an LED indicator to let you know just how much battery life remains. It even has a small speaker that plays an alert sound when you place the AirPods Pro 2 to charge and notifies you when the charge is completed.
On the right side of the case, there's also a little hook or latch (I looked for the name of this thing for an hour and couldn't find it) that lets you slide in a strap or lanyard loop. Apple sells this lanyard loop separately, of course. It costs $12.95 a pop in the official store. I didn't try to attach a lanyard loop from a third-party manufacturer for fear that the AirPods Pro 2 would explode due to lack of compatibility.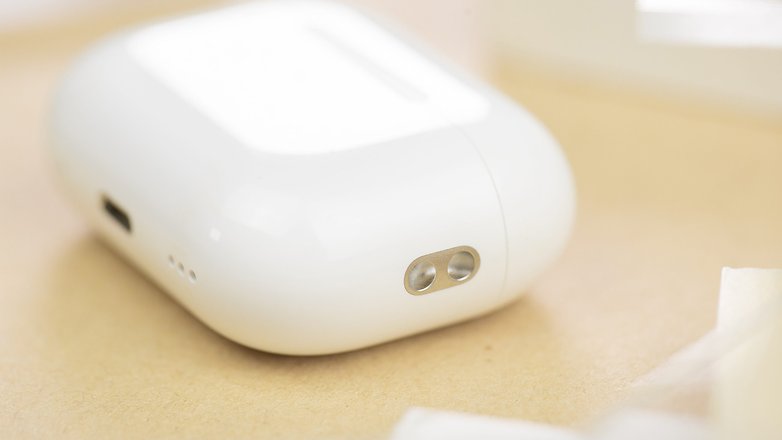 Audio quality & microphone
As always, Apple refused to provide any concrete information about its technical specifications. I find this to be just plain stupid and anti-consumer, but that's the way it is. Unlike many reviewers, I didn't find the audio quality of the AirPods Pro 2 to be exceptional, especially so given their price.
---
What I liked:
Spatial audio is highly effective.
Head Tracking still works well on Apple Music.
Faithful audio reproduction.
What I disliked:
Only the basic AAC audio codec is supported.
No lossless music support even on Apple Music.
---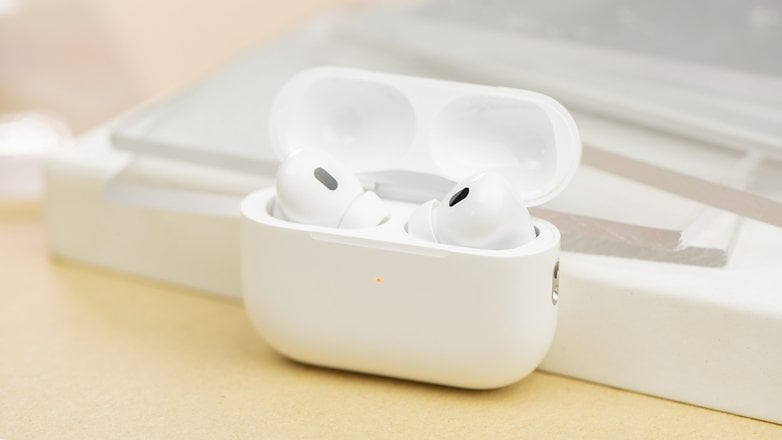 I don't know what frequency range the Apple AirPods Pro 2 is capable of reproducing, and I also don't know what materials Apple used to make its drivers.
Faithful audio signature with sublimated mids
The AirPods Pro 2 feature a fairly flat audio signature. This translates to relatively accurate audio reproduction that remains faithful to the source.
The bass is flatter compared to its predecessor, while sound is slightly punchier. The mediums remain clearly represented, with voices and instruments being highlighted well.
I found the AirPods Pro 2 to lag a little on the highs. We have the advantage of not having sibilance with whistling sounds that have "s", "f" or "ch" in them.
Apple relies on an automatic equalizer, using microphones in each earpiece to analyze the sound in your ears and ambient noise to adjust decibels across the frequency range.
In the Apple Music settings, you can also choose from several EQ presets. Do bear in mind that is exclusive to Apple Music, and if you use another streaming music service, you can forget about doing so.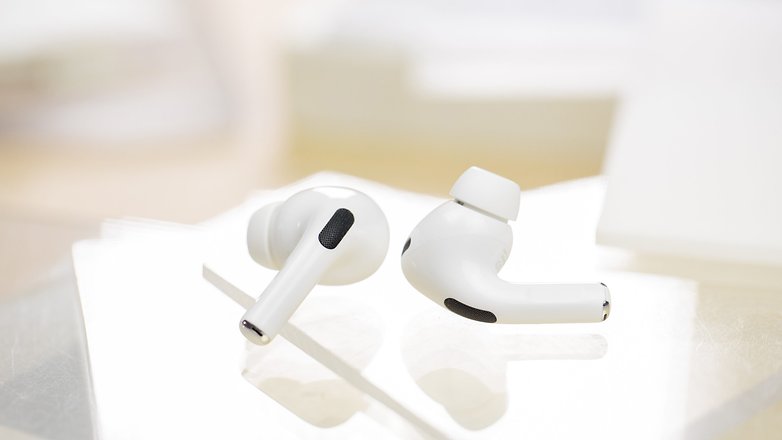 No lossless audio, even on Apple Music
The AirPods Pro 2 does not support "generic" HD audio codecs like aptX HD, LDAC, or LHDC. We are limited to just AAC and that's that. To make matters worse, they don't even support lossless audio despite being available in Apple Music's settings.
What's wrong with that? It's the flagship of Apple's audio catalog, along with the AirPods Max. Why don't they work with lossless audio? It's a shame, because with lossless audio, you can achieve bit rates of 24 bits at 48 kHz. You can go up to 24 bits at 192 kHz with Hi-Res lossless audio. But the AirPods Pro 2 fail to let you enjoy that.
As a result, the name Pro loses its relevance in my eyes.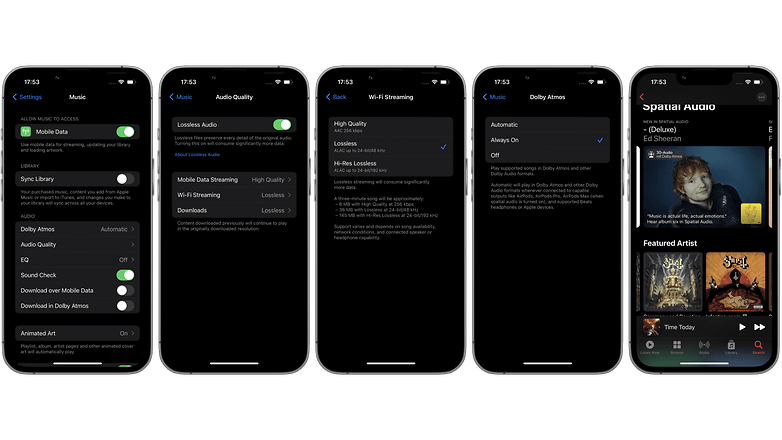 Spatial audio works very well
The AirPods Pro 2 at least supports spatial audio. Apple Music offers playlists that were specially designed for this mode with Dolby Atmos sound in tow.
It works very well, too, where the spatialization is excellent and the sound rendering is much more encompassing. For compatible movies and series, the experience is also a very pleasant one.
It's really top in terms of immersion and we even rediscovered certain pieces in a different light, having unearthed details that we never noticed before. In short, it works very well and it's effortless to use.
For now, third-party platforms like Spotify do not offer spatial audio just yet. With Apple Music, you can even take advantage of Head Tracking, which allows you to adjust the spatialization of the audio scene according to your head movements.
You can also "force" spatial audio for use with regular stereo songs. All you have to do is to press and hold the volume bar from the Control Center of your iPhone. Personally, I found the impact to be imperceptible.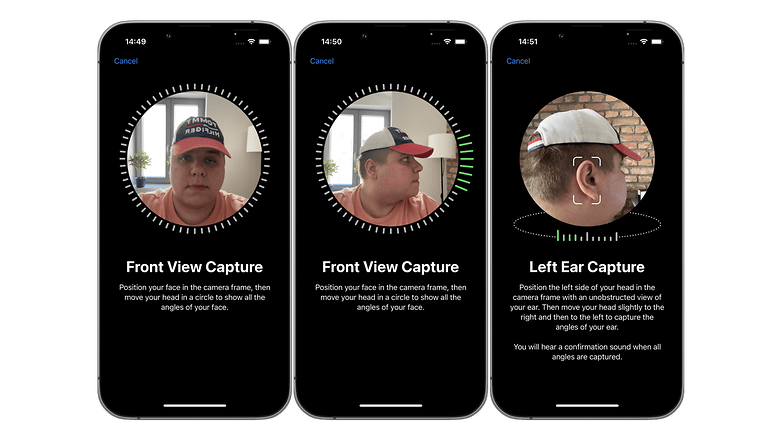 Mic quality
Apple does not differ much from the competition when it comes to the quality of microphones for calls. Indoors, the rendering is very clean and your voice is always intelligible.
When you head outdoors or in case of ambient noise, the attenuation is not effective enough. It drowns out your voice, which then becomes too quiet. It is hardly better than using your smartphone's microphone.

Microphone quality AirPods Pro 2
Active Noise Reduction (ANC)
The AirPods Pro 2 offer the best active noise reduction on the market in my opinion. Apple's ANC, though automatic, is excellent. The adaptive Transparency mode is less so.
---
What I liked:
The best ANC on the market.
Apparent Transparency mode.
What I disliked:
ANC is not manually adjustable.
The "adaptive" transparency not convincing.
---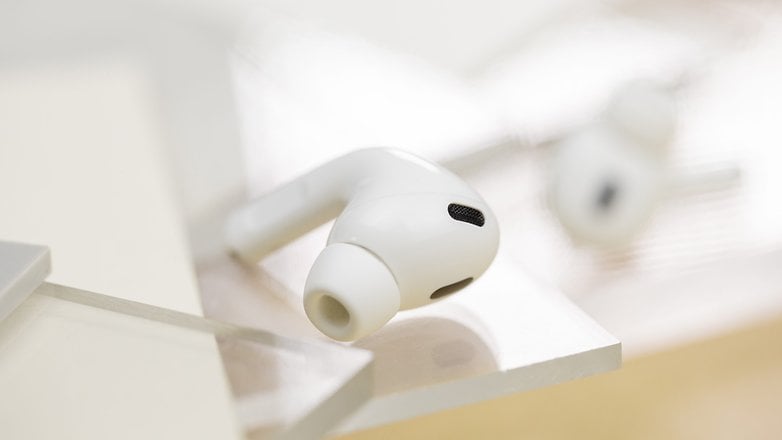 Apple still won't offer a manually adjustable ANC at this point. This is so annoying for me, so much so you cannot even imagine. You can simply choose between ANC, normal mode, and transparency mode.
If you have an iPhone, you can switch between them via the AirPods settings in the phone settings. This is impossible to do on Android. But you can also make this switch with a longer press on the stem of the earbuds, and it works on both iPhone and Android.
The best active noise reduction on the market
Returning to the ANC quality of the AirPods Pro 2, it is simply excellent. I'm 99% convinced that it's the best active noise reduction in the market at the moment.
All structure-borne noise (that results from contact with a surface) is extremely well attenuated. Constant noises such as car engines are handled well. Even other occasional noises like human voices, computer keyboard taps, or the clatter of subway trains are properly muffled.
This is quite impressive. I really felt like I was in a bubble. In the office, I used the AirPods Pro 2 without listening to anything, just using ANC, to be quiet and happily ignore all my other colleagues and surrounding distractions.
The audio signature remains very faithful despite having ANC. The sound of the AirPods Pro 2 does not change drastically when you activate the active noise reduction.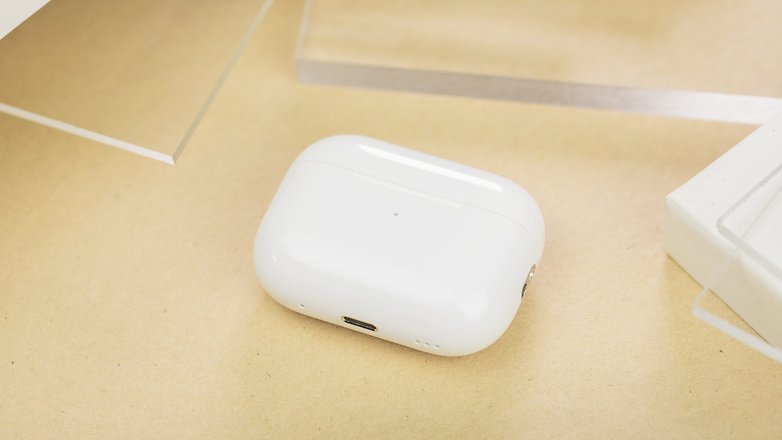 The Transparency mode touches one ear without moving the other
The AirPods Pro 2 also offers a Transparency mode that allows you to amplify ambient noise to remain "aware" of your environment.
This mode also works very well. The clarity of reproduced sounds almost gave me the impression of not wearing them. It gets quite confusing at times, I admit this. Apple even included a feature that automatically attenuates sudden and very loud noises. The idea is to avoid blowing out your eardrums in case of a door slamming or something.
Personally, I found this "adaptive" transparency feature to be rather gimmicky. I tried to scream like crazy to see if the headphones would automatically attenuate my voice. Honestly, I cannot tell you if it really worked. I also tried dropping objects on the floor, but the results were not any better.
Application & connectivity
The Apple AirPods Pro 2 does not work with any companion application. Even on the iPhone, you only have a dedicated submenu in the Settings of your smartphone. On Android, you are totally hamstrung.
---
What I liked:
Wearable sensor is included.
Bluetooth 5.3.
Fast switching from one Apple device to another.
What I disliked:
No dedicated application.
The settings are too limited.
No equalizer option.
ANC cannot be adjusted manually.
No true multipoint Bluetooth connectivity.
---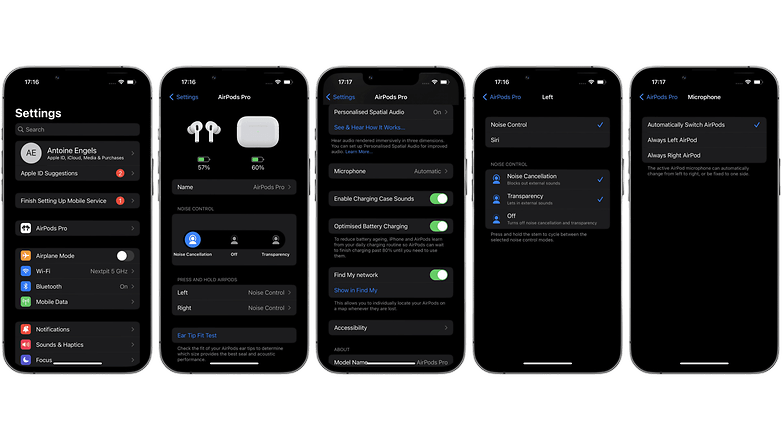 The AirPods Pro 2 settings are too limited in my opinion. There is no equalizer and it is impossible to adjust the intensity of the ANC.
The touch/haptic controls can also be quite rigid. You can simply reassign the long press gesture and choose between 2 actions (noise control and Siri).
It's quite frustrating to have so little freedom in terms of customization. That's when you're with Apple. On Android, customization is virtually non-existent. I know, Samsung does the same thing, but I think it's really lame to close its ecosystem like that.
The AirPods Pro 2's wearable sensor is very efficient and reliable. You can use the earbuds in mono and the active microphone for calls, automatically switching from one earbud to another depending on which one you remove from your ear. You can also make this choice manually, whether the active mic is always in the right or left earbud.
The AirPods Pro 2 can automatically switch between Apple devices, but it's not true multipoint Bluetooth connectivity. More importantly, with non-Apple devices, it doesn't work and you have to disconnect the earbuds from one source to connect them to another. We are in 2023 now, it's hard to accept that fact.
Even though we're on the Bluetooth 5.3 standard, I noticed significant latency on my Windows PC when I was playing videos. I wouldn't recommend the AirPods Pro 2 for mobile games either, given the latency.
Battery life
According to Apple, the AirPods Pro 2 have a battery life of 6 hours per earbud without ANC or spatial audio, and 5.5 hours with both enabled. With the charging case, the AirPods Pro 2 can achieve up to 30 hours of battery life.
---
What I liked:
6 hours of battery life is decent.
Wireless charging via MagSafe.
Up to 5 recharges via the case.
What I disliked:
---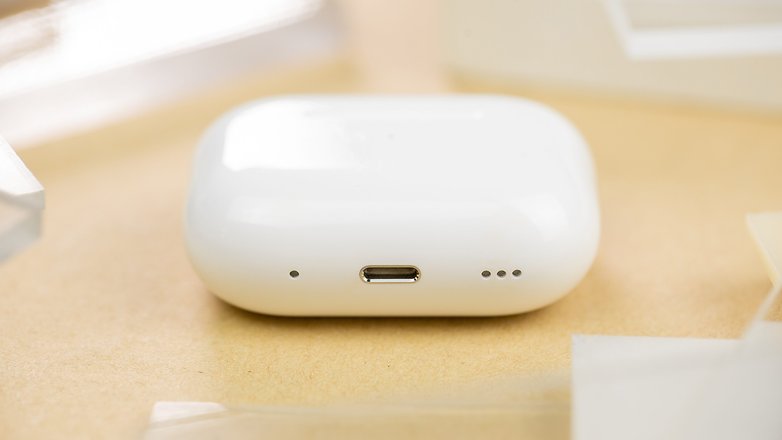 The battery life of the AirPods Pro 2 is clearly not top-tier material, but it is considered average. Six hours without ANC is more than enough time for a normal workday.
The case allows for up to five full recharges, which is great. Personally, I always had the ANC enabled, but I didn't use the spatial audio feature all the time.
I was always able to squeeze out just over five hours of battery life. Charging via the case takes two hours. According to Apple, five minutes of charging is enough to obtain the equivalent of one hour of listening time.
The box itself can be charged via Lightning (wired) or wirelessly via MagSafe in approximately two hours. The charging case will emit a sound to confirm that the charging process is ongoing. It will also emit another audio alert once the charging process is complete. It's really convenient, and I really liked this feature. If it annoys you, you can disable this sound via the settings (on iPhone only).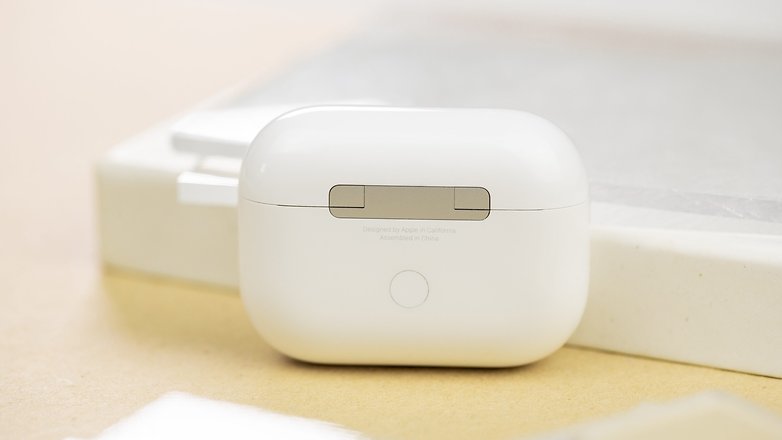 Technical data
Technical data
Device
Image
Design
Format: Intra | weight 250 g | Port detection | Touch controls
Weight per earbud: 5.3g | Case weight: 50.8g
Case dimensions: 45.2 x 60.6 x 21.7 mm
Audio
11 mm driver | H2 chip | Spatial Audio
Frequency Response
Not indicated
ANC

Yes, auto or manual
Dedicated H2 chip
In-ear and outward-facing microphones
Adaptive Transparency Mode

Bluetooth

Bluetooth 5.3

SBC and AAC codecs
No multipoint (but can switch between Apple devices)
Battery life

6h of listening with the headphones
5.5h with ANC and/or spatial audio

30h of listening with the charging box
5 minutes of recharge = 1h of listening time

Price
$249
Conclusion
The AirPods Pro 2 are the best Apple headphones for listening to music on your iPhone via Apple Music with your Apple account. In short, if you're well within Apple's ecosystem, this review won't change anything for you. Buy the AirPods Pro 2, it's the simplest and most logical solution.
When you have an iPhone, the user experience is very seamless. Pairing is automatic, the equalizer is automatic, active noise cancellation works like magic. Everything is done for you. It's easy. It's plug and play.
With this point, non-Apple manufacturers are way behind. Just look at the implementation of Google Fast Pair or Microsoft Swift Pair which has not been well implemented.
However, I found the rest of the experience far too limited. Why spend $249 on a pair of earbuds if they don't support lossless audio? Why pay $250 to listen to MP3s on Apple Music or Spotify with a basic AAC codec?
Apart from the active noise reduction which is excellent and the spatial audio which is really cool, I found the AirPods Pro 2 to be way too basic at this price. If you have an Android smartphone, I do not recommend buying them.