Jabra Elite 10 Review: Everything an Earbuds Needs to Have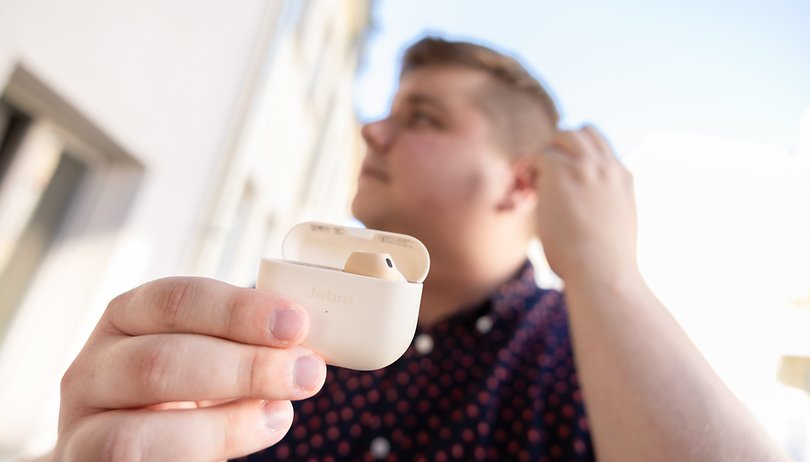 I reviewed the Jabra Elite 10 recently, which is the latest flagship earphones from the Danish manufacturer. This year, Jabra finally closed the gap that prevented it from standing alongside the big boys like Sony and Bose: the inclusion of active noise reduction. These wireless earphones with ANC are definitely my favorite this fall. I'll tell you more about them in this full review of the Jabra Elite 10.
Good
Sleek design and elegant colors

Very comfortable to wear and discreet

Huge progress on active noise cancellation

Very decent battery life

IP57 certified

Wireless charging
Bad
No HD codec

Default audio signature is too high-pitched

Jabra Sound+ application is not very comprehensive
Jabra Elite 10: All deals
In a nutshell
The Jabra Elite 10 is now available with an asking price of $249.99. This is the manufacturer's flagship model, and these wireless earbuds promise improved active noise reduction (ANC) as well as excellent microphone quality for calls and support for Dolby Atmos sound.
After picking them up during IFA 2023, I was able to review them extensively over several weeks. The Jabra Elite 10 is now a clear favorite in terms of consumer audio products.
I have almost nothing to reproach them for, and Jabra's progress in active noise cancellation is undeniable. There's virtually nothing to separate Jabra from its high-end rivals like Sony or Bose. Even Apple, who retains the ecosystem advantage, has been overtaken by Jabra when it comes to ANC in my opinion.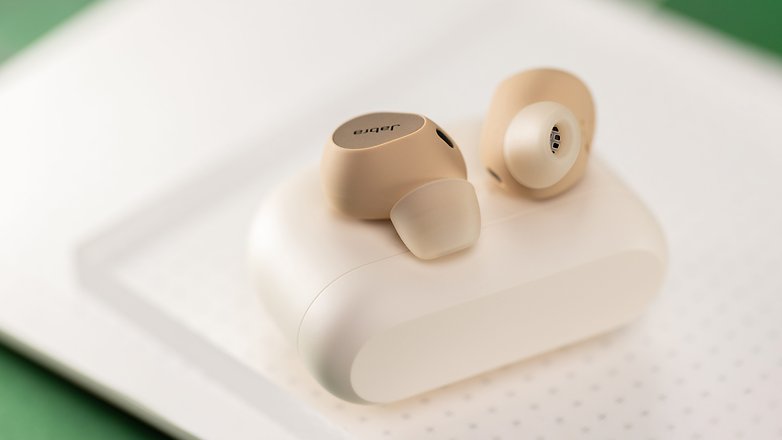 Design
The Jabra Elite 10 are half in-ear headphones. Their form factor is very compact and I found them to be comfortable to wear. They are IP57-certified and feature physical buttons as well as in-ear sensors.
---
Pros:
IP57 rating.
Compact form factor.
Comfortable, semi-in-line format.
Port sensor.
Volume controls are available on earbuds.
Cool beige color with a minimalist, streamlined look.
Cons:
Charging case is not IP certified.
---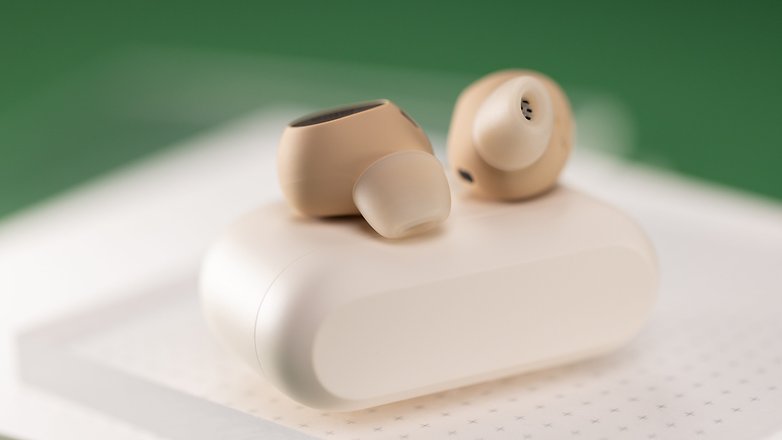 The Jabra Elite 10 arrives in two colors: white and beige, with a matte finish. The earbuds are also rather compact in nature, and discreet when worn despite weighing 5.7 g per earbud. The charging case is easy to stow in the pocket, with a solid hinge that ensures the earbuds remain secure inside.
The Jabra Elite 10 is IP57-certified for water and dust resistance. You can, in theory, immerse them for 90 minutes under 1 meter of fresh water and they should still work after that. This makes them perfectly suitable for sports.
Well, they didn't stand up to my extreme "fit test". I found them very comfortable to wear, and the fit in my ears was more than adequate.
The earbuds didn't dislodge every time I chewed on something, and I didn't need to constantly readjust them.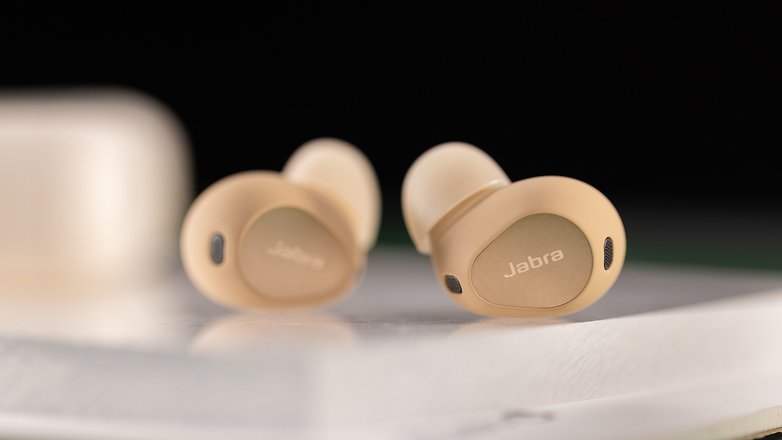 I still like the fact that there are physical buttons on each earpiece, as well as a wear sensor to pause music playback automatically when the earbuds are removed. You can also use a single earbud in mono mode.
The Jabra Elite 10 comes in a semi-in-ear format, like the AirPods Pro 2 (review), for instance. They're in-ear headphones, so they fit in your ear canal, but they don't go as far as conventional earbuds. This design choice limits the feeling of obstruction that will bother many users.
These earbuds are very elegant, and the beige color is both classy and sober-looking. The coating on the case is very pleasant to the touch, but I noticed my jeans pockets were rubbing them off quite a bit.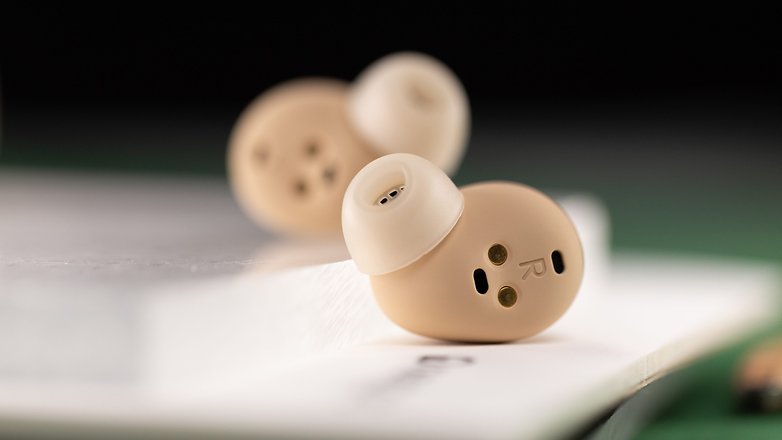 Audio & microphone quality
The Jabra Elite 10 features larger 10 mm drivers and more microphones, with three per earpiece. They promise excellent microphone quality for your calls.
---
Pros:
Excellent microphone quality.
Dolby Atmos WITH head tracking (less noticeable without).
Immersive, all-encompassing sound for movies/series and games.
Dynamic, present bass.
Precise midrange.
Cons:
High-frequency sibilance.
Dolby Atmos is still under-exploited (not enough media that is compatible and re-mastered).
---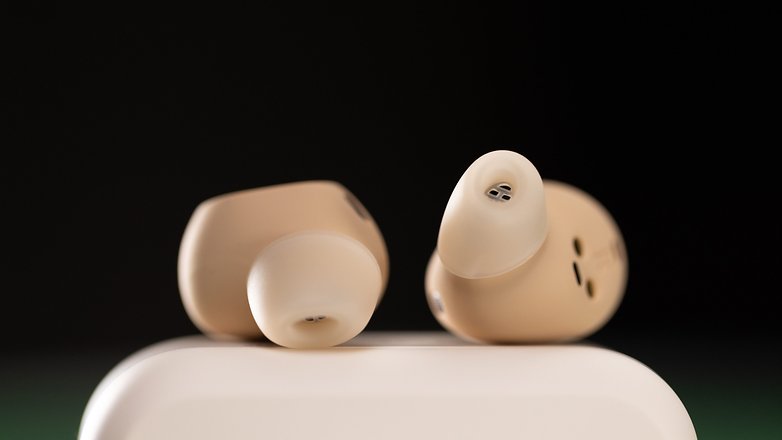 Jabra Elite 10 audio quality
On paper, the manufacturer is sending out the big guns. The speakers are larger than on the previous flagship model, the Jabra Elite 7 Pro. The diameter of the drivers has increased from 6 mm to 10 mm. The earbuds can reproduce a standard frequency range of 20 to 20,000 Hz and support only the basic SBC and AAC audio codecs.
By default, the audio signature is a little too flattering on the treble. The upper-frequency range is overemphasized. Even on tunes with heavier bass, such as the big UK Drill (Russ Millions, which I'm listening to at the moment), I had very few problems with sibilance. Basically, on certain high-pitched sounds, such as those in "Sss", "Chhh" or "Fff", there was a whistling effect.
Hence, you have to use the equalizer to reduce the intensity of the high frequencies a little. The rest of the frequency range, however, were very well reproduced.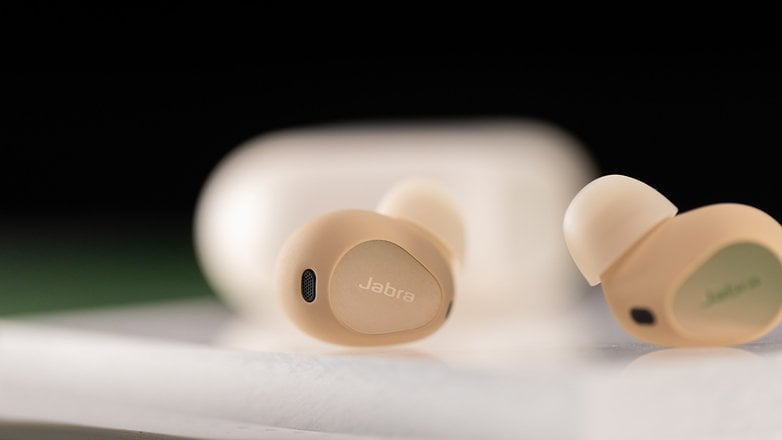 Bass is present and dynamic, without drowning out the rest of the music. Midrange is particularly precise, as is often the case with Jabra. Vocals are always well brought out, and the various instruments are clearly distinguishable when listening.
Even the stereophonic scene, which is difficult to reproduce with earphones, is more than adequate here. During my review, I watched the first season of Andor (the best Star Wars series ever produced) for the third time, followed by all four seasons of The Mandalorian (The Book of Boba Fett is only season 2.5 of The Mandalorian) and a third of the first episode of the first season of The Wheel of Time (because it's so lame).
Through all these, I found the sound to be encompassing and rather immersive. Admittedly this is not as obvious with headphones, but that's to be expected. Incidentally, the Jabras offer Dolby Atmos with (or without) head tracking. Without head tracking, I couldn't distinguish when Dolby Atmos was on or off. But with it, the difference is obviously more noticeable.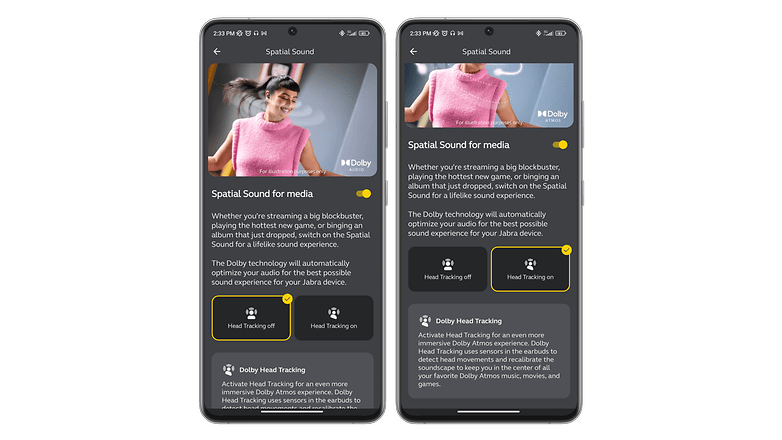 After that, if your content doesn't support Dolby Atmos or hasn't been remastered for it, there's no point. Unfortunately, this is all too often the case, especially for video games, among others. Starfield, for example, does not support Dolby Atmos, to my knowledge and dismay.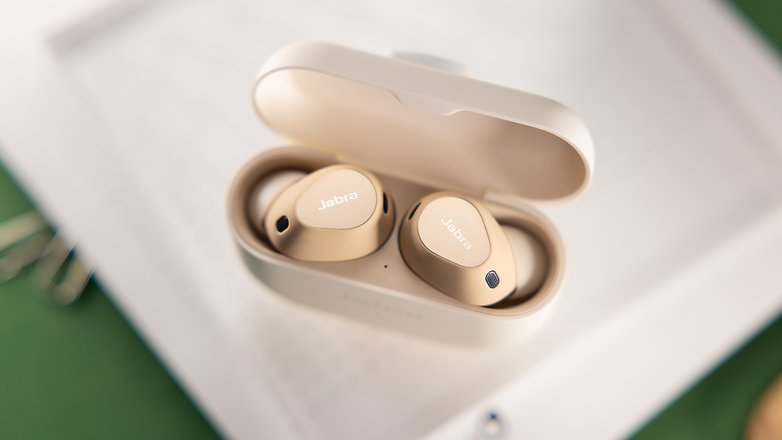 Jabra Elite 10 microphone quality
The Jabra Elite 10 also features three microphones per earpiece, rather than just two. Jabra has long been well ahead of the competition in terms of microphone quality.
During my review, I ran into a minor technical problem. The application I used to record my voice kept indicating that only one of the earbuds was picking up my voice.
I will follow up on this matter with Jabra and update this review as soon as possible. Sorry, folks.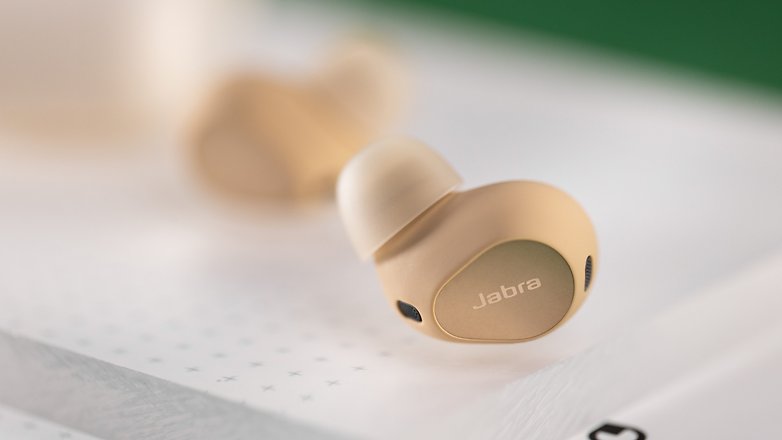 Active Noise Cancellation (ANC)
The Jabra Elite 10 features active noise cancellation (ANC). The manufacturer promises that this function has been considerably improved, and I can confirm that this promise has been kept.
---
Pros:
Excellent passive isolation.
Active noise cancellation at last.
Efficient and faithful transparency mode.
Cons:
No manual adjustment of noise reduction intensity.
---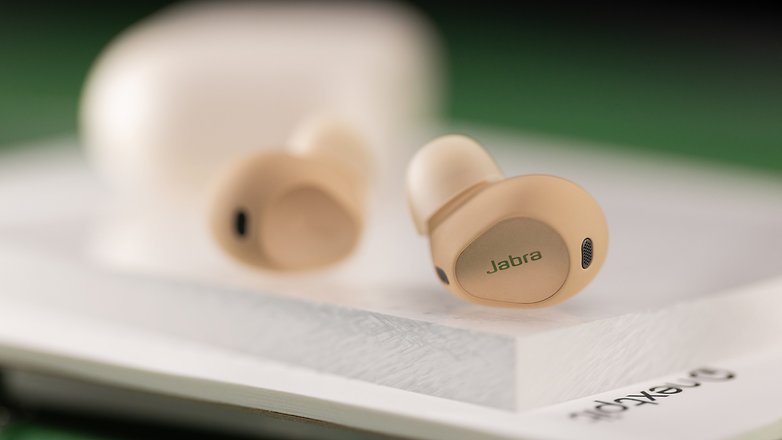 Jabra promised that the Jabra Elite 10's active noise cancellation is twice as effective as that of its previous models. The earbuds not only analyze external noise but also the noise in your ear canal to adapt the intensity of the noise cancellation.
Jabra integrated a new chip specifically dedicated to noise management. The earbuds also detect and analyze sound leakage to adapt the ANC to the different environments and sound scenarios you find yourself in.
It has to be said that Jabra's promise has been kept. On its own, the Jabra Elite 10 offers very effective passive isolation. The design of the earbuds attenuates ambient noise even without the need for software noise cancellation.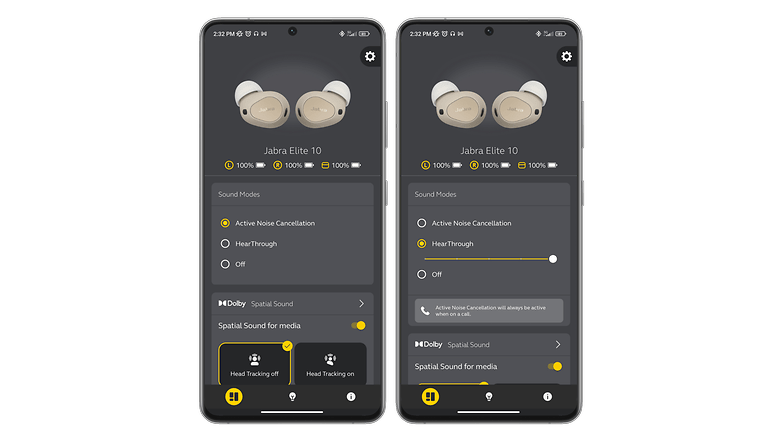 Once ANC is activated, it is virtually silent. My fan that runs at full power remained imperceptible to my ears. In the office, I'm in a real phonic bubble, protected from chatter and other harmful noise.
Even the clacking of my 8bitDo mechanical keyboard, which I drive my colleagues crazy with, did not manage to bother me. So far, I've found Apple's AirPods Pro 2 to have the best active noise reduction.
I haven't done a full comparison between the AirPods Pro 2 and the Jabra Elite 10. But the latter is at least as good, if not better, at attenuating ambient noise. Really, I congratulate Jabra here. Noise cancellation has long been one of their weak points but they've finally caught up, and they've done it in style.
A final word concerning the transparency mode. I found it quite faithful, or at least realistic. Ambient noises amplified in this manner does not sound too artificial, as is usually the case.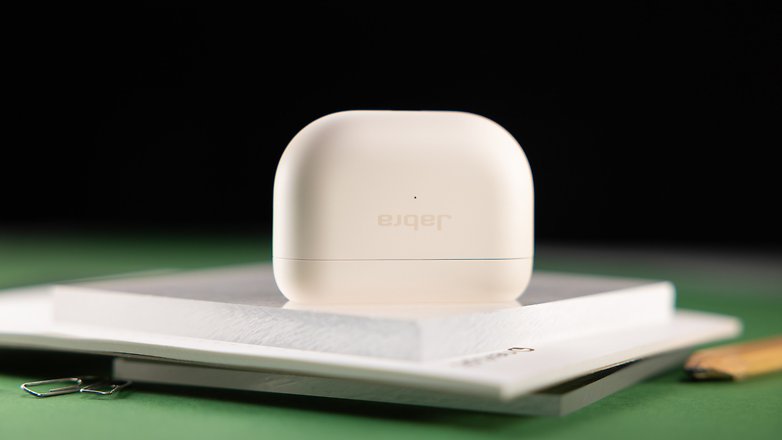 Features & app
The Jabra Elite 10 can be operated with a companion app, Jabra Sound+. This app is available free of charge on Android and iOS. It gives you access to noise cancellation management, equalizer, and earbud controls. The Jabra Elite 10 also has interesting features like multipoint Bluetooth or mono use, among others.
---
Pros:
Google Fast Pair for pairing.
Bluetooth 5.3 multipoint (2 devices at the same time).
Application is available on Android and iOS.
Mono mode.
Spotify Tap.
Cons:
The hearing test and in-ear test have disappeared.
Active noise reduction is not manually adjustable, whereas transparency mode is.
---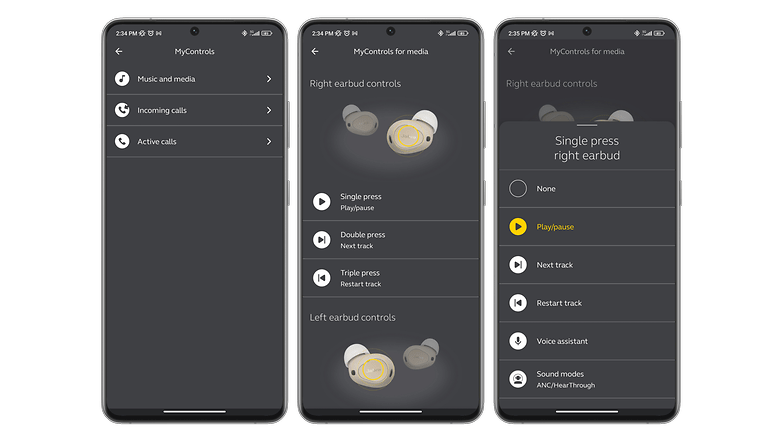 The Jabra Sound+ application isn't the most comprehensive, but it does have the merit of being one of the most intuitive. The interface is clear and accessible. On the home page, you can directly manage active noise cancellation, equalizer, and Dolby Atmos without having to delve into the settings.
The five-band equalizer is more than enough to adapt the audio signature to your tastes and needs. The Jabra Elite 10 is easy to pair with your smartphone via Google Fast Pair (and with your PC via Microsoft Swift Pair).
The earbuds support Bluetooth 5.3 and offer multipoint connectivity. You can connect the Jabra Elite 10 to two devices at the same time.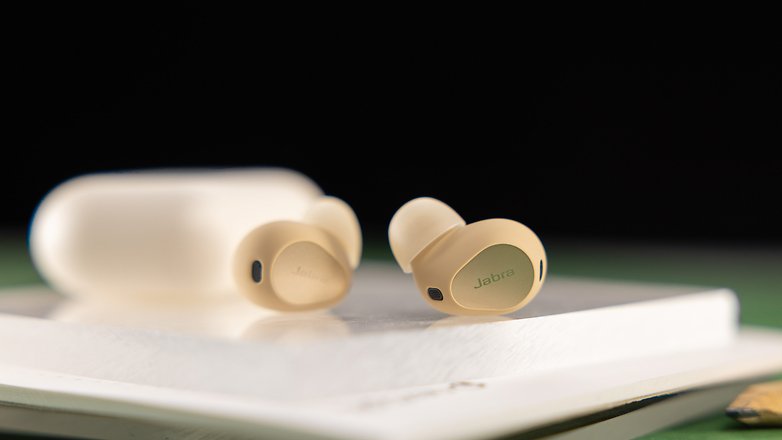 I also like the mono mode. Just stow one of the headsets in the case and you're good to go. In general, the port sensors in each earbud work very well. The sound pauses when you remove them. They can automatically answer a call when you place them in your ear. In short, it is very practical.
The only downside to Jabra's software offering is that some functions disappear. From one product to the next, I lost some very nice options.
With the Jabra Elite 10, I can no longer manually adjust the intensity of the active noise cancellation. Nor does the application offer the option of testing my hearing to see which frequencies I hear more or less well, and adapting the equalizer accordingly. The fit test, to check that my earbuds are properly inserted, has also disappeared. It was very useful to know if I'd chosen the right eartip size.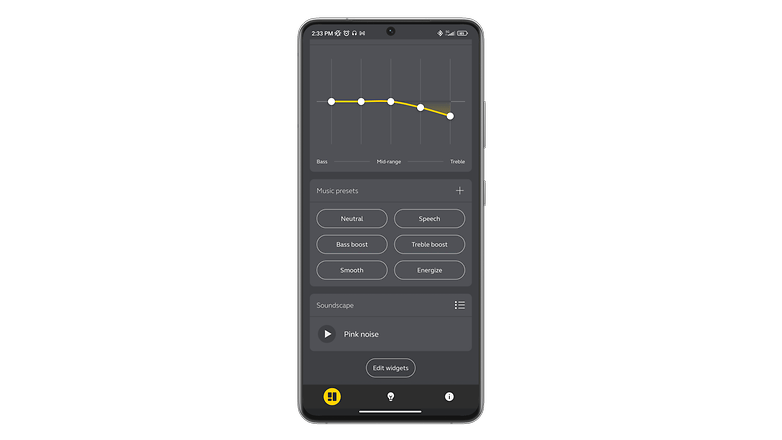 Battery life & recharging
The Jabra Elite 10's battery life is pretty standard for their price range. You can get up to 6 hours of listening with ANC and 8 hours without. The earbuds can be recharged up to 4 or even 5 times with the case, which supports wireless recharging as well.
---
Pros:
Good battery life.
Wireless charging.
Up to 4 charges via the case.
Cons:
3 hours for a full charge via the case.
---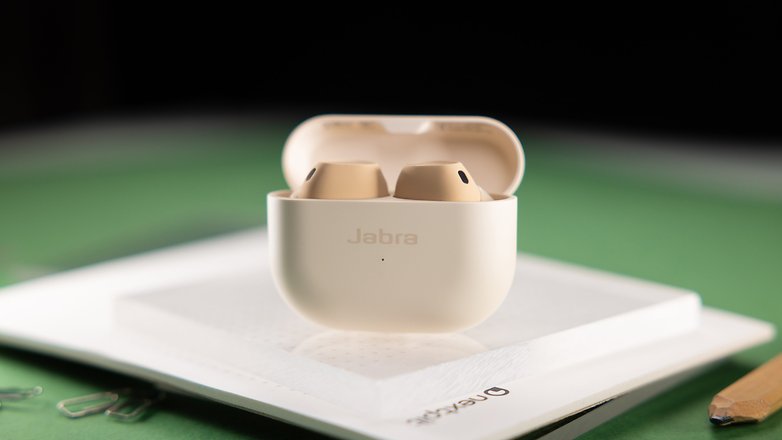 With 6 hours of listening time with ANC and 8 hours without, the Jabra Elite 10 lies in the upper mid-range segment when it comes to battery life in this price range.
I like the fact that the charging case allows the earbuds to be recharged at least four times on a single charge. The three-hour full recharge from 0 to 100% seems a little slow to me. This is especially noticeable when the manufacturer claims that five minutes of recharging recovers the equivalent battery life of one hour of listening.
In actual use, I've always been able to reach, and sometimes even exceed, 6 hours of battery life with active noise cancellation permanently activated. It is fair to say that the Jabra Elite 10's battery life is quite decent and fairly consistent for its price range.
I noticed that activating Dolby Atmos drained the earbuds' battery even more. In any case, this function is not intended to be permanently activated. So I don't think it will have enough impact on your user experience.
The box also supports wireless charging (Qi). It also charges wired via a USB-C cable, which is thankfully included.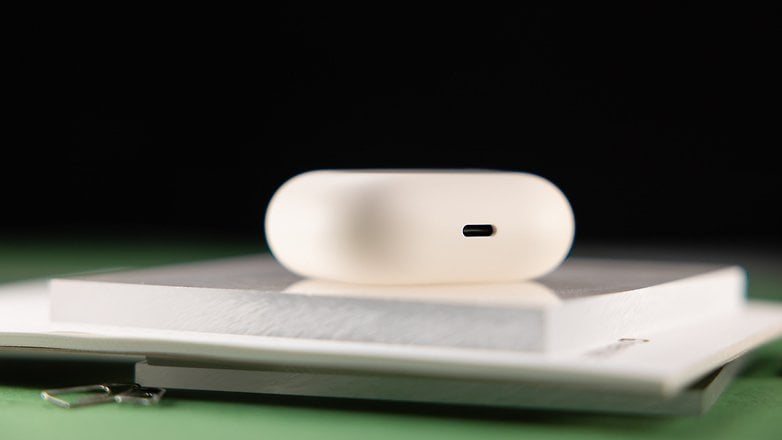 Technical data
Technical data
Product

Jabra Elite 10

Picture

Design

Format: Intra | port detection | physical controls | IP57

Weight per earpiece: 5.7 g | Housing weight: 45.9 g

Case dimensions: 24.4 x 46.9 x 65.4 mm

Audio

10 mm driver | 360° audio

Frequency response
ANC

Yes
6 microphones (3 per earphone)
Transparency mode

Bluetooth
Battery life

8 h listening without ANC
6 h listening with ANC

36 h listening time with recharge box
5 minutes recharging = 1 h listening time

Price
Conclusion
The Jabra Elite 10 is well on the way to being the best wireless earbuds on the market in my opinion. Jabra knew that they were eagerly awaited when it came to active noise cancellation, and they delivered brilliantly.
In my opinion, nothing separates Jabra's earbuds from other high-end manufacturers such as Sony or Bose.
Aside from this huge step forward in active noise cancellation, the Jabra Elite 10 has managed to build on its excellent track record. The Scandinavian design, with its minimalist feel and sober colors, still works as well as ever. The Jabra Elite 10 is among the most comfortable earbuds I've ever reviewed.
Functionality-wise, they've got it all, with multipoint, port detection, and mono operation. Audio quality is also top-notch, even if the profile is too high-pitched by default. Dolby Atmos is not yet the "killer feature", but it has the potential to become an integral part of future earbuds. On the few films and series I was able to use it with, the experience was very nice and immersive.
Battery life is also quite decent as it resides in the upper mid-range of the market. In short, for $250, I'd recommend them. Jabra's prices do come down pretty quickly, anyway.
What do you think of the Jabra Elite 10 after reading this review?