Who's Getting What: HTC Confirms Ice Cream Sandwich Update for Sensation and EVO3D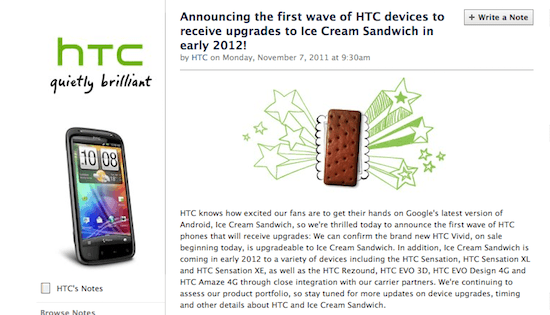 Not like we didn't see this one coming, but HTC has just announced a preliminary list of devices slated to get the Ice Cream Sandwich in early 2012. Via its Facebook page, HTC has ended speculation on which of their phones will be at the top of the pile come 2012. Read on to find out if you are among the lucky few (and by lucky few, I mean tens of thousands of people).
Here's the full list:
HTC Vivid
HTC Rezound
HTC EVO Design 4G
HTC Amaze 4G
The good news is that the EVO 3D is getting the update, which will hopefully take the 3D experience to a whole different level. Obviously, we knew about the Rezound all along, but not everyone was convinced that every Sensation would get the update. Now we know better.
Related: