T-Mobile myTouch 3G Slide Pricing Leaked T-Mobile's myTouch 3G Slide was announced with specs about two weeks ago and thanks to TmoNews, we have a picture of a leaked slide with pricing details for the phone. Phandroid sums up the pricing plans by saying that "On a 2-year contract the phone will be $149.99. Off-contract you are looking at $399.99. Not too shabby."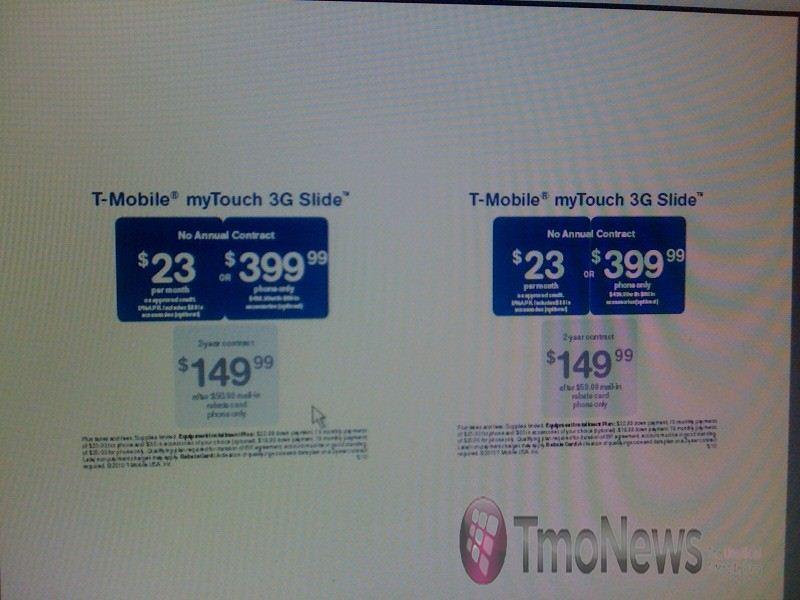 TmoNews also mentions that it is receiving rumors of a possible release of the phone on June 16th. This new release date prediction comes two weeks later than their previous prediction. AndroidandMe adds that if the bump back of the release for the phone is true, that they expect the Android 2.1 update for the regular myTouch 3G to also be bumped back.
In regards to how true the reported pricing scheme might be, BoyGeniusReport is quick to point out that "considering its the same price T-Mobile is currently asking for the original and slide-less myTouch 3G, we're not about to risk holding our breath." As if to back up BoyGeniusReport's statement, AndroidCentral remarks that "Given the decent specs of the myTouch 3G Slide and the fact that it'll be running Android 2.1 with Sense, that $150 price looks like a steal."
Other Sources: AndroidandMe, AndroidCentral, BoyGeniusReport, Phandroid
Image from TmoNews