Sony Ericsson Revealing Playstation Phone December 9th? French website NoWhereElse is reporting that they got their hands on an invitation to a Sony Ericsson event on December 9th for what appears to be the Android-powered Playstation phones that we've heard so much about recently. The invitation mentions the CEO of Sony Ericsson France, Pierre Perron, which lends a bit of credibility to the claim.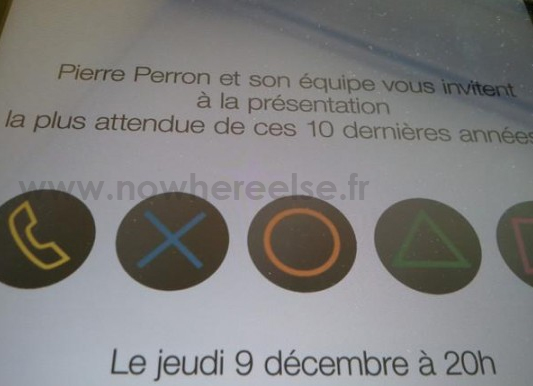 While the invitation doesn't specifically include any mention of "Playstation", the four symbols that are on every Playstation device, as well as a new yellow telephone symbol could hadly indicate anything else.
In other Playstation phone news, MobileCrunch reportedly received word from a tipster that claims to have been to a private revealing of the Playstation phone. According to their article, the phone likely features a high resolution screen that the tipster compares to an iPhone 4 and will likely not be released until February.
They also mention that the games for the device will be priced in the same method as mobile games, likely under $10 per title. What games will be available for the device is not yet clear, especially in regards to whether consumers can expect ports of popular games already on the market.
Image from NoWhereElse