Liveblogging the Amazon Tablet Press Conference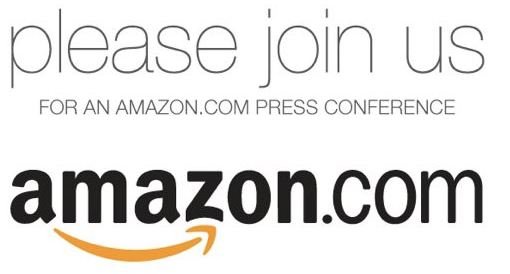 Welcome to the official AndroidPIT live-blog of the Amazon tablet press conference!
Before the official announcement by Amazon on their newest tablet, Bloomberg has leaked a few key facts on the device, noting it'll be 7-inches, run a version of Android and cost $199. It won't come with any fancy camera or access to a 3G network, just WiFi and a 30-day free trial of Amazon Prime.
UPDATE: Click on to see a picture of the device!
Unfortunately, that's all we know at this point, but the press conference is expected to begin in about an hour and we'll have live updates for you as they break. What does the new tablet look like? Which apps will be pre-installed? Stay tuned for more....
UPDATED:
Engadget's now got a picture of the device on their site, with what looks like a kind of bookshelf UI for films, magazines, videos and books: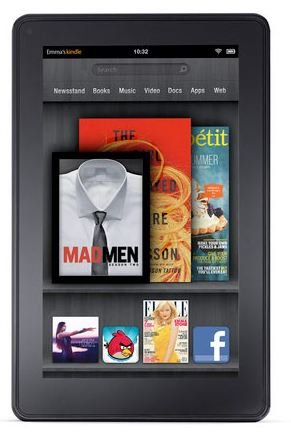 UPDATED:
Bezos is talking: "Welcome ... four years ago we set out to improve upon the book, and when you decide you're going to reinvent something that has been around for 5 centuries, you are rightly going to receive some skepticism."
"Let me show you a slide. Physical books sold at Amazon over the last 15 years. You can see our physical book sales continue to grow. This is Kindle books sold over the last four years.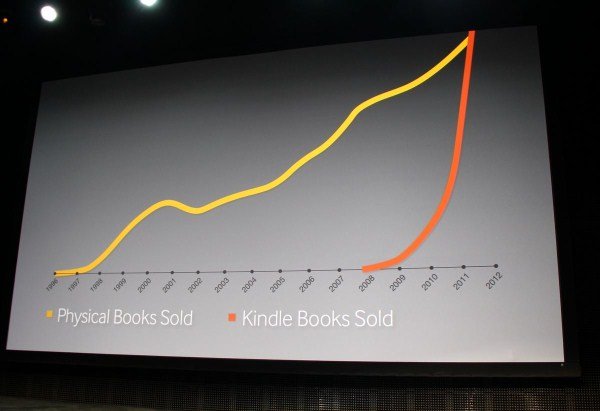 "Kindle comes out of the box ... it greets you by name. It's pre registered, it knows your amazon credentials. ... what would a Kindle end to end service be without books to read? 4 years ago started with 90k books, today it's a million.
"You can choose any of these books and have them in 60 secs wirelessly. We use electronic ink so that you can read otuside in bright daylight.
"No backlight, no eyestrain, no interfering with sleep cycles, it's like a printed page. Long battery life. Keep your whole library with you. ... when you buy a Kindle book, we're going to keep it for you in the cloud, an archival copy.
"You can now go to 11k public libraries ... will loan you Kindle books. I believe that it is the fact that Kindle is an end to end service and that we have been inventing at a rapid pace that has kept Kindle the world's number one best selling ereader for four years running. And we have more invention.
"Touch is the simplest way to navigate device. Smaller, lighter, unbelievabe build quality.
Look at Bezos holding up the new Kindle!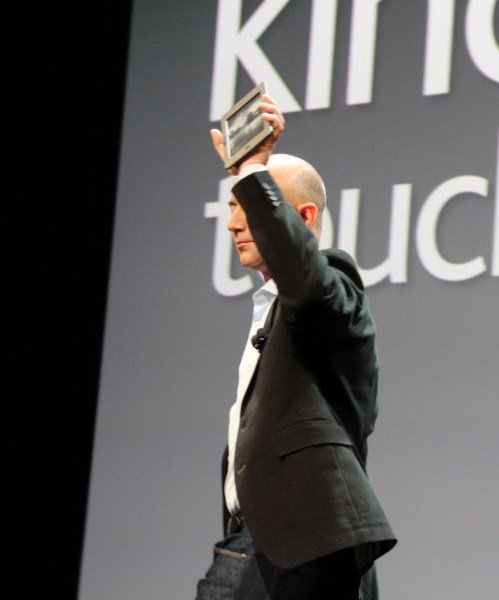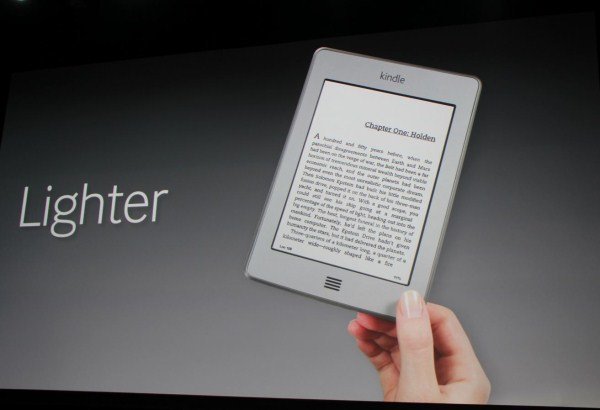 "Really obsess about the nuances and details that are important to readers." Description of how touch display is better than the "traditional" touch display. "Purpose-built" e-reader.
"They like to switch hands. And they love one handed reading. That's why we always put page turning buttons on the left side of the device and the right side of the device. With the traditional tap zones on touch displays, you can't read left handed. EasyReach. New tap zones. Easy to reach over.
"This is the kind of subtlety and nuance you can focus on in a dedicated device.
Bezos doing a hands on. "You can look up the definition of words very easily. When you reduce friction, make something easy, people do more of it.
X-Ray. Xray lets you look at the bones of a book. Fictional characters, historical figures, and some terms, like Versailles Treaty.
Looks at a character entry. Shows a one-paragraph profile of the character, plus all mentions of her in the book.
"Every time we launch a new device I get comments like: imagine a kindle for $99. there would be a frenzy! Amazon would sell so many of them. At $99 demand would be unbelievable.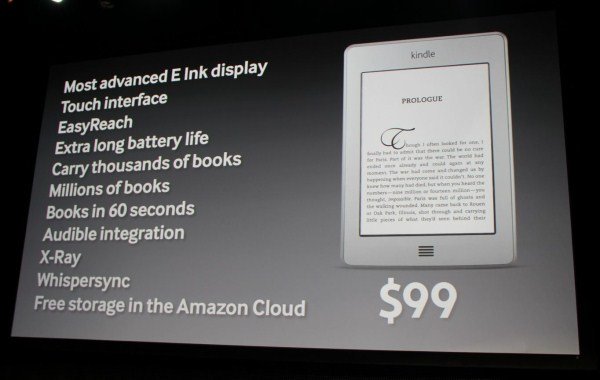 "What if you don't need touch? Or what if you don't want touch? We have many customers who expressly tell us they don't want touch, don't want to get fingerprints or suntan lotion on the display.
"$79 Kindle.
"This Kindle is incredibly light, under 6oz, 30% lighter than prior gen. 18% smaller. Fit in your back pocket. Even faster page turns. This is a solid device, this is an incredible device.
"Premium products and offering them at non premium prices. The full Kindle service. Built in Wifi. Under 6 ounces, most advanced e ink display, 1400 book storage.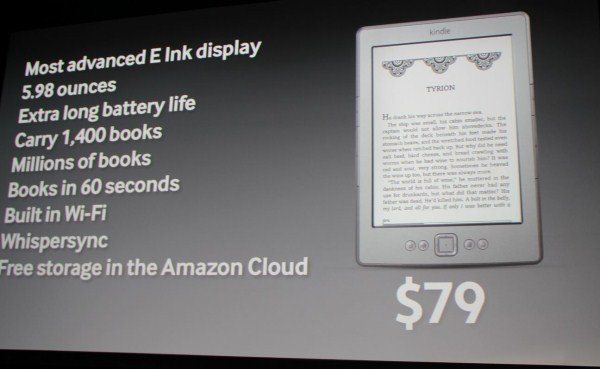 "A Kindle for everyone...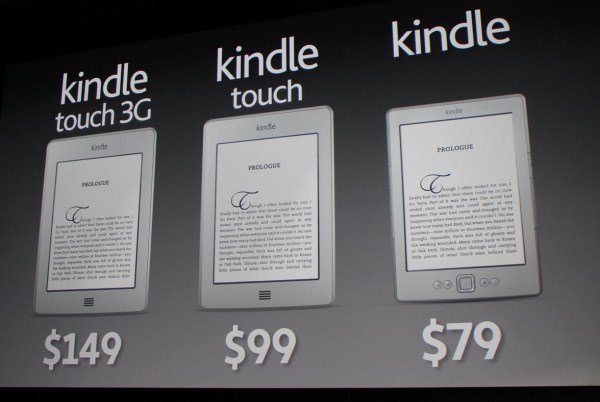 "For 15 years we've been building our media business and it's become a $15b year business. Strong digital offerings in instant videos, 100k movies and TV shows, movies rent for $2.99
"MP3 store with 17m songs. Native apps. Songs start at 69 cents. And recently we introduced Amazon Cloud Player
We have our Android app store. Every app is tested for quality. You can test drive apps using Android simulator on Web, free paid app every day. Amazon Prime. 6 years old. All you can eat free 2-day shipping for $79/year.
"Earlier this year we added whole new benefit to APrime. Prime instant video. For same $79/year, now also instantly stream 100k movies and TV shows, commercial free. Great participation from networks and studios. Just getting started.
"Amazon Web Services. It's the elastic compute cloud, simple storage service, cloud front. 100sks customers in 190 countries. Started biz 7 years ago and it's gotten very big. Much of Web runs mission cirtical apps on top of EC2. Netflix. NYT. Zynga.
290k transactions per second for storage service.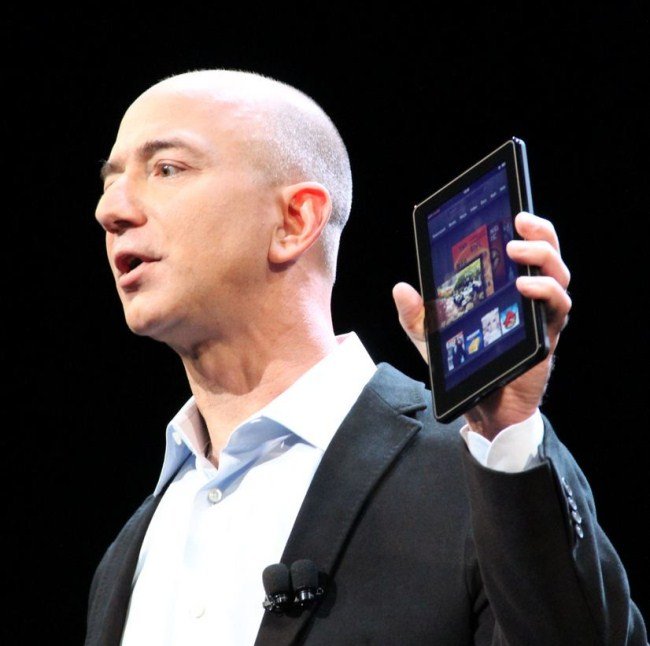 "7 inch IPS display. ultra wide viewing angle. fast dual core processor. light, easy to hold in one hand, 14.6 oz, has all the content,
"100k movies and tv shows, 17m songs, apps from our Android app store, millions of books, beautiful full color magazines
"And all of the content on this device is backed up in the cloud so you can delete things whenever you want. Model of backing up your own content is a broken model. Feel same way about syncing.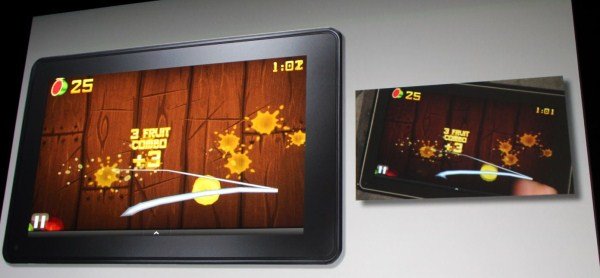 "Customers love our whispersync feature for books, keep track of page. What if WSync also worked with movies and TV shows? Well it does. When you get home, switch to your big screen TV, movie will be right where you left it.
"When you take Kindle Fire out of the box it's going to greet you by name. Pre registered, Amazon creds, will know about your library. Search bar, search local device, cloud content, Web and Kindle stores.
"Underneath that: Newsstand, books, music, video, docs, apps and Web browsing. Underneath that is carousel. Most recently touched order so things you interacted with most recently will be on top.
"Very easy place to find all the things you interacted with. Underneath recent carousel, bookshelves there for pinning favorites.
It has one image and it's all served from one domain. Here's what Amazon looks like today. 63x bigger. Many assets and files to serve that one page and that is totally normal. Modern Web has become a complicated place.
Music plays in background. Go into books. Read with music playing in background. Pull up menu and always pause your music from that top menu.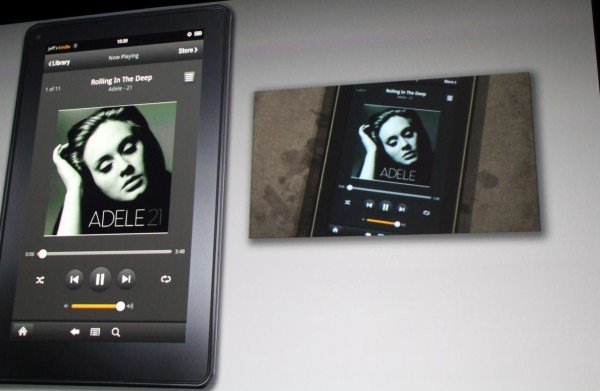 "It has one image and it's all served from one domain. Here's what Amazon looks like today. 63x bigger. Many assets and files to serve that one page and that is totally normal. Modern Web has become a complicated place.
"CNN.com. 53 static image files, 39 dynamic image files from 5 domains, 30 javascript files from 7 domains, 3 flash files. Fact is, it is difficult, challenging for mobile devices to display modern Web pages rapidly.
"We asked ourselves if there's some way we can use the incredible computational horsepower of Amazon EC2 to accel mobile Web browsing?
"Yes. It's called Amazon Silk. Split browser. Partially lives on Amazon EC2, partially lives in Kindle Fire.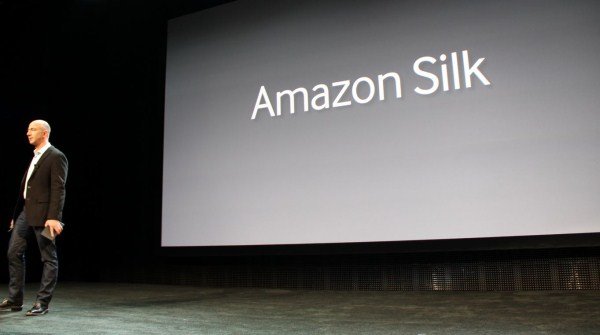 Browser is smart, back end can do optimizations. Each hop to a server costs 100ms. Requests within Amazon's cloud are 5ms each.
Creating a huge cache in the EC2 cloud of images, Javascript and CSS.
Optimize what they're sending back to device to account for screen size, pixel depth, not sending heavy images.
Browser detects most likely pages you'll need in future, requests them in advance.
Kindle Fire. 14.6 oz, light hold it with one hand, dual-core processor, IPS display, wide viewing angle, beautiful and bright, all your content backed up for free, Whispersync, Amazon Silk
How much is Kindle Fire going to cost? What's the price of KIndle Fire? $199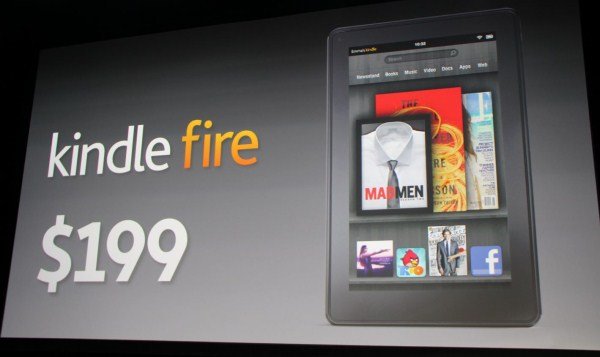 "Hope you see what we're doing here. Really want to stress this point. Premium products at non premium prices. This is the way Amazon has operated for its entire history. Fire ships 11-15. Making many millions of these, but pre order today.
UPDATE.
Here's a commercial for the tablet: