All T-Mobile Phones Free On June 19th? TmoNews got another leak about T-Mobile yesterday, this time in regards to an image of what appears to be a script for a commercial that appears to address what T-Mobile has up their sleeves for June 19th. If this story is to be believed, then on Father's Day, new lines and family plans will be the focus of this sales strategy.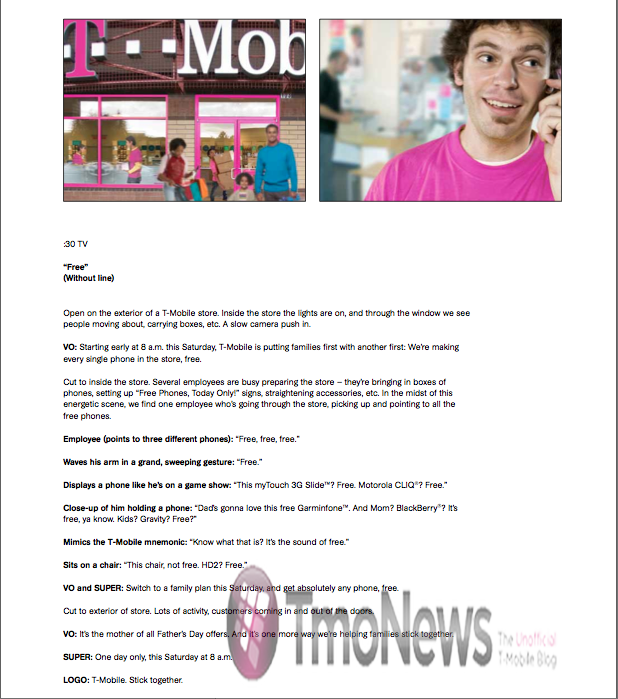 MobileCrunch mentions that "apparently all phones purchased under the family plan will not actually be purchased – they'll be free."
AndroidCentral takes a safe route on the rumor when they write that:
We won't know for sure that these weren't ginned up by somebody with 10 minutes to spare until it happens. But in the meantime, you can start pondering over whether you want to walk out with a myTouch 3G Slide, myTouch 3G, G1, Samsung Behold II, Motorola Cliq XT, Motorola Cliq, or Garminfone (dang, that's a lot of Android!) in exchange for a couple of years of service, we assume.
TmoNews jokingly points out that this could be "The Mother Of All Father's Day Sales."
I remain skeptical that this is legitimate, as the script doesn't look anything like an official production script that would be written by a scriptwriter. However, maybe this is some version made to be handed out for people not related to the video production.
Other Sources: AndroidCentral, MobileCrunch, Phandroid
Image from TmoNews