Why Windows 8 Will Be A Huge Threat To Android And Apple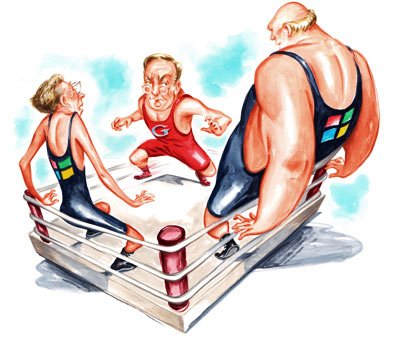 (picture from MediaCloud Wordpress)
It's no secret that there's an all out war going on between Google and Apple to control mobile phone and tablet marketshare, and with the patent grabbing and multiple lawsuits going on, it seems that both companies might have forgotten about the actual Godfather of operating systems: Microsoft. You may not have heard their name that much when it comes to phone or tablet sales for a while now, but to underestimate them would be foolish for anyone. Keep in mind that this is the company that makes more money from Android than it does from its own mobile operating system, and they have consistently controlled and maintined global marketshare of PC operating systems (Windows) pretty much since the internet became a household product. Microsoft has made a few moves in the past year or so with little success when it comes to mobile phones and tablets, but I can tell you right now that this is very shortly about to change.
A few weeks ago I did an article on why I wanted a Windows 8 tablet, and in that article was a video which showed off a very impressive live demo on a Windows tablet that honestly blew my mind. That tablet wasn't a tablet..it was a laptop that looked like a tablet, with the specs of a laptop, and with a beautiful design that Samsung is known for. If the pricing is right on that, there will be no stopping it. So why am I concerned so much about Windows 8? For quite a few reasons actually:
The App Ecosystem
Windows is WAY behind Apple and Android when it comes to applications, but it will only be a matter of time before the amount of Windows apps go through the roof. Why will that happen? Simply because Microsoft is pushing Windows app development on both ARM and Intel Windows computers, meaning that the 1.2 BILLION Windows users could all be potentially very loyal customers to the OS they have used for most of their lives. Windows is THE operating system built for the masses, and IOS or Android can't compete when it comes down to the sheer numbers of people using their OS or the amount of people that are very comfortable using it.
Office
Both Android and IOS have great suite products available that can provide an Office like experience, but Windows 8 tablets are reportedly coming with Office 15. Not something similiar to Office, but THE Office with Word, Excel, PowerPoint, OneNote and more. Not only are the masses familiar with Office, it does it's job well and will help to make Windows tablets extremely productive.
Plug and Play
Plugging your tablet into a keyboard or mouse will be INSANELY easy with a Windows 8 tablet due to Windows driver support. Having a dock or mouse for your tablet will no longer be a feature, it will be completely standard. It will also allow for consumers to plug in a printer, hard disk, or game controller right into their tablet with no issues. I have to admit...that's awesome, and a huge selling point for consumers, myself included.
Xbox, Kinect, and Direct X Support
Games anyone? While the iPad might be great for gaming, and Nvidia's Tegra 3 processors in the new Android tablets provide great power to run great titles, NOTHING will rival Direct X on ARM. This is the most advanced graphics platform in the world, and will take gaming on a tablet to an entirely new universe. Call of Duty on your tablet? You better believe it. Xbox live on your tablet? The possibilites of what Microsoft can and WILL do are just plain scary...
More Cash For Developers
Google and Apple both do the 70/30 split for app developers, but Microsoft will be doing an 80/20 split once any app gets more than 25,000 downloads. This might not seem like a big difference, but for devs who sell very large amounts of apps, it will make a drastic one.
Bottom Line
Microsoft have done their homework, and the end result is looking to actually be not only solid, but extremely dangerous for Android and Apple if they don't stay on their toes. Android will need to do everything it can to keep on innovating and pushing out products that will give people more of a PC'ish experience in the comfort of a tablet, and Microsoft's products will force them to innovate like never before (great for us!). It looks like 2012 is going to be a great year for tablets, and while the giant that is Microsoft has been sleeping for a while, it looks like he's slowly waking up.
3 giants.....3 different systems....3 different choices....
Let the battle begin.....