Video: Why I Really WANT A Windows 8 Tablet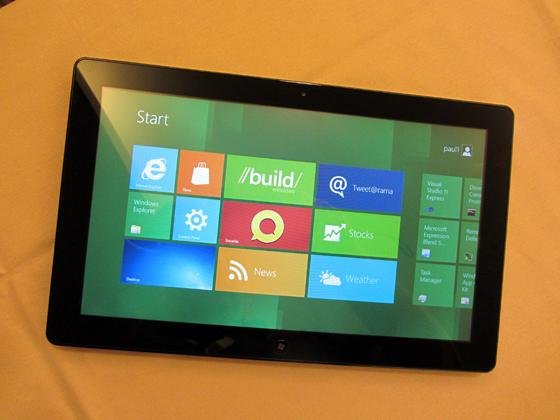 (picture from IdentityMiine)
Whoa whoa whoa guys! I haven't switched sides! Just because I have a Samsung Galaxy Tab 10.1 and choose Android devices as my daily drivers doesn't mean I wouldn't try another tablet if it impressed me, and impressive is the first word that came to mind after watching a short video demo at CES of a Samsung tablet running Windows 8. Not only is it impressive, I'm already convinced that I want one.
Before you read further, do yourself a favor and have a look at the video below....I'll wait......
Tell me your not impressed? This video impressed me for a number of reasons:
The User Interface:
Even though the Windows 8 Metro UI is noticably different than previous versions of Windows, it honestly looked, for the first time, like a "cool" version of Windows. It still felt like Windows, which I have used my entire life. The classic Windows 7 desktop screen is there, which can be switched to the tablet optimzed Metro UI panels that really makes for a nice overall design. I'm diggin it, especially the multitasking.
The Speed and smoothness factor:
Did you see ANY LAG AT ALL in that video? I have watched it 4 times in a row now, and I see NONE. Homescreen scrolling was VERY smooth, windows animations were instant and lag free, and the device just popped and zipped through everything throughout the entire demonstration.
Design:
You can tell Samsung designed this tablet, cause it's sexy. Flat, awesome screen with wide screen viewing format. Have I mentioned I want one of these?
Laptop Replacement:
As much as I love my Galaxy Tab, it can't completely replace my laptop. From the looks of it, the Windows 8 tablet might be able to do just that. I hate carrying laptops around, and it looks like Microsoft is about to really give laptops a run for their money. It's running a Core i5 processor, so in terms of power, it's got it. Gaming anyone?
If Microsoft gets this right, they could actually do what Android and Apple have never managed to accomplish, and that's to create a tablet that can COMPLETELY replace your laptop. Office, program compatibility, gaming...this could literally put that all in the palm of your hand in a way that long time Windows users would feel comfortable with, yet facinated with. It's a new version of the old, and the only thing I could see completely killing it is pricing. If Microsoft gets that right, they could have a winner here, and Android and Apple could be faced with some serious, but healthy competition in the tablet wars.
I'm gonna do my best to get my hands on one of these to review it. What do you guys think? Impressed, or another Microsoft venture that's doomed to fail?
UPDATE: Here are some more specs on this particular device. Again, impressive:
11.6 inch screen at 1366 x 768
4 GB of RAM
64 GB SSD, sensors
USB, micro SD, HDMI, pen, and a dock with USB, HDMI, and Ethernet