Sony Xperia Ear Duo: $279 wireless earbuds coming in May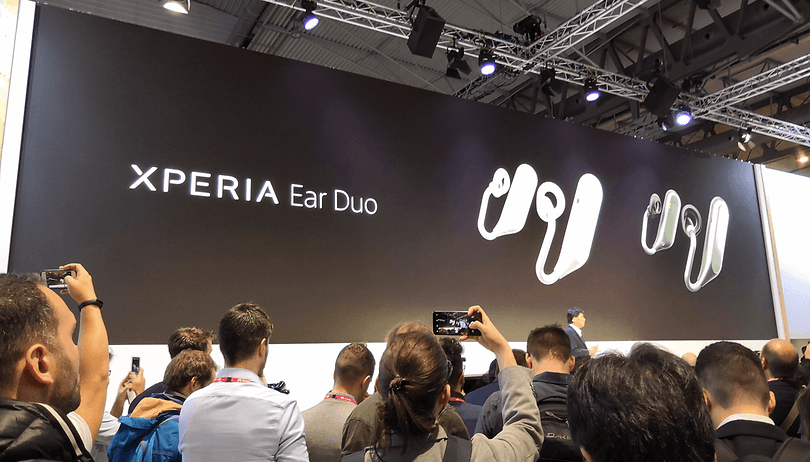 Sony just kicked off its early morning press conference at MWC, and we're live on the scene to give you all the details. In addition to the new Sony Xperia XZ2 and Xperia XZ2 Compact smartphones, Sony also showed off a new pair of Bluetooth earbuds, the Xperia Ear Duo. Here's everything you need to know.
The Xperia Ear Duo is Sony's new "open-ear" stereo wireless headset. It's smart, compatible with both Google Assistant and Apple's Siri, and recognizes head movements: simply nod or shake your head to answer or decline a call. It is able to recognize the time, your location and current activity with Daily Assist, in addition to reading your messages to you and giving reminders. If you're on the go, it lets you hear ambient sounds in your environment, which can help with safety if you're jogging near cars, for example. Unfortunately, these things look like upside down hearing aids, which is decidedly unstylish.
The Xperia Ear Duo looks a bit like a hearing aid, although I suppose in many ways it *is* if it lets you hear environmental sound too #SonyMWC pic.twitter.com/Nh3glP136v

— Bryan Ma (@bryanbma) February 26, 2018
The Xperia Ear Duo has 4-hour battery life according to Sony, which would be better than the Samsung Gear IconX 2018 if it proves to be true in real life testing, but less than Apple's AirPods which claim 5 hours of listening time. It comes with a charging case, IPX2 splash resistance, and in two colors, black and gold. Pre-orders begin today on Amazon in the US, and should be available in May. The price is $279.99.
Xperia Ear Duo launches from Spring 2018 to reimagine the wireless headset https://t.co/3KkbZLq6Ux #MWC18 #SonyMWC pic.twitter.com/Nd3bDoY4Lh

— Sony Xperia News (@SonyMobileNews) February 26, 2018
Would you buy the Xperia Ear Duo? Let us know what you think of Sony's new MWC devices in the comments!