Samsung's P10 Tablet Could Be A Fierce iPad Competitor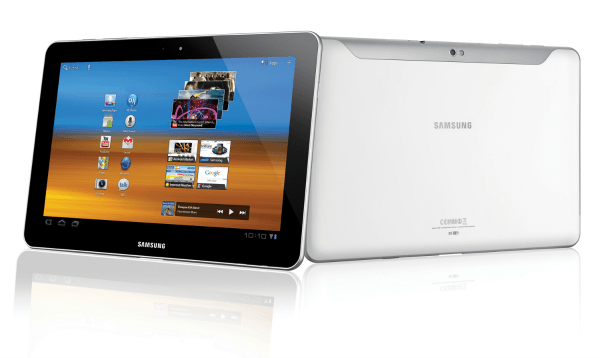 After reading the specs for Samsung's upcoming P10 tablet, I can tell you this: Samsung is (reportedly) about to unleash a monster. After reviewing the Galaxy Note 10.1 (and previously owning a Galaxy Tab 10.1), I could tell that Samsung was moving in the right direction. But this device takes the cake. This isn't a tablet that rivals the new iPad or any other Android tablet. This is a device with specs that simply blow any tablet you have ever seen or heard of completely out of the water.
Sammy is going all out on this one, and although the P10 hasn't been confirmed by Samsung, reliable sources have stated that this device is on the way. Spec wise, it's being reported that Samsung will use its new dual core A15 Exynos 5250 chip (1.7ghz), which has the muscle to greatly outperform Tegra 3 and Snapdragon quad core chips (1.5 to 2x faster according to Samsung). The P10 will supposedly ship with an 11.8 inch WQXGA display that features a jaw dropping 2560 x 1600 resolution (possible due to the Exynos 5250), besting the new iPads stunning 2048 x 1536 resolution. As the Note 10.1 ships with 2GB of RAM, I would also assume that this tablet could as well.
The new A15 chip is really a game changer is many ways. The Exynos 5250 would be capable of overlaying a live user interface onto a 1080P video while processing a live camera preview feed while encoding video and running a seperate display via HDMI all at the same time. While most people would never have these tasks running at the same time, it should provide a very smooth experience in normal daily use.
Here's the bad news: It could be that Android is running on the P10, but it could also be that Samsung uses Windows 8 instead, as no reports have indicated which OS will be used on this device. With these specs in combination with Android Jelly Bean and a competitive price tag, I can only hope that Samsung uses Android to showcase their new hardware.
Samsung has the knowledge of processors, displays, and hardware to make this happen. If they do choose to use Android, and if they can keep the price competitive with the iPad (which is something they have previously been pretty lousy at), this could quite literally be THE next big device in the tablet world.
While we can't confirm a release date (or the existence of the device for that matter), sources are indicating that a 2012 release is in the pipeline.
More details to come as we receive them.
Picture credits: thegate.ca