ICS On The Samsung Galaxy S2: A Whole Lot Of The Same Old Thing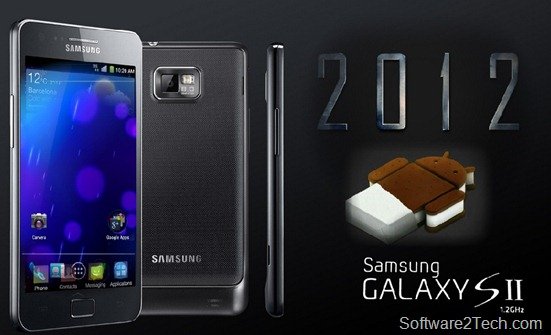 So it's finally coming for Samsung Galaxy S2 owners, and man oh man did it take long enough! Owners of the Galaxy S2, the best selling Android device ever are finally getting the update to Android's newest installment (yes, do a little dance). ICS has finally begun to roll out to devices, and patient S2 owners are no doubt itching to get a taste of Ice Cream Sandwich. I don't want to be the bearer of bad news, but before you guys get your hopes up, you should know here and now that if you're hoping to see anything that looks like stock ICS, stop hoping. If that's what you're looking for, stop reading this article, and go root your phone right now, as ICS Touchwiz looks NOTHING like stock. If on the other hand you were impressed with how Gingerbread looked on your Galaxy S2, then you'll probably be pretty happy, as the ICS update on the Galaxy S2 is a whole lot of the same thing.
JR Raphael from Computerworld has already received the update to ICS on his Galaxy S2. Let's have a look at stock ICS and Samsung's Touchwiz ICS (which is currently being rolled out):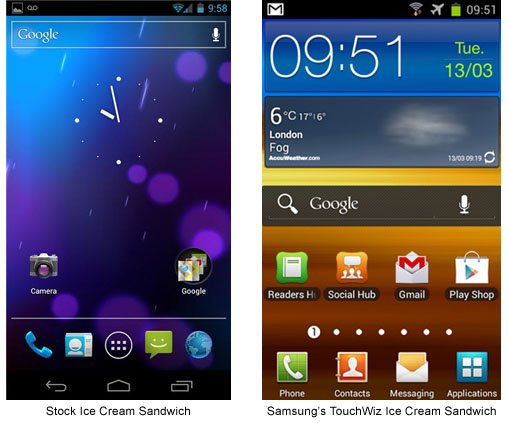 Look familiar? Sure, throughout the OS you might see a few small changes, but for the most part, it more or less looks identical to the Gingerbread setup. Here's what JR had to say:
"If you love your current Gingerbread setup, you're going to be pleased. But if you're looking forward to the new and improved Ice Cream Sandwich interface you've been reading about for the last few months, you aren't going to be a happy camper".
Now don't get me wrong...there are lots of improvements in Android 4.0, and I'm sure Galaxy S2 users will quickly notice the interface changes and speed improvements. I'm just curious to know from Galaxy S2 users if after waiting so long for the newest version of Android, are you excited about the interface, or would you have been happier to have more of a stock taste of ICS?
But hey..remember that even if you do feel let down, and were hoping for a taste of stock Android, you can always root your device! For anyone interested, instructions on rooting the Galaxy S2 can be found here.
Picture credits: http://blogs.computerworld.com and software2tech.com