[Video] The Samsung Galaxy Note 8.0 and S Pen Optimize Productivity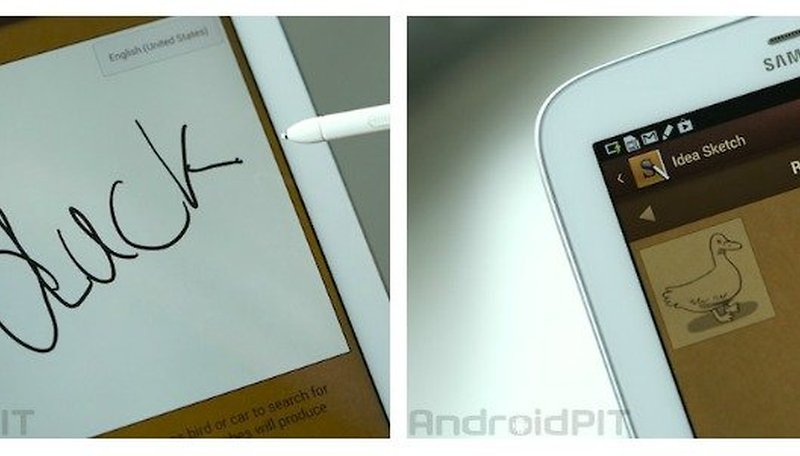 The Samsung Galaxy Note 8.0 has already made its appearance in the USA as well as in Europe, but many are wondering, should I buy it? This tablet, which can be operated by either your finger or the S Pen stylus, is running on a quad-core processor. It's main competitor on the market is the hands-on video, where we focused more on certain software features than on a hardware analysis.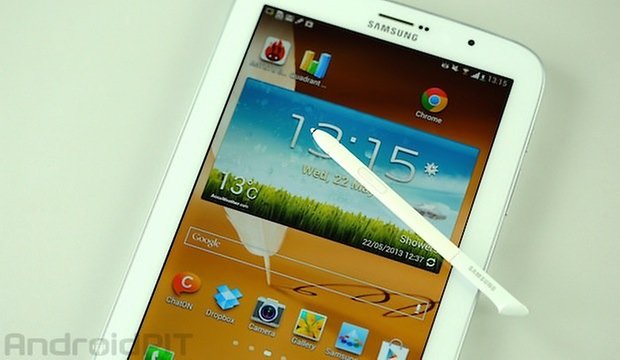 The tablet is made of white polycarbonate. Just like the Note 2, it offers multi-window support, which permits multitasking. You're also able to complete many tasks, like copying from your browser into an SMS, for example. On the right bottom corner, you'll find the S Pen tucked nicely into the tablet's body, a trademark from the Note Series. This stylus can be used for precise usage on the touchscreen, where note-taking and doodling are very intuitive and accurate. The stylus also be employed for Air View by floating it over the screen without touching it down, in order to preview photos, E-mails and messages. The interface, which really puts this S Pen to use, is S Note.
Incredible note-taking experience
The S Note app is filled to the brim with many different functions and features that the S Pen easily operates. A handy one is Idea Sketch, which will allow you to upload clips from Cloud when you write what you are looking for. For example, write "duck" and a picture of it will appear. Another feature is the writing keyboard, which will work anywhere in the operating system. You simply write a word out by hand using the stylus and it will automatically convert it to text for you.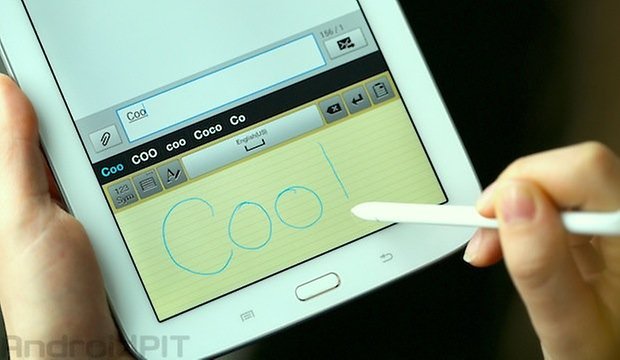 Some of the great built-in apps that are found on the Note 8.0 are Awesome Note, which provides a great calender and various to-do lists, Polaris Office and A Note HD. Using this tablet is easy, because it's lightweight and just the right size for comfortable operation.
The back and front facing cameras don't have as many new features as the Galaxy S4 per say, but you can still take some pretty decent pictures. That being said, this isn't the tablet's main function. Like we mention in the video, it really puts an emphasis on multitasking and productivity.
There are two models with either 16 or 32 GB of storage, though both are extendable with a micro SD memory card slot, for those who need that extra space. There's a micro SIM, two bottom facing speakers, a home button and the usual Samsung soft keys. The Sony Xperia Tablet Z).

Specifications
Quad-core Exynos processor, 1.6 GHz and 2 GB RAM
8'' Display with 1280 x 800 pixel (189 ppi)
Cameras: 5 megapixel (Back facing) / 1.3 megapixel (front facing)
HSPA (optional) / GPS (optional) / WLAN / Bluetooth 4.0 / USB 2.0
16 / 32 gigabyte internal memory + microSD-Slot
Battery of 4.600 mAh
Android 4.1.2 with S Note interface
In our video, we've taken a quick look at the Note 8.0 functionality, the S Pen, the pre-installed S Note app and more: