Samsung Galaxy Unpacked: new trailer unravels almost all secrets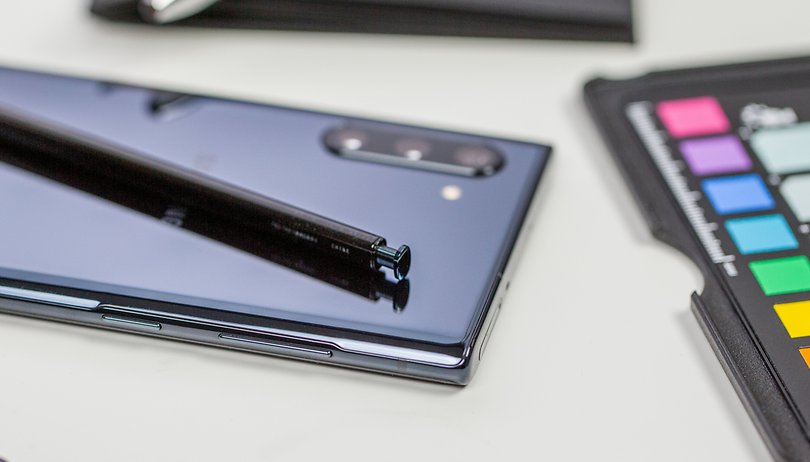 Although every day a new Android smartphone is introduced, we are looking forward to August 5 with great anticipation. Because on this day Samsung will present its new Galaxy Note 20. The official event announcement does not only reveal the launch date.
On August 5, 2020, it is once again time for an Unpacked event from Samsung. A new trailer now leaves hardly any doubt about the new products that await us. The last few seconds of the new official trailer clear up almost all doubts one might have about the upcoming devices. Although the Samsung gadgets are only shown in one silhouette, it is quite clear what it's all about.
While the trailer starts with a few keywords and the presentation of many individual components and machines that are necessary to build a smartphone, tablet, or smartwatch, all doubts are dispelled after 23 seconds of the trailer. The following five Galaxy devices should be among the announcements of the event:
Galaxy Buds Live
Galaxy Watch 3
Galaxy Tab S7
Galaxy Z Fold 2
Galaxy Note 20
This means there will be a mixture of almost all the important categories. The biggest expectations are for the two smartphones – first and foremost the Galaxy Note 20. We were able to see first pictures and alleged specs of the Galaxy Note 20 Ultra a few days ago. With the Galaxy Z Fold 2, we also expect a continuation of the critically eyed foldable smartphone, which has not only received praise in the past.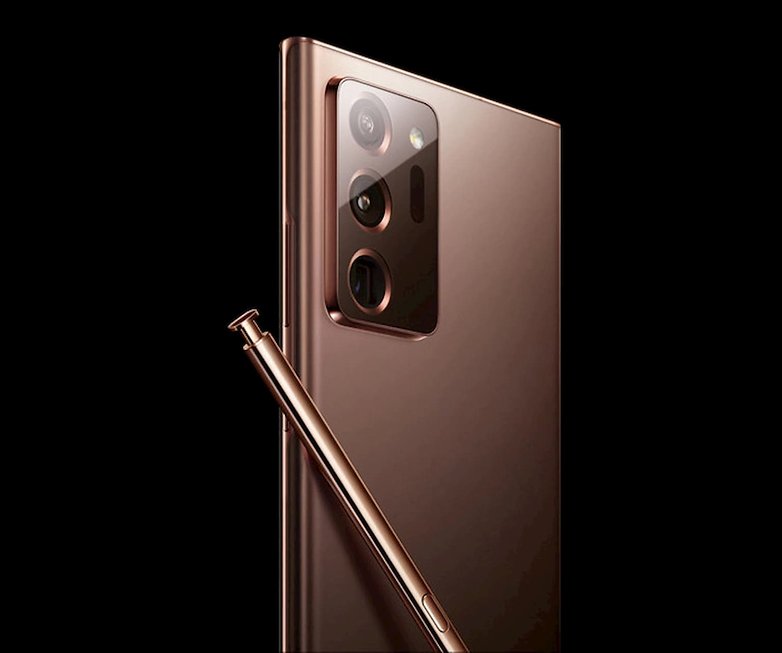 This list should meet the expectations of most Samsung fans. However, the company also promises a number of other things besides new hardware, such as a look behind the scenes and reports from developers, designers, and inventors. What this is all about is as yet unknown.
Samsung Galaxy Unpacked: an online event in Corona times
Furthermore, it's not yet clear what the event will look like exactly, as it will only take place online due to the Corona crisis. While Apple was able to make the week-long WWDC successful through pre-produced presentations and developer sessions, Google decided, in the end, to cancel its Google I/O completely. But as we said, it's still unknown how exactly the Samsung presentation on Wednesday, August 5, will unfold.
After the technical world has already had a look at the Galaxy Note 20 series, more pictures of the premium model have now been published. As the technology portal WinFuture reports exclusively, Samsung's Galaxy Note 20 Ultra is said to have been optimized for Microsoft's cloud gaming service Project xCloud. This means that Samsung and Microsoft have entered into a cooperation that will bring over 90 console games via streaming to the Galaxy Note 20 Ultra using the Xbox Game Pass.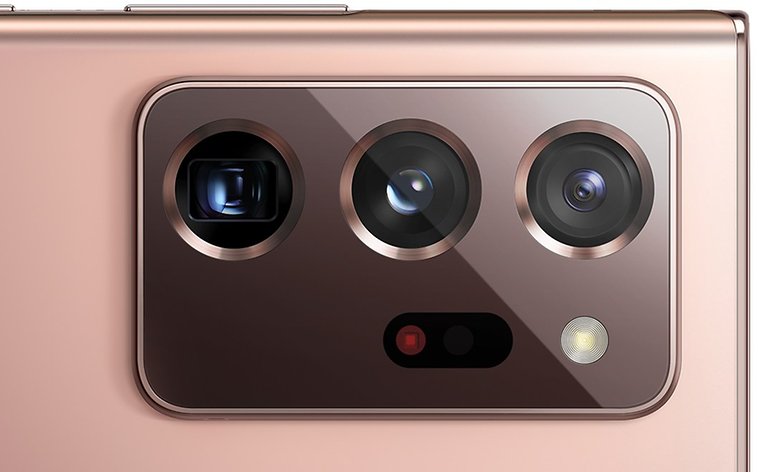 Galaxy Note 20 Ultra with a new S-Pen
In addition, Samsung is reported to have improved the pen for its phablet. The new S-Pen has become more responsive and has a delayed reaction time of only nine milliseconds. The 6.9-inch dynamic AMOLED display of the new premium model of the Note 20 series is said to offer a refresh rate of 120 Hz. On the back, the South Korean manufacturer installs a 108-megapixel camera with fivefold optical zoom and laser autofocus.
Technical data (not confirmed):
| | |
| --- | --- |
| Display | 6.9 inch Dynamic AMOLED Infinity display, 120 Hertz, aspect ratio 19.3:9, Gorilla Glass 7 |
| Resolution | WQHD, 3,200 x 1,440 pixels, 508 ppi |
| CPU | Exynos 990 2.7 GHz Octacore |
| Memory | 12 GB RAM, 256 / 512 GB, MicroSD |
| Operating system | Android 10, Samsung One UI |
| Main camera | Triple camera, 108 megapixels (f/1.8), 12 megapixels ultra-wide angle (f/2.2), 12 megapixels telephoto lens with 5x optical zoom (f/3.0), laser autofocus, 50x space zoom |
| Front camera | 10 megapixels (f/2.2, autofocus) |
| Video | Up to 8K (main camera) |
| Connections | Dual-SIM + eSIM, Bluetooth 5.0, USB Type-C (Gen 3.2), NFC, WiFi 6, Wireless DeX |
| Mobile | 2G, 3G, 4G/LTE, 5G-Ready |
| Battery | 4,500 mAh, fast charging, induction charging |
| Security | Face recognition, on-screen fingerprint reader, Samsung Pay, Samsung Knox |
| S-Pen | Latency time: 9 ms |
| Colors and dimensions | Mystic Black, Mystic Bronze, 164.8 x 77.2 x 8.1 mm |
No Snapdragon for Europe
Contrary to past speculation, the Note 20 series is not supposed to be equipped with a Qualcomm processor, but rather to house the Samsung-suitable Exynos 990 from the Galaxy S20 series. According to rumors, the Octa-Core processor has 12 GB of RAM at its side. Several memory versions will be available, including a 256 GB version and 512 GB internal memory. The 4,500 mAh battery can be recharged wirelessly or by quick charging.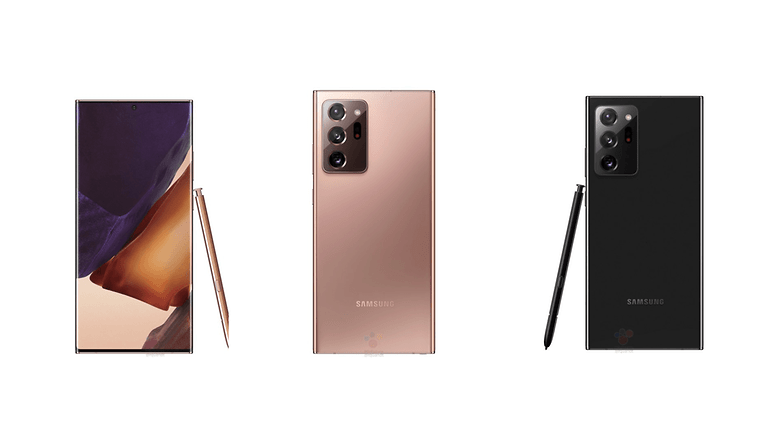 Nothing is yet known about the prices of the Galaxy Note 20 series. But fans of the phablet series can expect prices above $1,000 again.
Samsung Unpacked early August
The smartphone manufacturer has announced an Unpacked event on August 5. In addition to the new Note 20 series, the new generations of the Galaxy Z Flip 5G and Galaxy Fold could be presented. There is also speculation that a new Galaxy Tab S7 and various wearables such as a new Watch and the Galaxy Beans headphones will be officially on display.
A teaser video shows the date when the Galaxy Unpacked event will take place. But not only that.
Samsung accidently posted the Note20 Ultra in Mystic Bronze on their Russian website. It looks great! pic.twitter.com/irRWVHLq5e

— Max Weinbach (@MaxWinebach) July 1, 2020
The color stands out clearly. Samsung has used metallic copper accents for the advertising campaign for the launch event - the same color as the Note 20 and S-Pen in Max Weinbach's latest leak. The fact that the leak could actually be real press photos is even clearer from the teaser video that Samsung distributed via YouTube:
Here we can catch a glimpse of the S-Pen, which will be covered with the metallic paint. In the video, you can also see how a drop of the paint drips into water and forms a crown when dipped into it. This screams flagship, doesn't it? We are looking forward to August 5th, because then we will not only see the final design of the Galaxy Note 20, but also know its inner specs. And as we all know, those are what really count.
Two pictures of the alleged Galaxy Note 20 were 'accidentally' published on Samsung's Russian website. The design is causing a stir on the net, and you can see why. They are probably not leak-based rendering images from tech designers, but official promotional material from Samsung itself.
In recent years, Samsung has made an 'accidental' or perhaps intentional faux pas before almost every flagship presentation. Press photos or spec sheets of new product lines regularly appear on the Internet in advance. In contrast to the leaks of the rather unspectacular Galaxy S20 series, the pictures of the Galaxy Note 20 provide for real excitement after a tweet from leaker Max Weinbach.
Samsung accidently posted the Note20 Ultra in Mystic Bronze on their Russian website. It looks great! pic.twitter.com/irRWVHLq5e

— Max Weinbach (@MaxWinebach) July 1, 2020
Twitter uses fawned over the design, calling it sexy. The two pictures show the presumed Galaxy Note 20 in fine gold-copper. The big camera hump is set off in a matching shiny color. The Note 20 already looks as if it would nestle fantastically in the palm of your hand.
The S-Pen is also shown on the pictures and was designed to match the color of the device. The two pictures are were found on the Russian Samsung website serving as a background image for the landing page of the Galaxy Note 10, but the camera design clearly shows that it can't be the Galaxy Note 10.
Samsung has announced that it will stay away from IFA 2020 and hold its own digital event in September to present new products. So we'll probably have to wait a few more months until we get all the details about the new Galaxy Note.
The Samsung Galaxy Note 20 will only have a 60Hz display
The news comes courtesy of Twitter leaker, Ice Universe. As well as the 60Hz refresh rate, the Note 20's display will reportedly be flat and have a wide bezel. The resolution will be 1080p. On the surface, this looks like a backward step for Samsung, which has already moved to 120Hz with its S20 line.
Wide frame + flat screen + FHD resolution + 60Hz refresh rate.
It's a desperate specification.😑

— Ice universe (@UniverseIce) June 17, 2020
The Galaxy Note 10 came with a 60Hz display and famously struggled with battery life issues. Could this be the reason Samsung has decided not to go with a 120Hz display for the follow-up? Given that high refresh rate displays can drain the battery rapidly, opting not to take the risk of further hurting your already poor battery life would make sense.
An Exynos 992 more powerful than the Snapdragon 865?
According to the Korean edition of the ZDNet site, Samsung has completed preparations for mass production of the Exynos 5nm chipset that the site believes will be the next Exynos 992 chipset. According to anonymous sources mentioned by ZDNet Korea, Samsung would still hesitate to integrate this new chip into its Galaxy Note 20 range.
The 5nm semiconductor manufacturing process alone could enable better performance and optimized resource consumption compared to the current Exynos 990 7nm. But according to ZDNet, this would not be the only improvement brought by this new Exynos processor.
The site argues that the Exynos 992 could incorporate better CPUs and GPUs (ARM Cortex-A78 and Mali-G78), with improved versions of the compute and graphics units than those found on the Galaxy S20. Still, according to ZDNet, these new components would allow the Exynos 992 to be 20% more powerful than a Snapdragon 865 and 25% more powerful than the Exynos 990 while consuming 50% less energy.
Benchmarks: Exynos 990 (Samsung) vs Snapdragon 865 (OnePlus) vs Kirin 990 (Huawei)
| | Samsung Galaxy S20 | Samsung Galaxy S20+ | OnePlus 8 Pro | Huawei P40 Pro |
| --- | --- | --- | --- | --- |
| 3D Mark Sling Shot Extreme ES 3.1 | 6187 | 6658 | 7122 | 6073 |
| 3D Mark Sling Shot Vulkan | 5285 | 6259 | 6613 | 5427 |
| 3D Mark Sling Shot ES 3.0 | 7462 | 7739 | 8864 | 3965 |
| Geekbench 5 (Single / Multi) | 896/2737 | 911/2776 | 887 / 3313 | 754 / 2997 |
| PassMark Memory | 22045 | 23146 | 27118 | 16489 |
| PassMark Disk | 36311 | 87454 | 50083 | 65028 |
Once again, we must not forget that these are leaks supported by anonymous sources and therefore difficult to verify. Especially since our colleagues from Frandroid reported last April another leak from ZDNet Korea according to which the Exynos 992 would be engraved in 6nm, and not 5nm.
Moreover, improvements in performance figures mean nothing as they stand, until they have been verified by practical and software tests. For Samsung to inaugurate a new chipset on a Galaxy Note would be very strange and against the policy adopted by the manufacturer for years.
What is certain is that the current Exynos 990 has performance concerns that have more to do with resource consumption than raw power in my opinion. I saw this in my test of the Samsung Galaxy S20 Plus. Now all that remains is to see if Samsung will really put an end to the "Exynos vs Snapdragon" debacle.
Two versions of the Galaxy Note 20
The Galaxy Note 20 will again come in two versions. Whilst the basic version comes with a 6.7-inch display, the Plus model could get a 6.9-inch screen like in the Galaxy S20 Ultra. The dimensions of the smaller Galaxy Note 20 (161.8 x 75.3 x 8.5 mm) show that the new Note models will be even larger than the predecessors of the Galaxy Note 10 (151.0 x 71.8 x 7.9 mm) this year. Accordingly, the Note 20+ could become a real bruiser of a phone.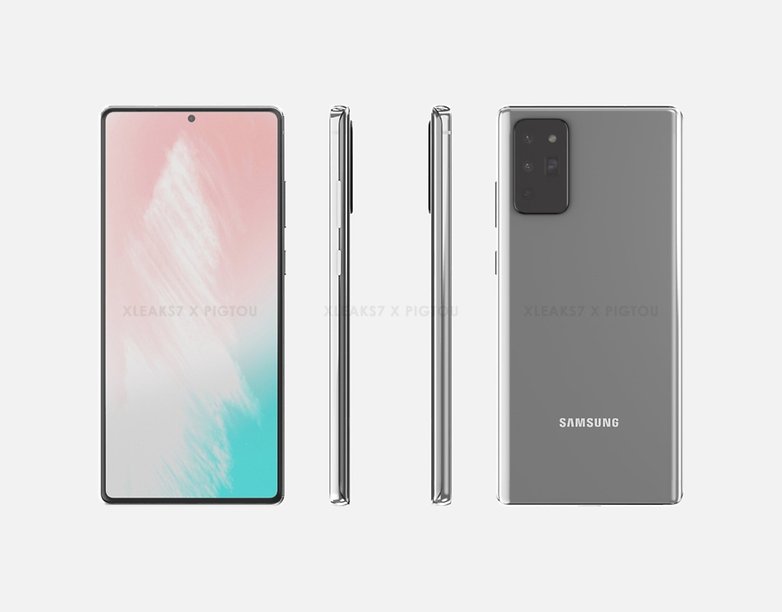 The display design should be pleasing for many. According to the rendered images published by a collaboration between OnLeaks and Pigtou, Samsung does without an edge display with curved edges. Only a small hole punch interrupts the huge panel in the upper middle. The back of the Note 20 shows a quad camera, which is supposed to be equipped very similarly to the camera of the Galaxy S20 Ultra. At least the periscope lens is probably back once again.
The rather angular design is also striking. At the same time, the side edges appear rounded and therefore very ergonomic. The S-Pen can be seen at the bottom left next to the loudspeaker and the USB-C port. Two colors of the Note 20 and Note 20+ are circulating online: a silver-gray version and a white model with a pearl effect.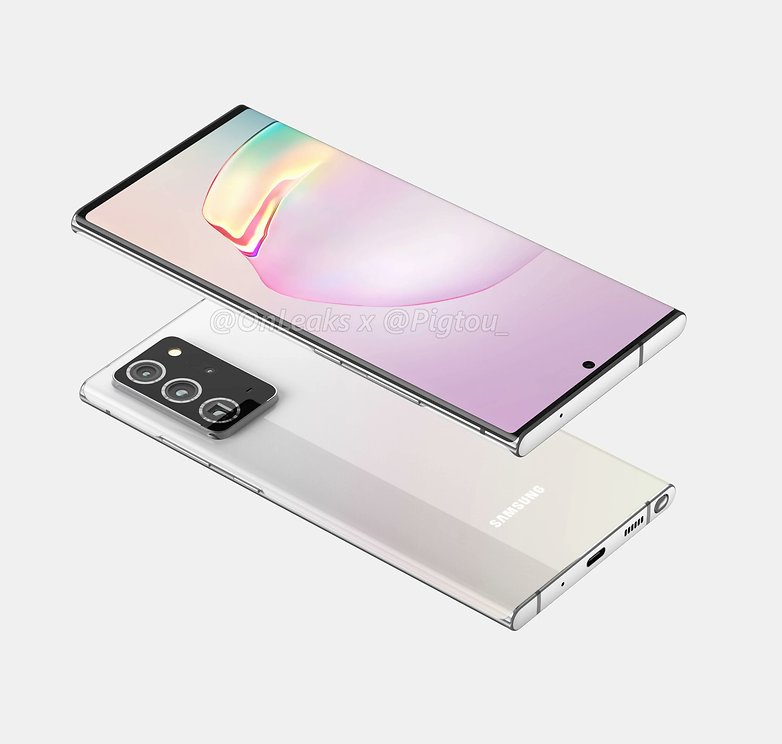 Which processor, how much RAM and internal storage Samsung will use in its new flagship smartphone is still unclear. The same applies to price - Samsung's Galaxy Note 10 appeared last year for $949, while the larger Plus model was priced at $1,049.