Is This The Galaxy Nexus 2, Galaxy S4, Or The Nexus 10 Tablet?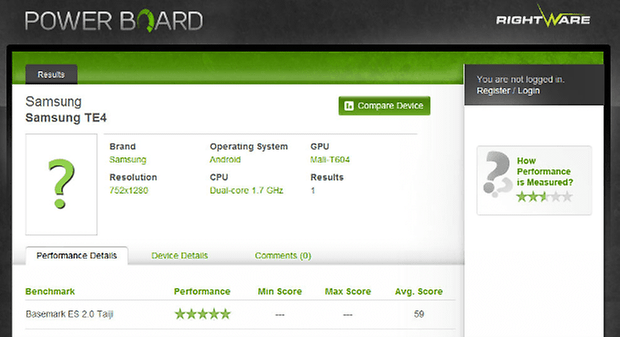 We've heard lots of reports lately of a Galaxy S4 in the works, and even though Samsung recently denied those rumors, they are most definitely up to something big. Rightware recently spotted a device that Samsung is currently testing, and with the chipset this mystery device is packing, Samsung can gladly take my money right now should they release this as their next Nexus device. But the question is, what exactly is it?
The device is codenamed the Samsung TE4, and is packing a powerhouse of a chip: The Exynos 5 1.7Ghz dual core beast (Cortex A15 CPU and Mali - T604 GPU).
Many have been patiently waiting for Samsung to feature a Exynos 5 flagship device, and as it wasn't used in the Note 2, an appearance in Samsung's new Nexus phone or the next Galaxy S4 would certainly make a lot of sense (Nexus please).
The leaked shot (via Android And Me) doesn't provide much in the way of additional information, but leaked benchmarks normally come from a test device that's preparing to make it's debut. Oddly enough, the resolution of the device (752 x 1280) points to a tablet and not a phone, which could indicate that Samsung is working on a budget priced 10 inch tablet. Nexus 10 anyone?
2012 could be the year that brings, for the first time, multiple Nexus devices from multiple OEMs. If Samsung plans on using this chip in a Nexus device, it would certainly put them ahead of the competition hardware wise, as this chipset would easily best Nvidia's and Qualcomm's Tegra and Snapdragon quad core offerings.
But as always, you might want to take this all with a grain of salt until we have more information.
October is normally the time that we start hearing reports of Nexus leaks, and I'm certainly very excited and curious to see the next generation of Google's pure Android experience devices.
What do you guys think? Nexus phone, Nexus tablet, or possible Galaxy S4?
Picture credits: Android and Me