Android 4.0 ICS For The Galaxy S2– It's HERE!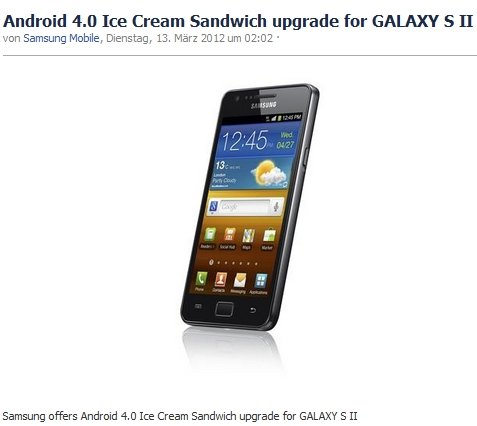 After weeks of waiting and and more then a couple false alarms, Samsung is rolling out the official Ice Cream Sandwich update for its popular Galaxy S2 smartphones. If you're one of the lucky 30 million S2 users don't go running to your handset just yet! The update is only available Hungry, Poland, Switzerland and Korea, but it wont be too much longer until the ICS update goes live worldwide.

But the Galaxy S2 isn't the only high-end Samsung device getting in on the Android 4.0 action...
According to Samsung, users of most of their popular high-end devices can also expect an ICS update in the coming weeks:
Android 4.0 ICS software upgrade for GALAXY Note, GALAXY SII LTE, GALAXY R, GALAXY Tab 7.0 Plus, 7.7, 8.9, 8.9 LTE and 10.1 will follow soon

+++Update+++
According to the Verge Samsung UK has confirmed that the ICS update will go into wide release in the UK market starting March 19th:
"Samsung UK can confirm that the roll out of Android 4.0 (Ice Cream Sandwich) on Galaxy S II will be available from week commencing 19th March, however the availability of software upgrades in the UK will be dependent upon each network's own software approvals process."