PUBG, Mission: Impossible Fallout team up to shower you with goodies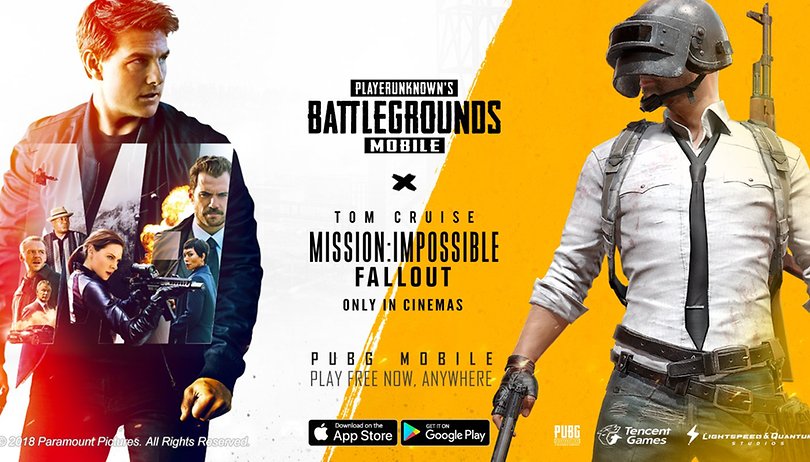 Ahh... the crossover. Is there no sweeter sound to the ears of pop-culture nerds? Thanks to a collaboration between Tencent Games and the new movie, Mission: Impossible – Fallout, PUBG Mobile players can add a dash of secret agent flair to the battle royale in a new month-long event, starting now. Your mission, should you choose to accept it...
The new Tom Cruise vehicle, which debuted in theaters last week, certainly packs in enough action to inspire PUBG players to feats of mayhem. So will we get to play as Ethan Hunt, or snipe the smug spy? Not exactly, but you can get to dress up like him. PUBG Mobile will get a Mission: Impossible style makeover for a month, including the heart-pounding iconic theme music, showcased in the event trailer below:
New in-game challenges and rewards
So what exactly are we getting here? PUBG Corp has promised that players will experience all-new background music and customizable Mission: Impossible themed parachutes. But there will be special goodies for the player avatars too. According to a press release from PUBG, players will be able to collect rewards to outfit themselves in Hollywood espionage blockbuster style:
Special In-Game Rewards – Players can exchange themed items for Mission: Impossible - Fallout outfits to use during the promotional campaign;
All-New Challenges – Players can compete in themed challenges for Team Rush, Survival and First-Person Perspective modes to earn various rewards.
Presumably these Mission: Impossible challenges will be merely difficult. Completing the challenges will reward your account with "Agent IDs," which are then used to unlock outfit items based on what Tom Cruise wears in the movie, including a special jacket, pants, and boots.
This promotion recalls the previous crossover event of battle royale rival Fortnite with Avengers: Infinity War, and given how pop culture trends take off, likely won't be the last time either of themes games team up with a Hollywood blockbuster. Unlike the Fortnite promo, however, the Mission: Impossible content is exclusive to the mobile version of PUBG.
To access the Mission: Impossible event on PUBG Mobile, just load up the game and wait for the update to finish. Good luck, everybody.
Have you tried the Mission: Impossible challenges on PUBG Mobile? What do you think of the rewards?