Is Android Really Trumping iOS in the Mobile Wars? According to an many tech writers are wrong about the value of Android's market share and why Apple is really winning the smartphone wars.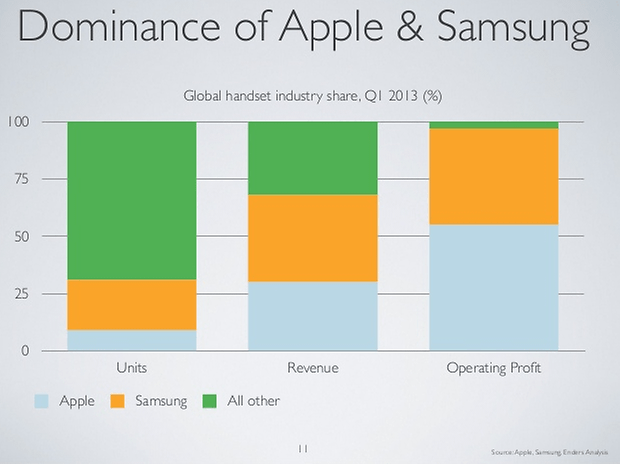 John Kirk, has worked as a financial advisor and business coach. In his article he states that too many people are looking solely at the Android market share and using that as a basis for why Android is winning the smartphone wars.
Kirk points out that it is really Apple winning the smartphone wars at the moment because they make so much more money and profit off every iPhone sold.
Kirk seems to have a point, and a very good one I might add, as Apple currently have more than half a share of all the profits being made in the smartphone industry at the moment. While Samsung seems to be doing well also in that regard, largely thanks to its Galaxy lines of smartphones, but everybody else is lagging behind with a paltry share of the profit share.
Kirk argues that other smartphone makers such as the languishing Taiwanese firm HTC, are barely making any money of Android phones if any at all. In fact some companies are actually losing money off Android products.
Kirk seems to have a pretty strong argument and it does seem like Apple have a large share of the high end market since the App Store certainly makes a lot more money for developers when compared to the Play Store. The Apple App Store in general also makes a lot more money than the Play Store as far as revenue cut in concerned.
Is Google Losing Though?
It seems as if Google isn't really losing the smartphone wars at all, although this article may seem to suggest otherwise. Google is probably trying to get as many Android activations as possible so it can gather more information about users and keep their already thriving advertising business secure for the future. Google is clearly doing that as it announced that it had delivered almost a billion Android activations at the recent Google I/O.
What do you think about Kirk's article and which OS do you think is in pole position going into the future?