Google rolls out UI changes to prevent Pixel 2 XL screen burn-in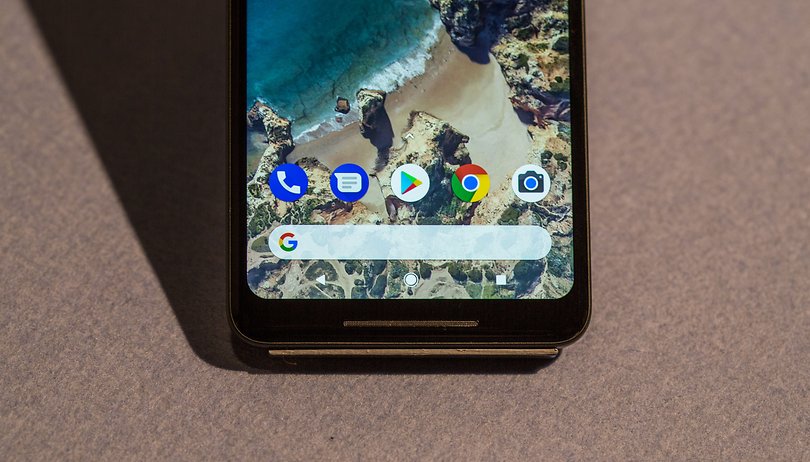 Google feels the burn and begins investigating
Alex Dobie of Android Central was the first to report seeing evidence of screen burn-in, and since his initial post on Twitter, others have confirmed seeing the same. You can see the apparent burn-in when the screen is set to display a solid grey background, as the navigation buttons on the bottom are still faintly visible. If you have a Pixel 2 XL already, you can check your unit by following the directions here. It seems that the smaller Pixel 2 is not affected.
That's some pretty wild OLED burn-in on the Pixel 2 XL after maybe 7 days of full-time use pic.twitter.com/EPJTs6D0Kg

— Alex Dobie (@alexdobie) October 22, 2017
Google is already investigating these reports of possible screen burn-in on Pixel 2 XL units, saying in a statement that it puts all of its products through "extensive quality testing before launch and in the manufacturing of every unit. We are actively investigating this report". We'll update you when more information is released. In the meantime, it's important to keep in mind that we might not be seeing a worst-case scenario here. As suggested by Dieter Bohn at The Verge, this could be non-permanent image retention or 'ghosting'. And it might not happen with every unit.
Warranty length doubled, but screen coverage dubious
Google announced that it would double the length of the warranty on the new smartphone to two years. This was seen as move to assuage fears among consumers after reports of phantom images lingering on Pixel 2 XL screens when no longer actively displayed.
It's not clear just how seriously Google is taking the issue. The Pixel 2 XL warranty doesn't actually mention the phone's 6-inch OLED screen and in a pair of blog posts, Google indicates that the burn-in defect that's causing so much concern isn't covered by the warranty.
Google claims that it will evaluate claims on a case-by-case basis, and that users who experience display defects should still contact its customer service for a resolution. No doubt Google is being cagey about screen issues in order to safeguard its reputation in the crucial holiday season, especially if it's only affecting a small number of units.
What Google seems to be most hesitant to admit is the possibility that screen burn-in is something that affects the Pixel 2 XL especially. It is, after all, an issue that has been reported with other rival flagship smartphones, and Google does not believe the Pixel 2 XL is particularly vulnerable.
Anyone looking to get the display issues addressed through their warranty would also have prove that it affects their day-to-day use of the phone. If you have to work to cause it, than that's out of warranty.
Similarly, Google is avoiding outright committing to treating other display related concerns such as blue shift or dull colors as defects.
Google might not want to admit the scale of the problem until it can be absolutely sure, but it still wants customers to know that you can contact them if you're having any kind of issue with the Pixel 2 or XL version.
This leaves customers in an awkward situation. The Pixel 2 XL screen issues could very rare, or they could only be noticeable by discerning display junkies, but, since Google won't officially admit the issue even exists, you're at the mercy of their customer support if you are affected by the issue, without a guarantee.
It remains to be seen just how widespread these issues could be, and how well Google's customer service handles it.
Google could face a Class Action lawsuit over Pixel 2 XL flaws
Google's refuses to address the issue head-on could have some legal consequences for the company. A law firm by the name of Girard Gibbs LLP is already looking to recruit Pixel 2 and Pixel 2 XL owners to join a prospective Class Action suit. Once certified by a judge, the Class Action suit would consolidate the individual law suits filed over the display issues from all over the country.
Girard Gibbs LLP has experience filing Class Action suits against smartphone manufacturers, having previously taken on LG for bootstrap issues with the LG G4 and the LG V10, and sued Motorola for $5 million over mishandled warranty claims. Now, they're gathering disappointed consumers for one against Google, HTC, and LG (HTC made the Pixel 2 while LG manufactured the Pixel 2 XL).
The complaints from various customers include alleged clicking and whistling sounds coming from the handset and black smears on the display, in addition to the particularly worrying screen burn-in issue.
While this is going on, Samsung has taken what appears to be a cheeky dig at their rivals by releasing a video ad compilation of various YouTubers and tech influencers praising Samsung's displays. Given Google's embarrassing screen issues with Pixel 2 XL, it's probably no coincidence that Samsung has decided to remind the tech community how good the Galaxy displays are. You can check out the video below:
Ouch. Looks like the Pixel 2 XL display isn't the only place Google will have to check for burns.
Google addresses issue with November update
Though the company still hasn't said outright that burn-in is affecting these units, Google is responding to customer concerns by rolling out some changes with the November software update. These UI tweaks 'fade out' buttons on the navigation bar to decrease the chance of burn-in and adjust the maximum brightness of the OLED display. On another note, a Saturated color mode was also added to enhance the vibrancy of the colors. You can read about the other changes here. Whether or not the UI changes will actually prevent burn-in is unknown, but we will keep an eye on the issue.
We'll have to wait and see if this really turns out to be burn-in and how widespread the issue is. But, if that is indeed the case, it could certainly be a deal breaker for many who are looking to buy a Pixel 2 XL until Google works out a solution. Be sure to check out our round up of the best alternatives to the new Pixel phones if you're considering making a purchase soon.
What do you think of this issue? Are you seeing signs of burn-in already? Does the warranty extension reassure you? Let us know in the comments!