Google Launches Jelly Bean Voice Search For iPhone..Wait....Huh??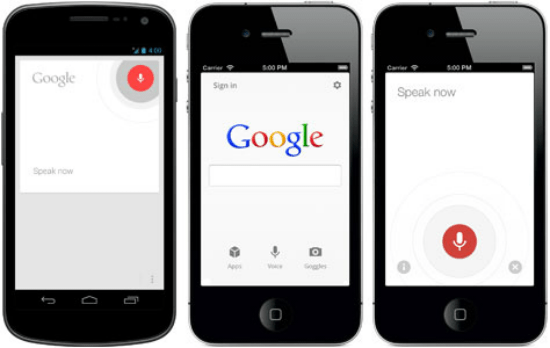 If you happen to own an Android device that has received the Android Jelly Bean update, you probably already know about the enhanced Google Voice Search that came with it. It's not just good, it's REALLY good, and even Siri fans have a hard time denying that. Problem is, it's only available to Android Jelly Bean users (or ICS users by way of mods)...until now. But don't get your hopes up if you're on Gingerbread or ICS, as Google has officially announced that the new enhanced Voice Search is now rolling out to iPHONES first. Huh? What in the name of God just happened??
Google announced yesterday on its Blogspot that the enhanced Voice Search found in Jelly Bean was being rolled out to IOS users as a standalone app, and that it would arrive in the Apple App Store in the next few days. Ok...just hold on a second here. Am I seriously reading this right? iPhone and iPad users are getting the Jelly Bean Voice Search BEFORE Android Gingerbread and ICS users are? How the hell could this happen?
But it gets better. Google stated that they "hope to roll out updates" that will bring the feature to Android versions below Android Jelly Bean, but have no estimation as to when that will happen. Google "hopes" to roll out updates? So you mean to tell me that IOS users don't have to HOPE for enhanced Voice Search, but that Android users do? **falls over**
This simply can't be. Sure it makes sense that iPhone users at some point receive advanced Voice Search, but certainly NOT before ICS and Gingerbread users receive it. That's like Microsoft saying that Playstation owners will get a new Halo game this year (an Xbox exclusive title), but that Xbox owners MIGHT receive it. Imagine if Apple announced that the newest version of iTunes was for Android users only. Could you imagine the backlash they would receive?
Google will accomplish 4 things with this move:
They will piss off Android users
They will piss off Apple
They will give Apple fanboys an excellent excuse to stick it to Android users ("haha, even Google likes the iPhone more than your robot thing! Lollers!).
They will make Android users feel like 2nd class citizens by giving IOS users an ANDROID function before they receive it.
Here's a video of the enhanced Voice Search running on the iPhone (Youtube link here):
As you might have noticed from my article yesterday, I have the utmost respect for Google and the work they do. But Google, this move is stupid, unfair, and purely demonstrates that you badly need to get your priorities in order.
Picture credits: Phandroid