Google I/O 2012: What Does Google Have In Store For Tomorrow's Event?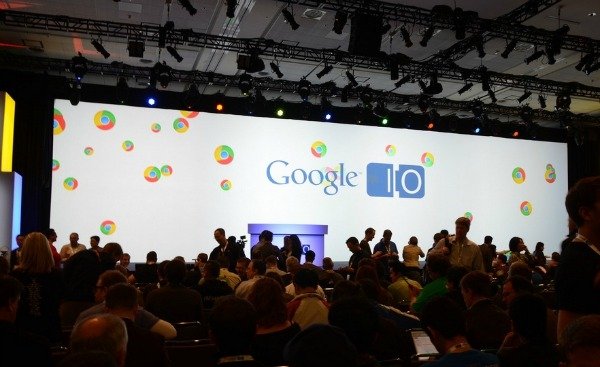 Google I/O 2012 is officially kicking off in less than 48 hours, and I for one am VERY anxious to see what new goodies Google has up its sleeve! For anyone not familiar with the event, Google I/O is a developer focused conference that happens every year in San Francisco California. The highly technical and in depth discussions that take place at the event focus mainly on web, mobile, Android, Chrome, Chrome OS, API's, Toolkits and App Engines, and the event allows developers to come together and brainstorm for ways to improve these platforms and services.
Now I'm no developer, and many of the discussions that take place at Google I/O will be way over my head and too technical to interest me that much. But this time around, Google is rumored to unveil 2 things that certainly have my full attention: 1. The long awaited Nexus Tablet, and 2. Android Jelly Bean.
(Fun fact: The "I" and "O" stand for input/output, and "Innovation in the Open")
Google is known for giving away hardware to attendees at their I/O events, but it's not often that they actually debut a device at the conference. Here's a quick rundown of all the free hardware attendees have received at previous Google I/O events:
May 27–28, 2009
May 19–20, 2010
At the event: HTC EVO 4G (Sprint)
Prior to the event: USA attendees: Motorola Droid (Verizon)
Prior to the event: non-USA attendees: HTC Nexus One
May 10–11, 2011
Samsung Galaxy Tab 10.1
Samsung Chromebook
Verizon LTE Hotspot
As you can see here, Google certainly doesn't hold back when it comes to making the thousands of attendees feel welcome with lots of nice free hardware, and this year, if the reports are correct, each attendee could be walking out with a free Google Nexus tablet running Android Jelly Bean. But will Android Jelly Bean be a major update, or an incremental one? Will it focus more on phones, or on tablets, or on both? What other surprises might Google have up its sleeve? Here are a list of things (in addition to the tablet and Android Jelly bean) that we MIGHT possibly see at Google I/O this year:
Plans for the Nexus brand
It was recently reported that Google would allow multiple OEMs to have a Nexus device, but up until now, we haven't heard much more about this topic. Will each OEM get a phone and a tablet? If so, starting when? Also, the Play Store get a dedicated Nexus section where the phones and tablets can be directly purchased, and if yes, which countries will be able to buy directly from the Play Store?
How Google Will Use Motorola
Andy Rubin reported that he would keep his Android team a safe distance away from Motorola, but with Google's new Nexus strategy, will he still have to do that? Will Google finally announce how they actually plan to use the company they paid 12.5 billion dollars for?
Google Play Store Expansion
Could this be the year that Paypal payments finally come to Google Play? Could Google FINALLY be preparing to announce that Google Play Books, Music, and Movies will be accessible from more than just a handful of countries?
Downloadable Google Maps
I for one would absolutely LOVE to have a way of downloading the Google Maps for an entire city directly to my device so that I could use it offline. Google already has an option to download a small radius of a city. Could this functionality be expanded to make their new 3D maps even more appealing?
Google Voice Assistant "Majel"
Google apparently has a voice assistant in the works that is said to bring a "Star Trekkish" twist to Google Voice search. Could Google be planning on unveiling Majel tomorrow?
Google TV Announcement
Google TV hasn't exactly made huge noise since its debut, but some are speculating that Google has a big announcement to make about Google TV. Maybe Google has partnered up with Samsung, LG, or Sony to release a new TV with Google TV preinstalled?
Google Glasses
The Google's "Project Glass" glasses have certainly made a lot of noise in the tech industry, and although prototypes aren't expected to be released until next year, perhaps Google could surprise developers with an early taste/handout of the glasses for them to play with?
Additional topics
Fixing Google Play for multiple devices, a solution or a way of slowing down fragmentation/a more effective way of ensuring updates occur more timely, updates to Google's core search function, new additions to Google Chrome OS, and Google Drive are all also topics that could be interesting.
Stay tuned to find out!
The great thing is that we won't have to wait long to see if these topics (and additional ones) are discussed, and Google apparently has a lot to say, as this is the first time the event will last for 3 days instead of 2. AndroidPIT will also be covering the event as it starts, so be sure to check the blog regularly for the newest announcements coming out of Google I/O 2012. And if you don't have the official Google I/O app, be sure to grab it here.
What would you guys like to see happen at Google I/O? Let us know in the comments below!
Picture credits: static.androidnext.de (edited by myself)
List of Google I/O hardware referenced from Wikipedia