Samsung Galaxy Note 3 Specs Confirmed In Benchmark Leak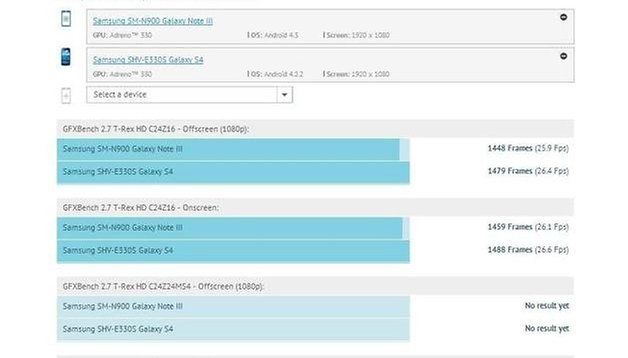 Much has been said about the Samsung Galaxy Note 3, where we did touch on the possible hardware specifications just last week, but here we are with what is most probably the real deal - thanks to the Galaxy Note 3 appearing over at a Gfxbench leak. A couple of Galaxy Note 3 models were spotted in the tests, and they include the SM-N900S for SK Telecom and the SM-N900L for LGU+, with both of them being South Korean carriers.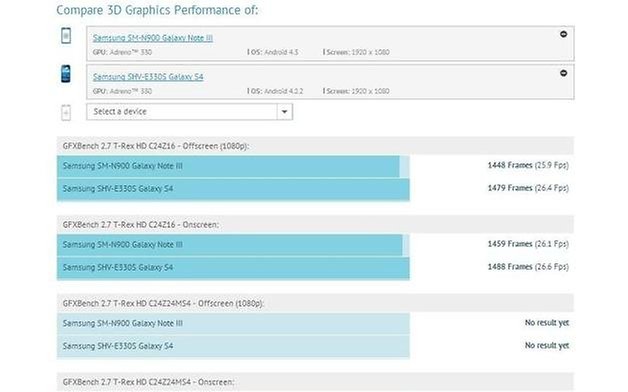 So far, the Gfxbench results show off the hardware specifications of the device which will most probably be final - and they include a quad-core 2.3GHz Snapdragon 800 chipset, Android 4.3 Jelly Bean as the operating system of choice, and a Full HD display. As for the size of the Full HD display, that remains to be seen as it has been rumored that there might be three different sizes.
Other unconfirmed hardware specifications of the Galaxy Note 3 include 3GB RAM and perhaps a variant of the Exynos 5420 Chipset. We do, however, expect to see the Galaxy Note 3 released at IFA 2013 in Berlin this coming September.
Hopefully the Galaxy Note 3's accessories like the charger will not end up in a disastrous manner as with this alleged Galaxy S4 burning down an entire apartment, leaving the couple to escape by the skin of their teeth (with their dogs, thankfully).