Apple & Motorola Had Talks In December To End The Patent Wars..Result?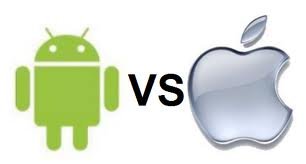 Patents..how many times have I seen this word in the past month when reading Android and Apple related articles? Everyone is sick of the patent wars, and I was actually really glad to see that Apple is taking steps to Tim Cook simply thinks differently than the late Steve Jobs, while others think it's more related to Apple's limited product portfolio. Whatever the reason is, I welcome the talks, and was very please to hear that in December, the first steps towards ending all this patent silliness were taken when Motorola and Apple sat down to discuss getting ALL Android manufacturers "patent proof".
These talks were apparently, for the first time, much different than any other communication that took place between the 2 tech giants, and focused on potential cross licensing settlements for Android manufacturers. Speaking with Motorola directly makes a lot of sense in a way, considering that they will soon be the direct property of the big G, and if any one company could represent all Android OES's, Motorola would make the most sense.
The exact negotiations that were taking place are not confirmed, but it's speculated that Motorola had hoped to get Apple to license its technology directly to Google in one big umbrella agreement instead of to each OEM seperately, which would have prevented each manufacturer from having to create seperate patent deals with Apple.
A big first step if you ask me! Now, the end result of those talks isn't clear, as Motorola has successfully beaten Apple recently in German courts. At the same time, Apple has recently demanded an anti trust investigation into Motorola, making it very hard to see any positive end result of these talks. But hey, wars don't always end on the first round of discussions, so fingers crossed that there will be further talks in the very near future.
What do you guys think? Will Apple and Google ever be able to live in harmony side by side?
Picture credits: iphonedeveloperlabs.com