Android Nougat will transform the user experience on the Samsung Galaxy S7 Edge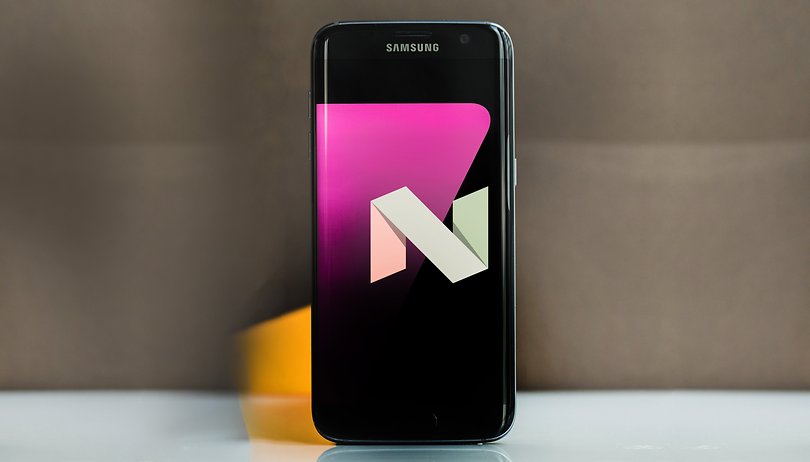 After updating to Nougat's beta version on my Galaxy S7 Edge, the user experience improved greatly. When you turn on your display for the first time you won't see much of a difference but when you start using some of the features, that's when the changes truly become noticeable.
TouchWiz is much more intelligent on Android Nougat
TouchWiz is much more intelligent on Android Nougat. The impression I get is that the engineering team at Samsung has stopped trying to make their interface different from pure Android by creating more complicated ways to use the system. It turned out to be a great move because now everything is much faster and easier to use on the device.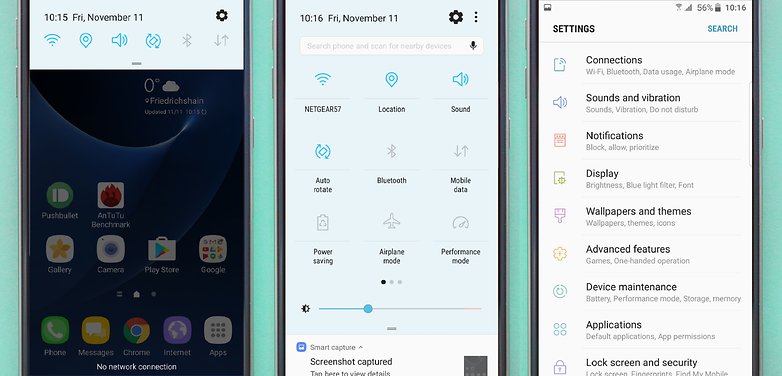 The first thing that caught my attention was that the status bar and settings menu had been moved. Both have a much more restrained appearance as well which gives everything a much cleaner look. Even though they're now displayed in list format, and not by category, each option comes with a small description of what can be found by clicking on that option.
So, instead of blocks with connection icons, we have the option "Connection" and the descriptors "Wi-Fi, Bluetooth, Data usage," and so on. Even for those people using a Galaxy S7 model for the first time, there shouldn't be any problems understanding where to find each setting.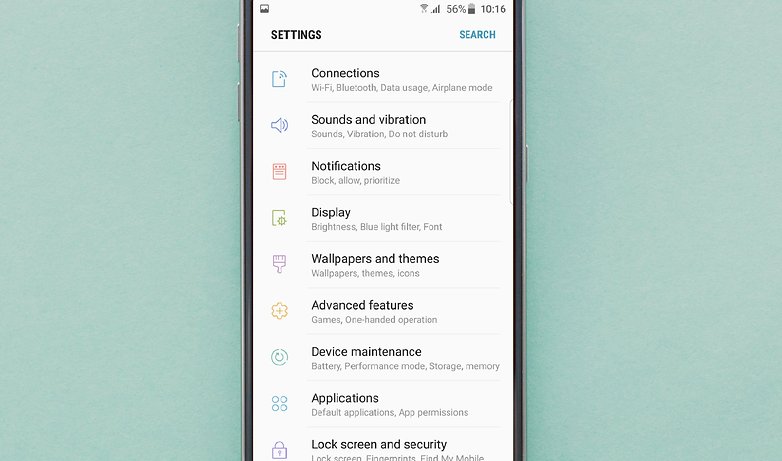 Even if someone does get lost, the manufacturer opted for a suggestion system which allows the user a chance to verify settings with the "Viewer" option. For example, not necessarily found in this menu, a smart app manager or video enhancer.
There are also some new additions to the Galaxy Note 7 display, such as a Blue Light Filter. This feature reduces eye strain, particularly at night, by limiting how much blue light is emitted from the display. Furthermore, we still don't know what the new UX will be called since the update isn't official yet. Nevertheless, the user experience seems to be similar to that of the Grace UX on the late Note 7.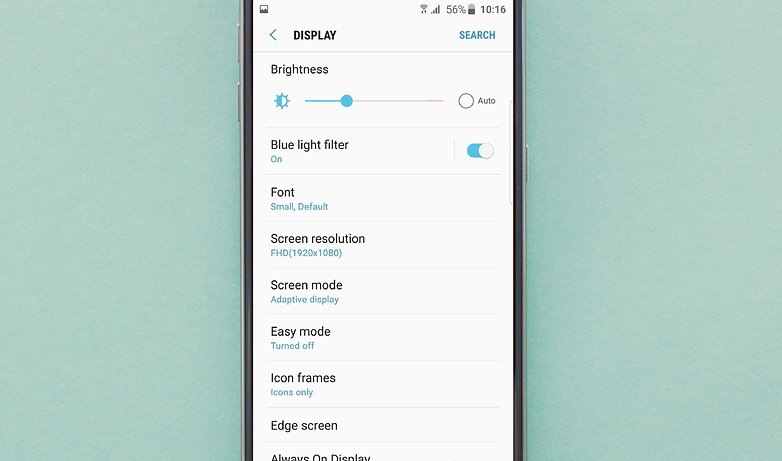 Apart from that, you also have access to their new font, SamsungOne. It was created to unify all of Samsung's different services, from refrigerators to smartphones. Which means it must be something functional and simple, since they have to add a huge range of users. It all feels much more difficult after the vivid colors on the previous version of TouchWiz.
In the image below, you can compare SamsungOne with Robot, from Google: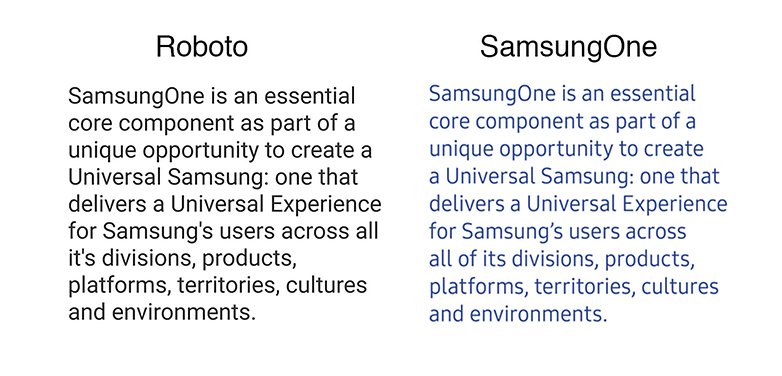 Looking at power usage, Samsung has added a monitor that detects which background apps are using up power and which ones can be stopped in order to avoid draining your battery when not in use. What makes this feature so attractive is the fact that the system is behaving proactively. It doesn't leave the user with any doubt as to which apps they should stop to have the desired effect and thus, naturally, making it easier to use.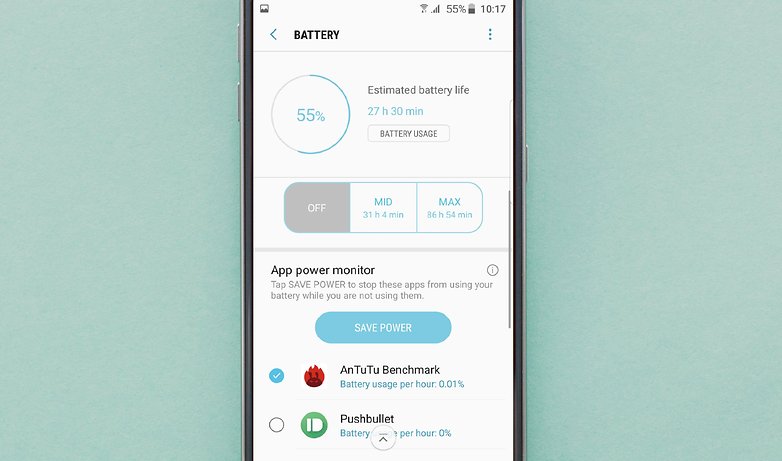 Another new feature that caught my attention is how the search bar is now visible at the top of the app drawer, similar to the interface on the Pixel devices. When using the search tool, if the app you're looking for isn't installed on your device, the system automatically offers an access button to both the Google and Samsung Stores. It is features like this that made me realize, more than once, that TouchWiz is much more efficient.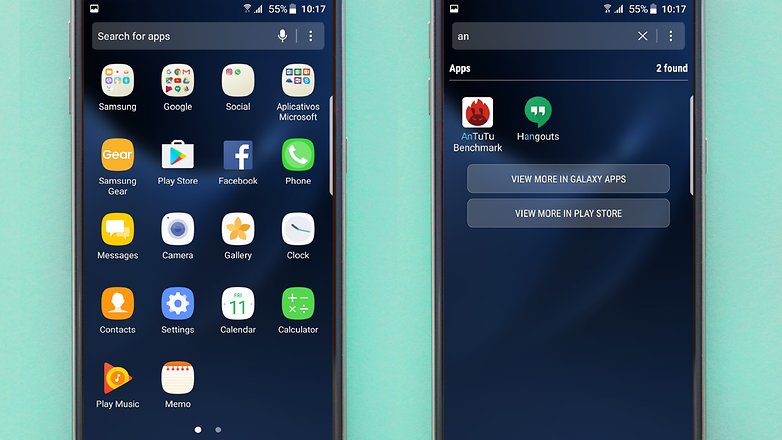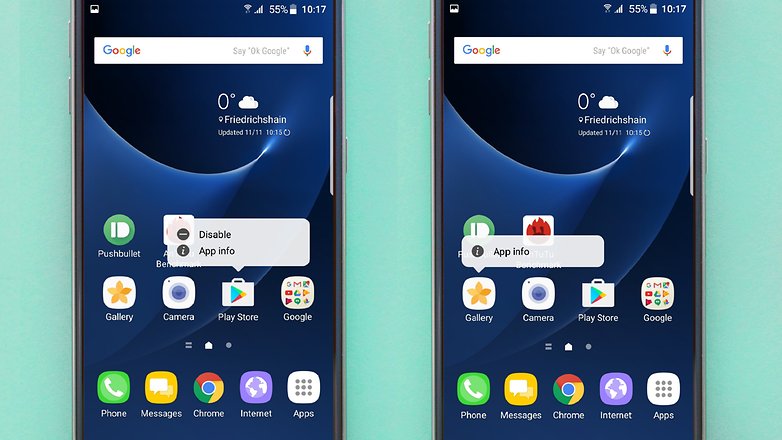 Lastly, another feature that came to life on Android Nougat was the Always-On Display which now, beyond showing notification types, can open third party apps through the lock screen when you double click on a specific notification. This is a pretty good reason to keep it activated on your system.

Earlier, when I installed Android Nougat beta on the Galaxy S7 Edge, the firmware was made available by a member of Samsung's test program and that's what I installed on my phone. The software, so far, is quite stable.

Up to now, I'm quite happy with what I'm seeing but I still need to do a performance analysis in the next few days since, as we all know, TouchWiz is famous for being heavy.

What about you? Have you already downloaded and started using the new version of Android on your Galaxy S7 or S7 Edge? Comment below and tell me what you think so far.