Is Android JellyBean's Early Launch A Direct Response To Windows 8?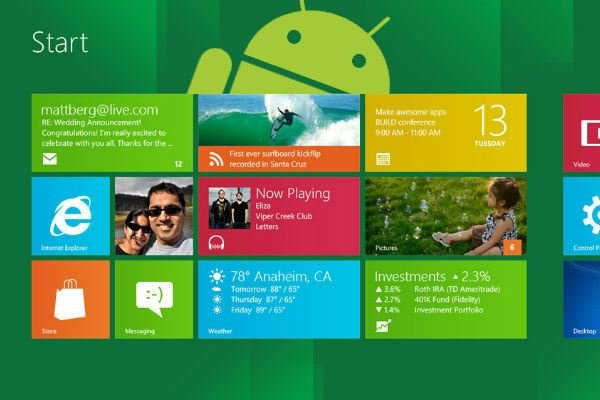 (picture from timenerdworld.files.wordpress.com)
I saw this coming...I saw it coming from a thousand miles away. This weekend I was sitting at a wellness hotel 100 meters from the beach relaxing in front of a heated pool with my girlfriend (AWESOME) and with my tablet in hand, and I literally had to laugh out loud after reading about the release of Android Jellybean. Normally, news like this would shock me, as Ice Cream Sandwich is still basically fresh out of the oven (or freezer possibly?). But this time I wasn't shocked at all. I didn't laugh because I thought it was a stupid move. It just amused me because I had a feeling that Google would be FORCED into doing this. So why the push for Jellybean so quickly?...Well, that can be described again in one word that I have been writing a lot about lately: Microsoft.
A little over 2 weeks ago I wrote about why I really wanted a Windows 8 tablet, and showed a video of a Samsung Tablet running Windows 8. To be honest, it blew my mind and scared me at the same time. It blew my mind because it was awesome...it scared me because I knew what it would mean for Android (Apple too). I followed up with an article last week about why Windows 8 could seriously threaten Android and Apple, outlining lots of points as to why I don't see much of a chance of Windows 8 tablets failing if the price is right. Sure, any product can fail, but I see simply way too many reasons why Windows tablets CAN'T fail to forsee them not making noise in the tablet and mobile world. Then I saw an article talking about Android Jellybean being released in the spring, and the really interesting thing is that it could possibly (rumor) boot Google Chrome OS or Windows 8. That, in combination with the fact that the new Android version will supposedly only be made for tablets really makes me think that Google is already preparing its strategy on how to fight off the Microsoft threat.
So maybe you won't agree with me on this, but an Android Tablet that could also boot Windows 8 would be one of the smartest things that Google could do. Why? Because quite simply, that tablet would no longer be a tablet...it would be a full pledged laptop replacement. If Microsoft's Windows 8 tablets are successful in the market, not only will they be a huge threat to Android and Apple, but to laptops in general. A tablet with a laptops specs, Microsoft products (Office, Direct X, ect) that we all have grown very comfortable using, AND the possibility to dual boot into a new and fully optimized tablet version of Android could actually in some ways level the playing field for Google, as they apparently also see how threatening a true laptop replacement in the form of a sleek tablet could be. The option of dual booting into Chrome OS obviously won't be so appealing, as the Chrome centered operating system has made little noise since its release. But something has made Google react, as I think most of us weren't expecting Jellybean until the 3rd or 4th quarter this year.
But interestingly enough, it's Microsoft, not Apple or Google, who are for the first time changing the game on how consumers would address the frequently asked question "Do I really NEED a tablet?". I love my Galaxy Tab 10.1, but do I NEED it? Honestly, I don't. I bought it because I WANTED it, and while many consumers might have ways of integrating a tablet into their daily tasks at work or home, it's safe to say that consumers for the most part don't NEED one. It's the same with the iPad. Like them? Sure, lots of people do. NEED one...not really. But now think about this..how many consumers ask "Do I really NEED a laptop?". Far more consumers have the NEED for a laptop (myslef included), and make no mistakes..the tablet that was demo'd in that video was a LAPTOP REPLACEMENT..period. Same hardware as a mid range laptop, same software, same drivers, same USB access, same gaming capabilites, same process of plugging in a printer, game controller, or external hard disk..you get my point. That is something that a lot of consumers NEED. Google providing the same option would only help them in the long run. It's not a sellout, it's not caving in, but it's actually possibly one of the most clever things Google could do (that's assuming there's any truth at all to this rumor).
Google is expected to make a big announcement at MWC. Exactly what it is no one knows yet, but a Jellybean accouncement or news of a new Nexus device (probably a tablet) could possibly be on the list of what it could be. For me personally, if the rumors are true about Jellybean, Android tablets could really reach a new level of awesomeness in 2012, and as long as Google keeps their options open and stays on their toes when Microsoft makes their move, Windows 8 could actually help them more than hurt them. Ice Cream Sandwich runs great on tablets, but Jellybean needs to run even better to make it appeal to the masses. Microsoft will also have their work cut out for them, as their tablets will need to be well priced and have lots of apps.
While the prospect of an Android tablet with Windows 8 sounds very interesting, at this point, it still seems really unlikely to happen, and it will be very interesting to hear more details about what Google has up its sleeve in regards to Jellybean. What will also be VERY interesting to see is how Google's manufacturing partners would feel about having to make tablets to run both Android and possibly Windows 8. This could be very appealing if they see the consumer value of having such a device, but could be very harmful if manufacturers aren't interested what it would require hardware (and software) wise. This is another way that Google's purchase of Motorola could be a determining factor, as Google would get the final say on hardware and software.
What do you guys think? Would an Android Jellybean tablet that could dual boot into Windows 8 be appealing to you?