With Lockitron, You Can Text Your Door to Open Itself – Perfect for Granting Temporary Access to Kooky Neighbors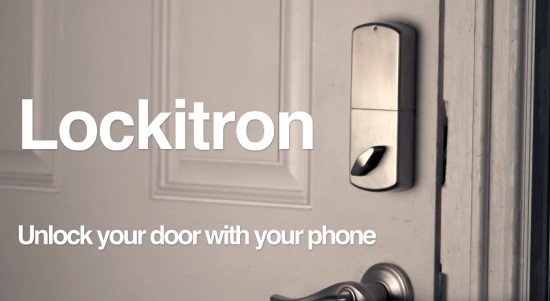 The future: it's now, dudes. Now that your phone can , we think unlocking doors wirelessly is the next natural step. Right?
If this sounds like an unneccessary technological innovation, allow me to explain it better: let's say your friend needs access to your apartment but you're at work and unable to give them a key. With the Lockitron Wireless Door System, you can literally text your door to open itself! How cool is that? You can even send virtual keys to friends or family to give them full or temporary access, which is a lot less awkward than asking for your keys back.
The entire system costs $300 for wireless deadbolt, base station & USB remote control, a set of keys, installation instructions and required cables, screws and plates — which is, granted, a lot to think about. You'll also need to connect a base station with wired internet connection within 10-30 feet from the door.
What next? Texting our microwaves, toasters and refridgerator? "Whadup fridge?" "NM, just chillin." "Can you open yourself?"
Certainly the Lockitron makes it a whole lot easier to grant temporary access to folks (like landlords, exes and the crazy neighbor next door) without having to give them a key. But is it worth $300 and the hassle of set-up? That's a tougher question. What do you think?