Where Did Amazon's Money Just Go?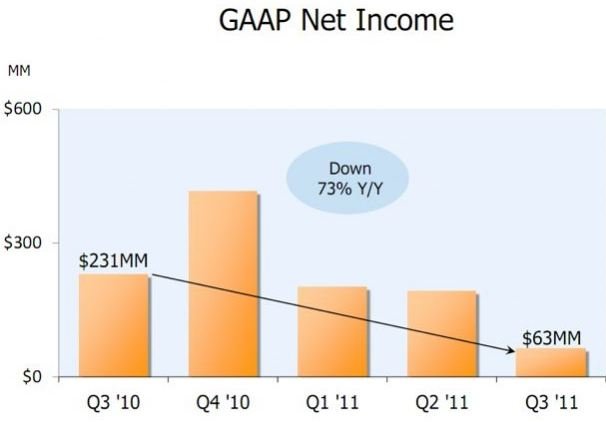 You can't sell a premium tablet for $199 without losing some money in the short-term. Perhaps that's why Amazon is simultaneously recording a 73% net profit loss and 44% increase in net sales over last year.
Where did all the money go? Well, in order to provide streaming movie services, you've got to have increased server capacity. Same goes for the new Silk browser, which loads web pages at a faster rate by pre-caching certain web elements in the cloud. In order to provide streaming movies, you've also got to acquire new licenses from the studios. According to the report, Amazon spent $769 million on "technology and content" during the last quarter, up 74 percent from a year ago. Amazon is also likely losing a lot of money on hardware: the tech specs of the Kindle and Fire are way above price point.
The company has argued that it's looking at the bigger picture: while taking a hit in the making of the device, Amazon expects to recoup their investment in consumer purchases made via the Fire or Kindle over the long run. As the quarterly profit report notes, Amazon is focused on "the lifetime value [of the Kindle], not just the economics of the devices and accessories."
The market may agree with Bezos and Co. as Kindle sales are already quite strong. Personally, I think Amazon is setting itself up for success.
Related:
[Video] Amazon Kindle Fire Android Tablet Hands-On

Amazon Dev Says Fire Tablet Will Be Rootable

[Predictions] Why Amazon Will Become the #1 Tablet Manufacturer in the World