T-Mobile USA Launching Samsung Vibrant July 15th Verizon will launch the Motorola Droid X on July 15th, and it seems that T-Mobile doesn't want to leave all the press covering only the Droid X launch. Plus, with the Droid Incredible, EVO 4G, and iPhone shortages, the sooner they get their device out, the better.
AndroidandMe notes that besides the Nexus One:
The Vibrant is the first high-end 1 GHz Android phone to land on T-Mobile, so it might attract a bunch of customers who have been waiting to upgrade their handset. Of course there is always something faster around the corner, but the Vibrant's beautiful display and super-fast GPU might make this the sweet spot to jump in.
AndroidCentral suggests some other possible ideas behind the date change:
Maybe T-Mobile decided to get in on the party a little early to time with Verizon's Droid X launch, or maybe they just love us more than we thought.
Following is a leaked document posted on TmoNews to go along with the claim: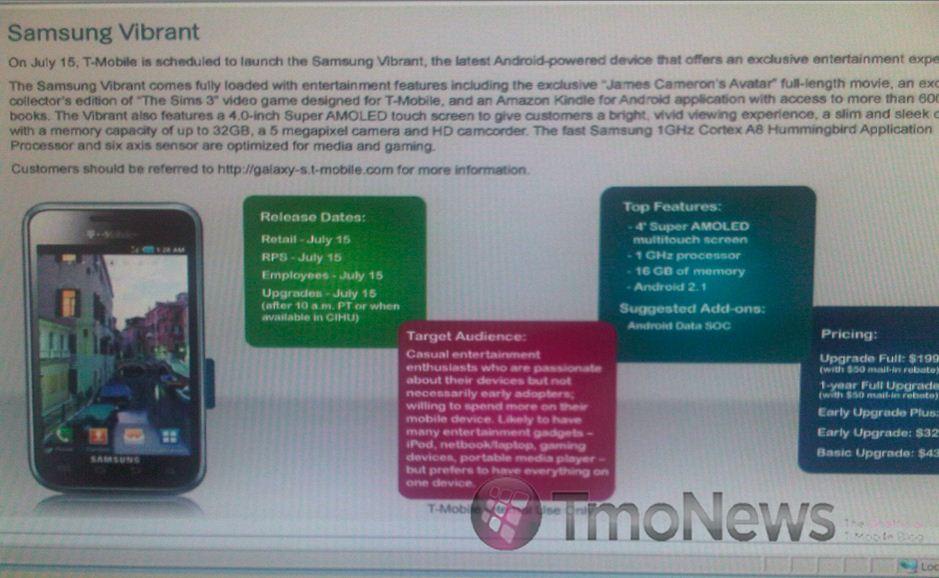 Anyone here planning on upgrading your T-Mobile phone to this?
Other Sources: AndroidandMe, AndroidCentral, Phandroid
Images from AndroidandMe and TmoNews