T-Mobile Begins Testing CLIQ XT Update T-Mobile USA began testing an update to their CLIQ XT with 1,000 customers yesterday in order to have a trial run of the new software. A screenshot on TmoNews shows the possibility of seeing the update rolled out as soon as this week, depending on how the trial goes.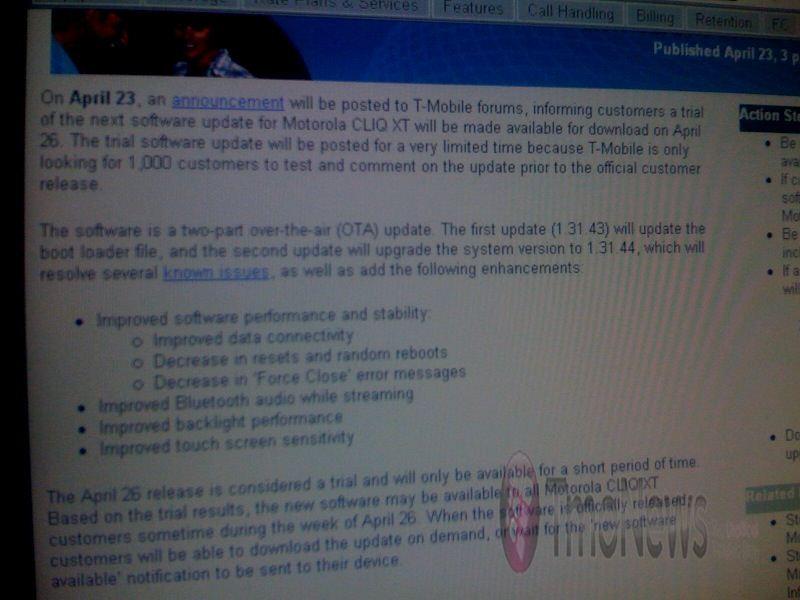 According to Motorola's website, the update (which is not Android 2.1) will consist of enhancements and fixes and is installed in two steps. The new version is 1.31.44 and AndroidandMe adds that the upgrade to Android 2.1 "is planned for Q2 2010." No guarantees as always though, so sit tight.
As for signing up to be part of the 1,000, Androinica wrote that "Given that the trial run is full it looks like any other CLIQ XT users will have to wait, but in the meantime hit the Motorola link below to see the full change log as to what you can expect to receive."
Here is are some of changes in the update from Motorola's website:
Improves Overall Phone
Visual Voice Mail Enhancements
Bluetooth® Audio
Camera Correction
Screen/Display Performance
Text Messaging Improvements
Touch Screen Enhancement
Other Sources: AndroidandMe, Androinica, Motorola, TmoNews
Image from TmoNews