Spy Software Carrier IQ: Samsung's Official Statement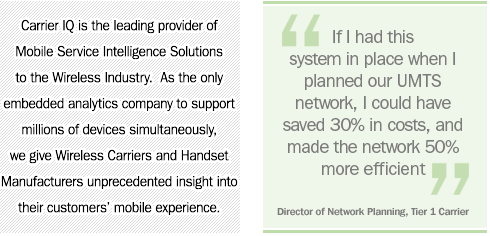 The Carrier IQ analytics package has certainly caused its fair share of headlines in the last days. According to the company's website, its software is currently installed on 141 million smartphones world wide and is primarily used as a tool to better optimize device performance. Its propriety analytics program sends data regarding phone efficiency or app power consumption to a Mountain View, California based server. On the surface, it seems benign, but the collected information also reveals explicit details about user behavior, including text messaging and calling habits. Opinions are split as to Carrier IQ's real purpose but with many of their popular Android phones shipping with the questionable software, Samsung has released an official statement regarding the controversy.
There have already been a number of companies, who have officially taken a position on this latest privacy "scandal"; Vodafone, o2, Verizon, E-Plus, RIM, Nokia and HTC have all confirmed that they do not install Carrier IQ on their hardware. But Carrier IQ has been discovered on several Samsung devices– thankfully not on the Galaxy Nexus– and yesterday Samsung responded to questions regarding Carrier IQ with the following statement:
As a responsible manufacturer, we take seriously the concerns of our customers, and also in terms of compliance with legal and data protection legislation. We are currently reviewing the matter carefully. After testing, we will immediately inform our customers accordingly. We appreciate your understanding and patience.
Carrier IQ for its part has gone into full damage control mode after threatened the developer, who discovered the questionable software package, with legal action and then promptly retracted the threat after increased public attention. Most recently, a statement from Carrier IQ detailing how the software functions and which types of data are tracked was published online.
Many at AndroidPIT feel that Carrier IQ isn't designed to spy on customers. It makes sense for smartphone producers to want to optimize their hardware by collecting data regarding its performance and use. However, Carrier IQ dramatically fumbled the ball by not clearly explaining the purpose of their software and attempting to gag the sources, who discovered the software's activities. If Carrier IQ really does want to work hand-in-hand with the public and smartphone manufactures, they should let customers choose, if they want to send data to their servers much in the same way, that PC users can choose to send crash reports to software designers in the event of a crash. By making the service voluntary, they would not only regain the trust of consumers but also embrace the freedom of choice that dominates the Android community.
It will be interesting to see where Samsung comes down on the issue.