Samsung Galaxy S3 Photo Leak: Will the Real Galaxy S3 Please Stand Up?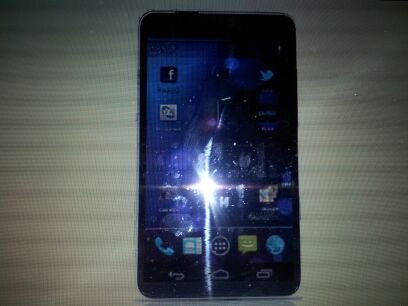 Is this the new Samsung Galaxy S3? A new photo was posted on Reddit yesterday that claims to show Samsung's newest super phone but lots of folks are questioning whether or not the photo is for real.
The original poster claims that his friend works at Samsung and that he was only able to snap a quick, blurry photo with flash:
Backstory: I am using a throwaway and I'm not going to disclose ANY information about his job because it could jeopardize it. He sent me this picture (I know, he shouldn't have used the flash but i guess we will take what we can get). Ok he gave me some specs as well. He said that it will possibly have two optional launchers, ICS with touchwiz overlay and vanilla ICS. They aren't 100 percent sure if they will stick with touchwiz or have the dual launcher option. If they go dual, you will have the option of picking which one to use at startup, and you can change any time. He said it has a 4.7 inch screen that nearly takes up the whole phone, but some bezel space was needed for the camera, , speakers, mic, and so cases would fit on it. He said it WILL be HD and have a ceramic "micro arc oxidation" back.


He said the processor is a quad core exynos (spelling?) 4412. The screen is Super Amoled Plus with HD. The camera is a 12 megapixel with flash. 2 gigs of ram. And it is exactly 8 millimeters thick, and no bump this time around, just "smooth". 2250 milla-amp/hour battery, but no wireless charging.
Commenters online are already claiming the photo is fake and that the poster simpy photoshopped ICS on to a photo of the Samsung Galaxy S2. What do you think?
Meanwhile, another photo surfaced a few days ago that looks more legitimate. This is a mock-up for the Galaxy S3 that was also leaked to Reddit. The release date on the phone – March 22nd – jives nicely with the London Summer Olymics, of which Samsung is a sponsor. The operating system looks like Ice Cream Sandwich with a TouchWiz overlay and the screen does have one of the smallest bezel's we've seen (although it's not "edge-to-edge" as previously rumored). One drawback? The physical home button. I like my phones buttonless.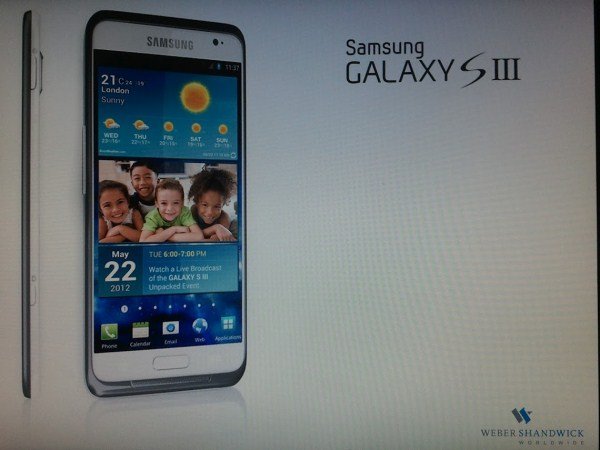 So what do you guys think about these photo leaks? Do you believe this is really the Samsung Galaxy S3 or do you think one or both of these images have been photoshopped?