[Rumor] First Information About Samsung Galaxy S3 Leaked Online?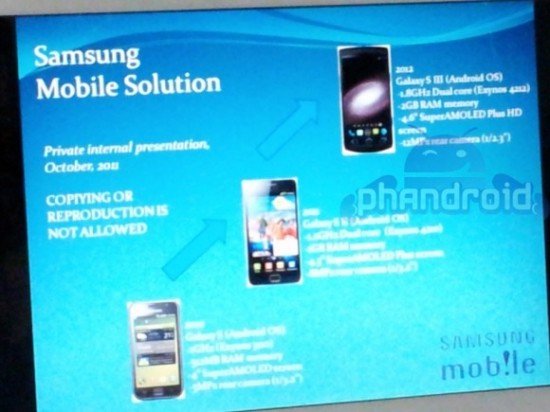 (Source: Phandroid)
A supposedly 'internal' Samsung document has been leaked online, which appears to show technical details for the next generation of Samsung Galaxy phones. The Galaxy S3 would be the next major development in the high-end Android game after the Nexus Prime makes its debut but opinions are split, whether or not this rumor holds water. While the rumored specks sound awesome, the document (pictured above) hardly demonstrate the professional glance we expect from the Korean smartphone titan (Copiying... really?) But then again it wouldn't be the first time that a major producer cut a few corners with their internal communication.
At least that's a realistic possibility. But it's also just as likely that some prankster with a copy of photoshop slapped the 'leaked' document together in their spare time.
So take the following list of features with a grain of salt.
According to the latest rumor the Galaxy S3 will feature:
1.8 GHz Exynos Dual-Core Processor
2 GB RAM
4.6" Super AMOLED Plus HD Display
12 Megapixel Camera
Of course the details sound great but at this early stage, even if the details are accurate, there will probably be more then a couple changes before the Galaxy S3 becomes official.
Related Samsung News:
[Rumour] Nexus Prime And Ice Cream Sandwich To Launch October 27th?