Motorola Releases New Android Upgrade Timeline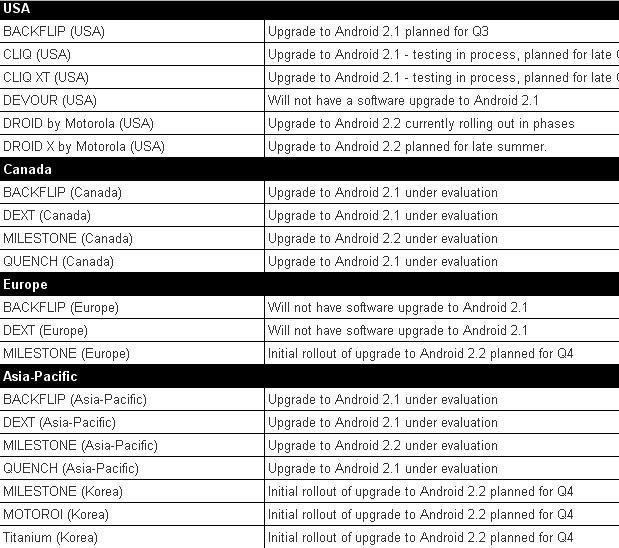 In the US, users of the DEVOUR will not receive Android 2.1. The BACKFLIP, CLIQ, and CLIQ XT are all confirmed for Android 2.1 in Q3 or Q4. The Droid X Android 2.2 update is slated for late summer, which is pretty much now.
Android Central adds that the DEVOUR listing "shouldn't come as much of a surprise, as the Motorola Devour already is listed as end-of-life, but now it officially won't be getting an upgrade to Android 2.1."
Canadian Motorola devices are all under evaluation for their next update, with the Milestone being evaluated for Android 2.2, and the BACKFLIP, DEXT, and QUENCH under evaluation for Android 2.1.
European Motorola Milestone users can take comfort that Android 2.2 is coming, but the update is planned for Q4. The BACKFLIP and DEXT will not receive Android 2.1.
As for the rest, I'll leave reading the image up to you. Many Android users will definitely be highly upset by these decisions, and likely more with the next upgrade timeline release.
MobileCrunch is quick to remind anyone that has a phone which will not be receiving an official Android 2.1 update that there is still hope:
Of course, the wonderful thing about Android is that someone, somewhere is probably porting a version of Froyo over to your phone, anyway. Doesn't that make you feel all warm and snuggly inside?
Other Sources: Android Central, MobileCrunch, TalkAndroid