Majority of Those Under 44 Own a Smartphone, Overall Penetration Deepening (Ha!...Sorry)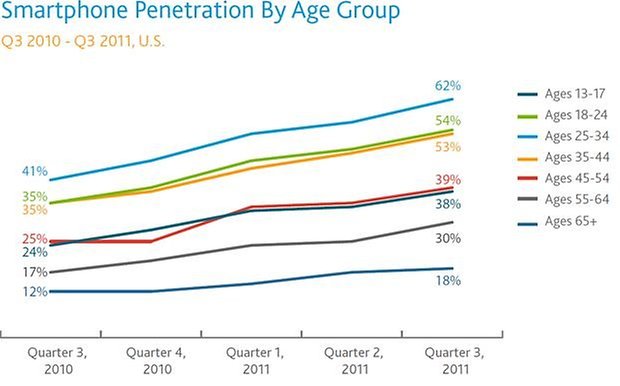 Who owns a snartphone?
You don't need to be a genius to realize that teens and twenty somethings are the most likely to own one. According to Nielson, while over 43 percent of all mobile users own a smartphone, that number rises to 62% when you're talking about those aged 25-34. The majority (54%) of 18-24 year olds and 34-44 year olds also own a smartphone.
But it may surprise you to learn that the number of smartphone users is also growing for those who are just a wee bit older. Smartphone usage among those aged 55-64 rose 5% since last quarter to 30%. At that rate, 40% of those aged 55-64 percent could potentially own smartphones six months from now.
Android growth is steady but not exponential: the OS continues to dominate, percentage-wise, with 43% of the market. iOS comes at a very distant second place at 28% while the rest of the smartphone market, including RIM, snags a mere 29% of the pie.
Overall, not incredibly shocking numbers but interesting to think about, nonetheless.
Related:
Nielson Survey: Android's Sales Beat iPhone's 2-to-1!