Lawsuit Over Java Keeps Google From Attending JavaOne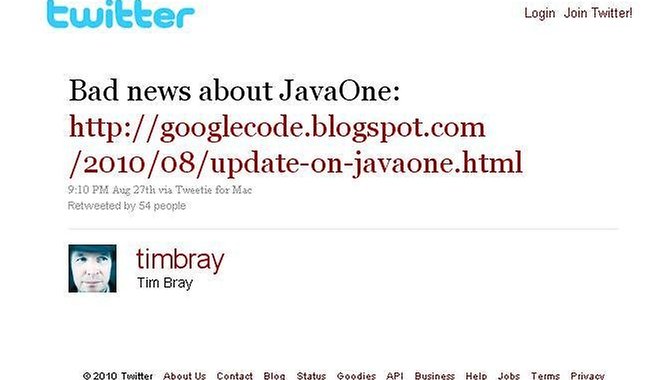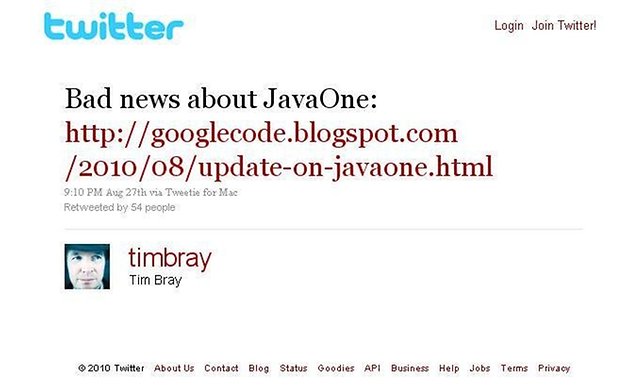 Joshua Bloch wrote that "Oracle's recent lawsuit against Google and open source has made it impossible for us to freely share our thoughts about the future of Java and open source generally."
Phandroid asserts that the lawsuit over "apparent copyright and patent infringements in Android's Dalvik VM won't just affect the outcome of the courtroom: it's going to affect everyone in the Java and open source community."
The Google Code Blog post also acknowledges that this development is a big inconvenience for some, and makes clear their wish to contribute in the future:
We understand that this may disappoint and inconvenience many of you, but we look forward to presenting at other venues soon. We're proud to participate in the open source Java community, and look forward to finding additional ways to engage and contribute.
Phandroid feels that Google's decision is "a necessary stance Google must take to protect themselves as a result of Oracle's money-fueled antics." Android Central notes that, unfortunately, "Oracle's lawsuit seems to have already had a negative impact on the open-source community."
You can see that for yourself by looking at the comments on the Google Code Blog post.
InfoWorld analyzes what Google's decision says about the progress of the lawsuit:
Google's pulling out of JavaOne indicates it and Oracle are not making much progress in their dispute, said IDC analyst Al Hilwa. He cited a possibility of fragmentation for Java: "It signals more serious rifts and risks for fragmenting Java. I wouldn't be surprised to see Google rebrand the Java-like language it uses for Android and stop trying to make it conform to Java at some point."
Other Sources: Android Central, InfoWorld, Phandroid