[Infographic] Facebook For Android More Popular Than Gmail, Google Search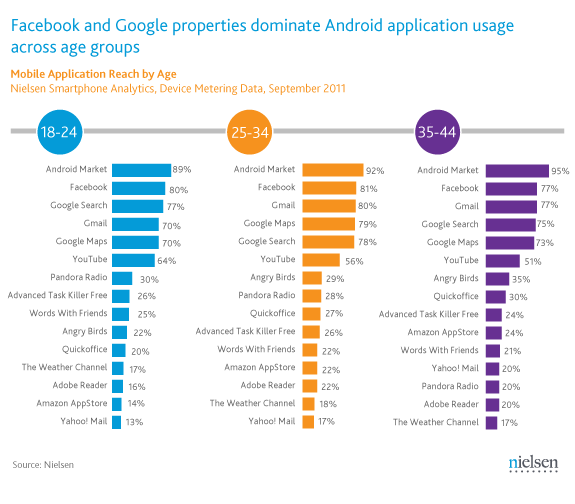 With Google becoming the dominant force in all things smartphones, you would also think their in-house apps would be a neck ahead in popularity. Ironically, that doesn't seem to be the case. According to a study by Nielsen, Facebook for Android is more popular then Gmail, Google Search, Google Maps and even Youtube.
Okay, sure the Android Market is #1 on the list, but you couldn't download any other apps with out the market so that one just kind of makes sense.
While one would think that games would be the app powerhouses to beat, the current assessment from the Nielson group show that function beats fun in the Android community. While two games, Angry Birds and Words with Friends, did crack the top ten in the 18-24 demographic, piratical applications are the real winners in the Android Market.
What are your personal top 10 AndroidPIT apps? Remember, we're giving away $50 in App Center credit for the best comments this week, so tell us which apps you can't live without in the comments below for your chance to win a whole lot more!
Related App News:
Beautiful Widgets: First Paid App to Reach 1 Million Downloads on Android Market
Android Market Celebrates 10 Billion Downloads By Offering 10 Premium Apps a Day for 10 Cents