Corporations Wary of Using Android Due to Perceived Security Risks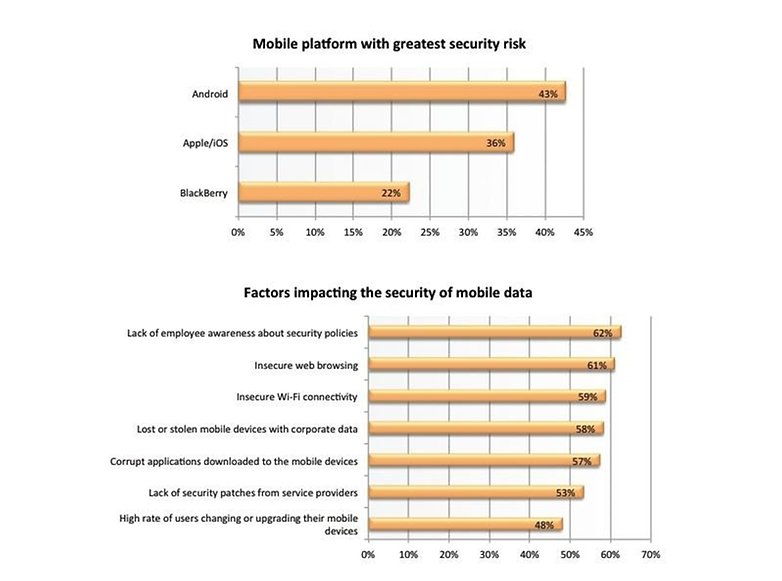 According to the security firm Check Point, iOS has overtaken Blackberry's OS in the boardroom. As far as Android, corporations see too many security flaws in Google's open source OS to give Android phones to their employees.
In a survey of 768 IT pros in the US, Canada, Germany and Japan, only 21% of the respondents recommended Android. Compared to 30% in favor of iOS and 29% in favor of Blackberry, that's a low percentage indeed.
Now, I know we've talked a lot about malware-infested apps on Android Market, and I understand that there is hesitation on the part of employers to adopt phones with ecosystems that aren't squeeky clean. But, I don't honestly think Android phones pose as much risk as the folks in this survey say. As long as iOS is jailbreakable, it's just as hackable as Android.
The poll also conflicts with the fact that the U.S. army's smartphone project is in the process of certifying Android for approval in the defense network. Michael McCartzy, director of the Army's smartphone project, says that the operating system will meet the National Institutes of Standards and Technology complience requirements for security in unclassified wireless communication. That's a mouthful, but basically the U.S. government has deemed Androids to be safe.
Yet it seems IT pros haven't gotten the message. Android was jusdged as the platform with the greatest security risk, at nearly double the rate of Blackberry.
What do you think? Is Android really as insecure as folks think or do you think they're reacting to a smattering of bad press?